Dividend and income investors like MLP (Master Limited Partnership) stocks because they typically pay higher yields than traditional stocks. Their higher yields are due to the MLP structure. MLP stocks are structured differently than stock companies, which allows them to avoid double taxation and give more of their profits to partners.
The structure of an MLP has two entities. The first is the General Partner (GP), which uses the MLPs capital to invest in things like oil and gas or real estate. Second is the Limited Partner (LP), who invests and provides the capital to the GP and gets the cash distributions in return. Because the structure is different than a typical stock corporation, the LP owns units in the MLP (not shares) and gets cash distributions (not dividends).
To be an MLP, it must earn 90% of its income from qualified activities or interest and dividend payments from things like natural resources, oil, gas, commodities or real estate. Doing so allows the MLP to avoid double taxation. Double taxation occurs when a company pays taxes on income (including income paid as a dividend), then the shareholder pays taxes on the income paid out as a dividend. MLP stocks do not suffer from double taxation.
Speaking of taxation, holding MLP stocks makes personal taxes a bit muddier for LPs than holding regular stocks. Let's take a closer look.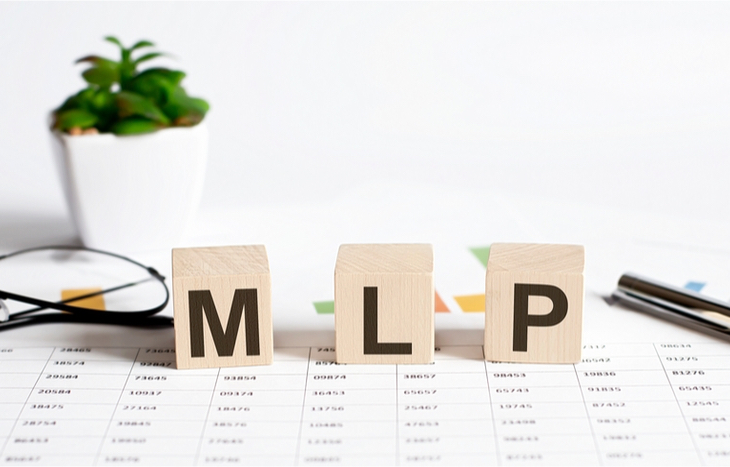 MLP Stocks and Taxes: The Pros
In addition to higher yields, buying MLP stocks can offer further tax benefits to LPs. Since owning MLP stocks makes an investor a partner (not a shareholder), cash distributions are not taxable. Whereas the dividend from stock is taxable. Instead, the cash distribution is a return of capital. A return of capital reduces your cost basis—the amount you invested in the MLP stock.
Instead of taxing your cash distribution in the year to get it, LPs defer taxes until they sell the MLP stock. When an LP sells the MLP stock, they pay taxes on their capital gain. Since the cash distributions lower the LP's cost basis, the LP will have a bigger taxable gain than a stock, all else equal. So, LPs not only benefit from deferred taxes, but also because long-term capital gains and qualified dividend tax rates are typically lower than ordinary income tax rates.
If you hold an MLP stock long enough, your cost basis can fall to $0. If that happens, you'll pay capital gains tax in the year you get cash distributions. In another long-term scenario, MLP stocks can be passed to heirs with a step-up in cost basis.
For instance, say you own an MLP stock, received cash distributions, and your cost basis is below the current price of the MLP stock when you pass away. The new cost basis for your heirs will be the current price, not your cost basis. Therefore, your heirs could avoid paying taxes on the MLP stock altogether if they sold it right away.
MLP Stocks and Taxes: The Cons
Though higher yields on MLP stocks can be enticing for LPs, they can make filing your taxes a pain in the neck. Instead of getting a seamless 1099-DIV as you would for dividends from regular stock, LPs get a K-1. K-1 forms are more complicated and can be amended throughout the year.
In addition, you may get your K-1 form later than you would a 1099-K. This may be because an MLP stock must close its books for the previous year before it can print K-1 forms. On the other hand, 1099-DIV only reports dividends, which the company typically knows before the end of the year. So, investors usually receive 1099-DIVs with plenty of time to file taxes.
Another consideration is that cash distributions from an MLP stock are Unrelated Business Taxable Income (UBTI). UBTI becomes taxable when received by tax-exempt entities like pensions, endowments, 401(k) plans and IRA accounts. So, your only choice may be to hold your MLP stocks in a taxable brokerage account. In addition to adding tax complexity, MLP stocks may also complicate wealth planning.
Due to the tax complications of MLP stocks, your tax advisor may charge an extra fee for filing your taxes if it involves a K-1. Investors should consider all the pros and cons before diving into MLP stocks.
Two Best MLP Stocks
Energy Transfer LP Unit (NYSE: ET) and Brookfield Infrastructure Partners LP (NYSE: BIP) are two MLP stocks that pay solid cash distributions.
Energy Transfer is a midstream oil and gas MLP stock. The company has more than 86,000 miles of pipelines in the US, carrying natural gas, natural gas liquids, oil and refined oil. Its pipelines go from every major supply region to all of the top markets in the US.
In addition to its pipeline, Energy Transfer also provides services like storage and marketing. It also has investments in other MLPs like Sunoco LP and USAC.
In 2021, Energy Transfer merged with Enable Midstream Partners. The stock is up 15% this year, while stock market indexes are down considerably.
Brookfield Infrastructure Partners owns high-quality, long-life assets that provide essential products and services for the global economy according to its corporate profile. The company's diverse portfolio includes electricity lines, natural gas pipelines, railroads, toll roads, fiber optic cable and more. Its assets span North America, South America, Europe and the Asia Pacific.
The company has grown its cash distribution at a 10% annual rate since 2009. Over that time, the MLP stock has also outperformed the S&P 500 stock index. Brookfield has also made acquisitions. They bought a 50% stake in smart meter company, Intellihub and Uniti Group in a 50/50 joint venture.
Master Limited Partnerships
Higher yields can really help investors weather the storm during this difficult time. In fact, traditional stocks have been in a tailspin over the past few months. And the market doesn't seem to be recovering anytime soon.
Therefore, you may want to look into MLP stocks as a way to bring balance to your portfolio. And you can sign up for one of the best investment newsletters for expert insights and analysis to help you make better investment decisions.
---