If you are anything like the average person, you likely hadn't heard of Moderna before the COVID-19 pandemic. But now more people are searching for a Moderna stock forecast. After all, its COVID vaccine is the first product the pharmaceutical company brought to market.
And Moderna's COVID vaccine has been wildly successful. Its two-dose vaccine is 94.1% effective in preventing laboratory-confirmed infection in people who received two doses, according to the CDC. That puts it on par with the Pfizer/BioNTech vaccine, which is 95% effective when receiving two doses.
All that is quite impressive considering that at the start of 2020, Moderna wasn't expecting to bring a product to market for another four years. But like many aspects of our lives, COVID fundamentally changed that trajectory.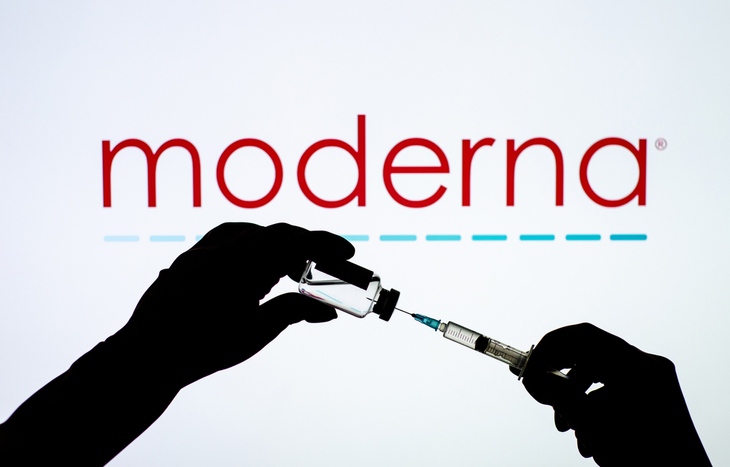 What is Moderna?
Moderna (Nasdaq: MRNA) is an American pharmaceutical company based in Cambridge, Massachusetts. The company has been around since 2010 and was previously known as ModeRNA Therapeutics. As its name and stock ticker suggest, the company's focus is on mRNA vaccines. Thus, while it did not expect to have a product until 2024, it's no coincidence that it was one of the first companies in the US to develop a COVID-19 vaccine.
But the COVID-19 is not the only thing Moderna has in the works. According to its 2020 annual report, it currently has 24 programs with 13 that have entered the clinic. That includes vaccine candidates for the flu, HIV and Nipah virus. In addition, it has a COVID vaccine in the works that is easier to store and administer.
Moderna Stock Forecast
While Yahoo! Finance shows a bearish outlook in the short- and mid-terms, there are reasons to be optimistic about its future performance. For one, it has a forward P/E ratio of around 14. This came after a 7% drop in the stock's share price; nevertheless, the average forward P/E ratio for the pharmaceutical industry is around 30. That being said, Moderna stock currently has a P/E ratio of above 40.
Analyst predictions show EPS of $29.77 in 2021 and $26.97 in 2022. As for price targets and buy/sell recommendations, it is something of a mixed bag. Most recommendations are to hold rather than buy or sell.
Some have a price target that shows a modest increase over the share price. For example, CNN's 12-month price target has a median of $453. That would be an 18.9% increase over 12 months. However, other analysts show a modest decrease, such as TipRanks, which has an average price target of $363.
In the long term, things are looking good for a Moderna stock forecast as it has so many vaccine candidates that may soon come to market. But in the short run, investors can expect a price not too far off from where the share price sits today.
Revenue and Fundamentals
Moderna's fundamentals look quite good as of late, undoubtedly a windfall thanks to its COVID-19 vaccine. For instance, its quarterly revenue was up over 6,000% year over year as of June 2021, for a total of $4.35 billion. That compares to $570.75 million for the quarter ending December 2020 and $157.91 million for the quarter ending September 2020.
Moderna's other fundamentals made big gains in Q2 2021, too. Its net income hit a high of $2.78 billion, and its profit margin was 64%. Diluted EPS was $6.46.
Moderna Investor Sentiment
Investor sentiment is mixed for a Moderna stock forecast. The most common recommendation is to hold, looking at various analyst opinions. In general, analysts are showing equal numbers of buy and sell recommendations, but the hold recommendation outnumbers them.
It will be interesting to see how things progress for Moderna stock. Many people are already vaccinated, and the COVID-19 vaccine is still the only product Moderna has brought to market. Granted, there are still many people who are unvaccinated, especially in countries outside the US. This may help explain why analysts expect COVID-19 vaccine demand to remain strong in 2022. However, 2023 is less certain for Moderna as vaccination programs ramp up around the world.
What is for certain is that COVID-19 will eventually start to wane. There may be a need for annual doses, but that is still unknown at this point. Thus, how much demand there will be for Moderna's products largely hinges on whether it is able to bring other products to market in the coming years.
Hence, it is not too surprising that investor sentiment is not overwhelmingly positive for Moderna stock right now.  While it has some promising things in the works, things will remain uncertain until it brings more products to market.
Should You Buy Moderna Stock?
Whether you should buy Moderna stock hinges largely upon whether you think Moderna will successfully bring more products to market. That's one of the most important pieces of this Moderna stock forecast. Of course, this is something none of us can know for certain, but it does have many of them in the pipeline, as mentioned.
Of course, most of us can't predict whether or when Moderna will bring more of its products to market. In the short term, Moderna stock is targeting modest growth, although analysts that are issuing buy recommendations are in the minority.
If you are interested in investing in the pharmaceutical industry, Moderna could be a decent opportunity, particularly if it hits CNN Business's price target of $453. Still, the gains Moderna has seen pale in comparison to those of Novavax stock, which was trading at under $5 per share in January 2020. It climbed above $300 and has dropped back down to around $170.
If Moderna is able to bring more products to market, its share price could see another surge in the next five years, as it originally planned to bring a product to market in 2024. If that remains true aside from its COVID vaccine, investors will likely see modest gains at best for the next few years. But those who hold shares of Moderna stock longer than a year could eventually be rewarded.
If you're looking for even better investing opportunities, check out these top pharmaceutical stocks. You can also sign up for Wealthy Retirement below. It's a free e-letter that's packed with investing tips and tricks.
---
Bob Haegele is a personal finance writer who specializes in investing and planning for retirement. His hefty student loan burden inspired him to pay off his loans, and now he's helping others get their finances in order. When he's not writing, he enjoys travel and live music.