The most volatile penny stocks are usually the ones that can surprise you with large returns. However, they are dangerous.
Since they are more volatile than regular stocks, you can lose your money fast. For most of these, I recommend watching them. Additionally, do your homework on them, and learn as much as you can.
So, check into the companies I have listed below. Look at how the business makes itself stand out in the market. Look at leadership. And investigate profitability of the company. Because all these factors will collectively decide a stock's success.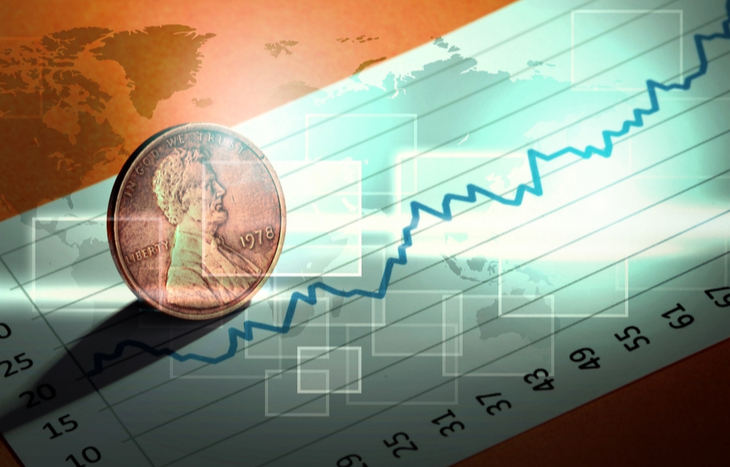 Most Volatile Penny Stocks to Watch
Ucommune International
Hycroft Mining Holding
Weidai
TuanChe Limited
Ucloudlink Group Inc.
IO Biotech, Inc.
Celyad Oncology SA
Advanced Human Imaging Ltd.
Most Volatile Penny Stocks to Buy Now
Ucommune International
Ucommune is a volatile penny stock that provides office space to other businesses. The company also provides marketing, branding and other services.
Ucommune works in China. And focuses primarily on creating office spaces. It has expertise in real estate. In addition to seeking out old buildings and those that aren't used much anymore. Then, they rent out the space to businesses.
Hycroft Mining Holding
The most volatile penny stocks are also in unexpected industries. Hycroft is a silver and gold mining company. It has mines in northern Nevada. Which, by the way, is a globally known area for its mining quality.
Additionally, Hycroft mine is the second largest primary gold deposit in the United States. And it's among the top 20 in the world.
Weidai
Weidai operates in China, serving credit to micro- and small sized businesses. The company matches up investors and borrowers, and use auto-backed financing. And, it's important to note that it's the first to offer this sort of credit. Weidai prides itself with providing quality service in each step of the process.
And it uses technology to perform quick transactions and ease of payment.
In addition, the company also is proud that in 2017, the Oliver Wyman Report said they accounted for a market share of about 35%.
TuanChe Limited
TuanChe is one of the most volatile penny stocks and an auto trading platform in China. To do this, TuanChe connects all kinds of auto people. From car manufacturers, services, to sales.
The company works through many channels. Additionally, TuanChe uses the internet to market and support offline sales.
And the management looks great. The CEO is also the Chairman of the Board of Directors. Additionally, he has ten-plus years of experience as an entrepreneur. And those ten years also include being a business owner in the IT and auto industries. Which is perfectly aligned with TuanChe's business doings.
Ucloudlink Group Inc.
With headquarters in Hong Kong, Ucloudlink was founded in 2014. It's a mobile technology company with business in over 140 countries.
The company strives to provide a high quality of internet connection. And other internet solutions to keep people connected. In addition, Ucloudlink has managed to continue a calculated annual growth rate (CAGR) of 150%. And it's done this from 2016 through 2020.
Ucloudlink is one of the most volatile penny stocks on the market. And it's one that has received many different awards. Fore example, one of these is the most recent "2020 Innovative 5G Application Enterprise" award. The China Economy TMT Leaders Chart granted this to them.
There are three different tiers or types of connectivity that Ucloudlink Group offers. They are Global Connectivity, Local Connectivity and Complete Sharing. The three follow the progression of the company and its different stages. And each of them represents and caters to a different part of the market.
As the stages progress, the company becomes more niche in its approach.
To explain, the first stage recognizes that there's an international need for connectivity. The demand for global internet connection is high. And the company addresses and provides for that demand.
The second stage addresses connectivity on a local scale. In other words, it provides connectivity inside of countries.
And the third is in beta trial. This allows users to share and trade any data they haven't used.
IO Biotech, Inc.
One of the most volatile penny stocks on the market, IO is using technology to create cancer therapies. And its solution allows the immune system to take back its power.
You see, with some cancers, the immune system becomes suppressed. So, it makes it very difficult to fight off the malignant cells. IO Biotech aims to create a therapy that attacks the cancer cells. But, the company is also creating it to allow the immune system to be "freed." And thus, help attack and flush out the cancerous cells.
Most Volatile Penny Stocks: Celyad Oncology SA
Along with IO Biotech, this is probably one of the most worthwhile investments on this list.
Celyad approaches the same desired outcome. However, its solution is different from IO Biotech. Celyad aims to treat cancer. But, it does so with T-cells.
These cells are born in the bone marrow. To clarify, they are a type of white blood cell that can attack one specific type of virus or another cell.
So, by harnessing these T-cells and using them against cancer, Celyad hopes to rid the cancer from the body.
Most Volatile Penny Stocks: Advanced Human Imaging Ltd.
Advanced Human Imaging is another one of the most volatile penny stocks. And it's a great one to add to this list. The company has harnessed the use of our smartphone to scan various areas on our body.
Then, those scans give information like skin disease detection. For example, you can measure your body circumference, body composition and health risks. Additionally, you can even scan your face to know about your heart health and other information.
Further, Advanced Human Imaging will also be coming out with HemaScan. And, using your smartphone, you'll be able to assess chronic blood diseases. If diabetics can use this, it could become big. Especially if there's no finger-pricking.
Advanced Human Imaging currently provides three different solutions. And there's a fourth on the way. Those solutions are called BodyScan, FaceScan and DermaScan.
Plus, the company takes great care to hide your information and photos from prying eyes. Moreover, they never sell customers' information to third parties. Additionally, they make sure the photos and videos you take never leave your phone. And any photos uploaded to the cloud? They're deleted immediately after they've been processed.
Advanced Human Imaging carries advanced encryption, and completes regular security testing.
For more insight on penny stocks and how you can diversify your portfolio, sign up for the Liberty Through Wealth e-letter below. You'll receive tips and tricks on how to best navigate the stock market directly to your inbox. Get started today!
---
Vanessa Adelman graduated with an Interdisciplinary degree. She majored in Entrepreneurship, Painting, Music and Film. Shortly after, she received a copywriting mentorship with Mark Morgan Ford. Then, she earned her AWAI Verification. Now, Vanessa freelances in the financial direct response industry. She's been investing since 2016. In her free time, she enjoys books about money and wealth. She loves being with her boyfriend, hunting, fishing and going on outdoor adventures.