Penny stocks under 1 cent, although ultra-risky, can bring fast, phenomenal profits. These are some of the best penny stocks under 1 cent.
However, it's important to do your own due diligence on any stock before buying. Especially on smaller, more risky stocks like these.
Additionally, it also helps to diversify your investment portfolio. Because you want your portfolio to grow slow and steady. And you don't want it to take the shape of one or a few stocks.
The following penny stocks all have a gross profit margin of greater than 100%.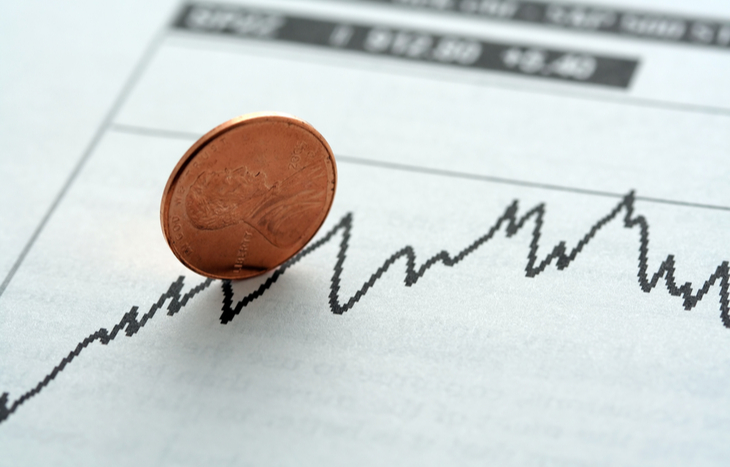 Best Penny Stocks Under 1 Cent
Global Fiber Technologies, Inc. (OTC: GFTX)
Metrospaces, Inc. (OTC: MSPC)
The Now Corporation (OTC: NWPN)
Coastal Capital Acquisition Corp. (OTC: CCAJ)
ICOA, Inc. (OTC: ICOA)
First Colombia Gold Corp. (OTC: FCGD)
IIOT-OXYS, Inc. (OTC: ITOX)
Penny Stocks Under 1 Cent to Buy
Global Fiber Technologies, Inc
Market Cap: $4 million
Global Fiber Tech, also now known as EcoTek 360, recycles and produces work wear. And when you donate old workwear to be recycled, you get a credit for your next purchase with them.
The company produces uniforms for many industries. Including health care, food service, security and military. However, I would imagine work wear is the largest source of income.
Global Fiber creates new material from the old fibers. Then, the highest standards for quality are employed. Products are made in the U.S. And, fair labor practices are enforced.
Additionally, customization can be had with the products you order from them, too.
It appears this penny stock under 1 cent has covered all bases. And that make it stand out from other clothing producers.
Metrospaces, Inc.
Market Cap: $4 million
PropTech stands for Property Technology. And that's what Metrospaces specializes in. The company uses AI and blockchain technology. The focus is creating spaces that give the real estate investors and tenants a unique experience.
The two divisions- Metrocrowd and Metrohouse allow for that.
In addition, Metrohouse points toward allowing tenants to choose roommates wisely. And, it gives the tenants unique benefits, like lockable desks and drawers. Metrohouse aims to provide extraordinary stays.
However, Metrocrowd helps directly with real estate investment. It uses AI and blockchain to automate many tasks of the process of investing in properties. It also helps to manage them.
The Now Corporation
Market Cap: $989K
The Now Corporation is a penny stock under 1 cent that is furthering the research for medical marijuana. As expected, the company classifies as a biopharmaceutical company. And they have a mission to help patients all around the globe.
In addition, they do research and testing for biological uses. And while it's doing that, it's also figuring out industrial uses for the plant. There is talk of seed cultivation for biofuels. And fibers for textiles and other parts of the plant for production.
Despite its low market cap, it may be onto something by finding other uses besides medicinal. Plus, we all know how fast marijuana stocks can rise in price and market cap.
Coastal Capital Acquisition Corp
Market Cap: $12 million
Coastal is a penny stock under 1 cent that has headquarters in Florida. It is still in development stage. Which, based on its age, means it has not produced significant revenues yet.
However, that may or may not be the case with this stock. It was founded in 1996.
Capital may not have reported revenues. Or it may have kept other things about the company quiet. If that's true, it would make sense that the stock price is low.
Additionally, Coastal Capital is in the real estate and construction industries.
ICOA, Inc.
Market Cap: $45 million
ICOA, Inc. is in the Telecom Services industry. And even more specific, the Communication Services sector.
Providing internet services, they serve many different customers. These include retail businesses, restaurants and plazas. In addition, the company also serves other network providers. This penny stock under 1 cent provides services such as installation, advising and content management.
ICOA works in 45 states, and even have two other brands. One is for RV parks and the other for marinas.
Penny Stocks Under 1 Cent: First Colombia Gold Corp
Market Cap: $3 million
First Colombia is a penny stock under 1 cent that has several mining claims in the western United States. The company mines primarily for gold and silver. Further, it develops the occasional oil field.
Right now, First Colombia has a silver project going in Idaho. It is only 50 miles south of Boise. So, if you've ever been in that area, you may have driven past it. The claim covers about 160 acres.
And they've got something in the works for Montana, too. It's a lease with the state. In addition, it's going to cover about 110 acres in Lincoln County.
Penny Stocks Under 1 Cent: IIOT-OXYS, Inc.
Market Cap: $1 million
IIOT stands for Industrial Internet of Things. And that's the need IIOT-OXYS serves.
The company uses sensors, AI and Machine Learning to bring better data to companies. In particular, OXYS targets the medical, agricultural and defense industries. OXYS also serve others.
This penny stock under 1 cent strives to reach two goals for its clients. One is adding value, and the other is minimizing risk.
When adding value, this penny stock gives insight and information. In turn, this information helps increase quality and profits. And when minimizing risk, it does not touch the products or interrupt the supply chain.
---
Vanessa Adelman graduated with an Interdisciplinary degree. She majored in Entrepreneurship, Painting, Music and Film. Shortly after, she received a copywriting mentorship with Mark Morgan Ford. Then, she earned her AWAI Verification. Now, Vanessa freelances in the financial direct response industry. She's been investing since 2016. In her free time, she enjoys books about money and wealth. She loves being with her boyfriend, hunting, fishing and going on outdoor adventures.