The Nano-X Imaging IPO is the latest health tech company to hit the market. Offering a lower-cost than traditional medical imaging technology, the company has strong investor support as the industry becomes more digital. In fact, Nanox claims its market will be worth $21 billion by 2021.
But is Nano-X Imaging stock a good investment? Here's what we know…
Nano-X Imaging IPO: The Business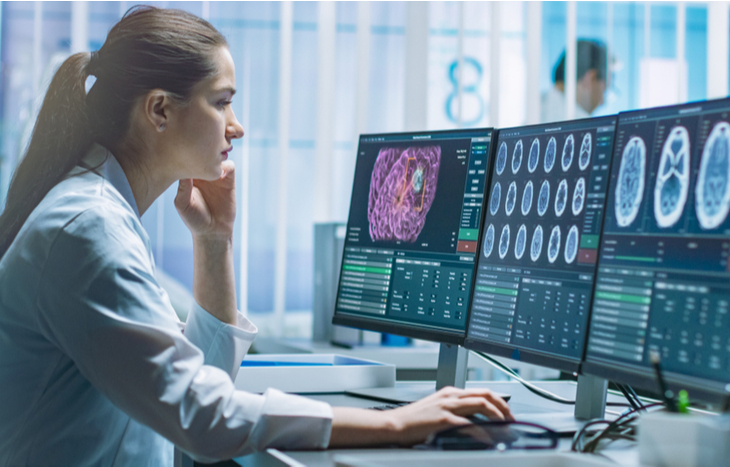 Ran Poliakine founded Nanox in 2011. It's an Israeli health tech company focusing on early detection and preventive healthcare. The company claims it has an affordable medical imaging system using a microelectromechanical system (MEMs) semiconductor cathode. This gives it the same functionality as legacy X-ray analog cathodes with a fraction of the cost.
According to the company's prospectus:
"Early detection saves lives—and we at Nanox are focused on applying our proprietary medical imaging technology to make diagnostic medicine more accessible and affordable across the globe. Our vision is to increase early detection of medical conditions that are discoverable by X-ray, which we believe is key to increasing early treatment, improving health outcomes and, ultimately, saving lives."
Nanox stock hit the market less than a month after the company filed for a Nanox IPO. And one thing the funds will be used for it the production of its product.
The Nanox System
Nanox's technology took eight years to develop to a commercial level. The Nanox system has two parts—hardware and software.
Hardware. The Nanox.ARC is the company's medical imaging system. It uses Nanox's digital X-ray source. Once it receives regulatory clearance, Nanox plans for its first version on the market to be a 3D tomosynthesis imaging system. It's an imaging technique used for early detection. It creates a high-resolution, 3D X-ray image reconstruction of the scanned body part. Most commonly its used for the early detection of breast cancer.
Software. The Nanox.CLOUD is a cloud-based software to give end-to-end medical image services. This includes image repository, radiologist matching, online and offline diagnostics review and annotation, diagnostic assistive AI, billing and reporting.
In the company's prospectus, Nanox compares the Nanox System to a traditional CT. Nanox claims it will market its system at a substantially lower cost. The company says its digital X-ray source will allow a simpler structure and less equipment.
The company also stated the funds from the Nanox IPO would mostly be used for further development of the product:
"We intend to use the net proceeds from this offering together with cash on hand, cash equivalents and short-term investments, for (i) the manufacturing of the initial wave of Nanox.ARC unit planned for global deployment and investment in manufacturing capacities, (ii) shipping, installation and deployment costs of the Nanox System, (iii) continued research and development of the Nanox.ARC, the development of the Nanox.Cloud and regulatory clearance in various regions and (iv) sales and marketing expenses, general administrative expenses and other general corporate purposes."
But for investors looking to buy Nanox stock, let's take a look at the company's financials.
Nanox Stock: The Finances
One thing investors will note is Nano-X Imaging doesn't have any revenue. This isn't unusual for a health tech company in the process of research and development (R&D) and has no commercialized product. It's common to see high R&D costs as well as general and administrative (G&A) costs.
In 2018, the company's R&D costs were $672,000. It greatly increased to $2.7 million in 2019. Nanox also provided information for the first six months ending on June 30, 2020. R&D costs were $4.15 million compared to $340,000 the first six months of 2019. G&A costs saw a similar increase, going from $1 million in 2018 to $18.2 million in 2019. So far for 2020, the company has $7.9 million in G&A costs compared to $1.08 million in 2019.
Overall, Nanox has an increasing operating loss. It jumped from $1.9 million in 2018 to $22.5 million in 2019. As the company gets closer to releasing its product on the market, investors can expect to see this number continue to go up. Hopefully the Nanox IPO funds and the $59 million raised in the week before will be enough to get the system to marketing. Once Nanox is able to sell the Nanox system, revenue should outpace expenses.
The company plans to use three different business models:
Subscription Model: If permitted by country law, the main strategy is a pay-per-scan pricing structure to sell the system at a low or no cost. Nanox will receive a portion of the proceeds from each scan to cover fees for right-to-use licensing and the Nanox.CLOUD.
Sales Model: Nanox will sell the Nanox.ARC for a one-time fee.
Licensing Model: Nanox will tailor its technology to fit specific imaging systems for certain participants or license its technology to develop new types of systems. It involves a one-time fee and recurring royalty payments.
If you're interested in Nanox stock and want to find more information about Nano-X Imaging, you can look at the company's prospectus here. But let's look at the details of the Nanox IPO and whether or not it was successful in its first day of trading.
Nanox IPO: The Details
Nano-X Imaging filed with the SEC on July 31, 2020. The company's original price range was $16 to $18 to raise up to $153.6 million at the midpoint price. Nanox offered 8.8 million shares. Underwriters have the option to purchase up to an additional 1.3 million.
Nanox stock started trading on Friday, August 21, 2020. Shares opened at $18 for a total deal size of $165 million. This gives Nanox a market cap of $903 million. Shares trade on the Nasdaq under the ticker symbol NNOX.
If you're looking for the latest investment opportunities, Investment U is the place to be. Sign up for our free e-letter below! It's full of useful tips and research from our experts. One great investment can lead you on a path to financial freedom, no matter if you're an experienced or novice investor.
With strong investor support committing $80 million, the Nanox IPO was successful. Nano-X Imaging stock closed for $21.70 a share its first day of trading for a return of 20.56%.
---
Amber Deter has researched and written about initial public offerings (IPOs) over the last few years. After starting her college career studying accounting and business, Amber decided to focus on her love of writing. Now she's able to bring that experience to Investment U readers by providing in-depth research on IPO and investing opportunities.