To get a better Netflix stock forecast, we need to take a step back. Understanding the history of the business can help with predicting future moves…
Long before the days of predictive algorithms, Netflix was a simple DVD subscription service. It was founded in 1997. In 2007, it transitioned to streaming movies and TV shows online. In 2013, it pivoted again to start producing its own content. To date, Netflix has produced over 1,500 original titles and welcomed 209 million subscribers. Today, Netflix is part of an elite club of tech stocks, known as FAANG stocks (Facebook, Apple, Amazon, Netflix and Google).
If there's one thing that's certain, it's that people love watching movies and TV shows. Since Netflix makes this process as easy as possible for viewers, does this mean that investors should love Netflix stock? With Netflix expected to announce earnings on October 19th, 2021, lots of people are asking themselves this question.
Let's take a look at a Netflix stock forecast and whether or not to add it to your portfolio.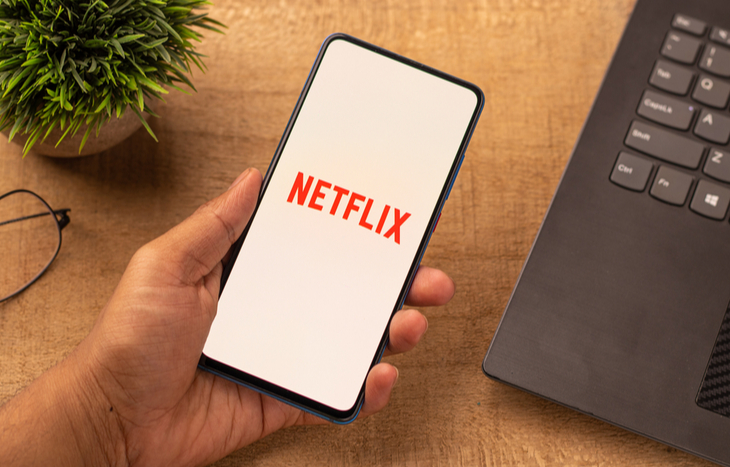 NOTE: I'm not a financial advisor and am just offering my own research and commentary. Please do your own due diligence before making any investment decisions.
Netflix Stock Forecast (Nasdaq: NFLX)
Netflix reminds me a little bit of Amazon, but on a smaller scale. Amazon got its start with the simple idea of selling books online. However, years later, it's a massive technology company with a hand in eCommerce, cloud computing, smart homes and grocery stores.
Just like Amazon, Netflix also has simple roots as a DVD-by-mail company. However, today it's the world's largest media and entertainment company that plays a role in the production, promotion and distribution of movies and TV shows. Netflix is also heavily investing in things like machine learning and computer vision.
Over the past five years, Netflix has achieved average annual revenue growth of close to 30%. Its net income growth has been even more impressive at 94% annually over the past five years. In 2020, it posted total revenue of $25 billion and a net income of $2.7 billion.
Netflix stock has responded accordingly to this success. It's up about 500% over the past five years. In 2021, it's up close to 20%. Netflix's stock performance has been so good that it was actually the top-performing stock in the S&P 500 during the 2010s.
All of this makes investing in Netflix sound like a no-brainer. However, Netflix has also enjoyed an early-mover advantage in the streaming industry. This is mainly due to the fact that it essentially created streaming. Now that it's apparent how popular streaming is, Netflix's competition has increased in recent years.
This puts some downward pressure on a Netflix stock forecast. Let's take a closer look at that…
Netflix Competitors
The streaming industry has gotten so crowded in recent years that media outlets started calling it "The Streaming Wars." Netflix is still currently the top dog with 209 million subscribers. However, this is mainly because it was the only game in town for over a decade. For reference, Netflix started offering streaming in 2007. On the other hand, Disney+ was launched on November 12, 2019. HBO Max was launched on May 27, 2020. Peacock was launched July 15th, 2020.
Netflix has had an incredible run over the past 10 years. However, if it doesn't stay competitive then the next decade could look very different from the last.
Here is a quick list of other streaming services and some stats (*deep breath*):
1. Disney+ – The 800-pound gorilla in the room with 116 million users. When it comes to existing content, Disney has decades of cult classics to pull from. Disney is also a major threat because it's been producing top-quality content for decades. The executive team has also set a goal of reaching 230 million users by the end of 2024. This would be about 25 million more than Netflix currently has. While most of Disney's other business lines were closed during the pandemic, Disney+ became a major initiative for the Walt Disney Co.
2. Hulu – 8 million subscribers. Oh yeah, Disney also owns Hulu. Since Disney also owns ESPN, this gives it the power to bundle its services.
3. HBO Max – 5 million subscribers. HBO Max is owned by AT&T. A few popular titles on HBO Max include Game of Thrones, The Sopranos and Friends.
4. Peacock – 54 million subscribers. Peacock is owned by NBCUniversal. It also owns the rights to the wildly popular show, the Office. Before this show was yanked from Netflix, it raked in 52 million minutes' worth of views. This was more than double the second closest show (Friends). Before The Office was yanked, Netflix execs must have rewatched the episode where David Wallace decides to use co-managers to run Dunder Mifflin. I say this because Netflix currently has co-CEOs in founder Reed Hastings and Ted Sarandos. A few popular titles on Peacock include The Office, Parks and Recreation, Law and Order and Cheers.
5. Discovery+ – 15 million subscribers. Owned by Discovery. A few popular titles on Discovery+ include Mythbusters, Hell's Kitchen and Planet Earth.
6. Paramount+ – 42 million subscribers. Owned by ViacomCBS. A few popular titles on Paramount+ include Star Trek, Survivor and The Good Fight.
7. Prime Video – 175 million subscribers. Prime Video is owned by Amazon and included with an Amazon Prime membership. Since there are plenty of reasons to pay for an Amazon Prime Membership, this puts Prime video in a slightly different category. Luckily for Netflix, Amazon has not made Prime Video a major initiative for the company. However, this could change at any time. A few popular titles on Prime Video include The Boys, The Big Bang Theory and The Handmaid's Tale.
8. Apple TV+ – 6 million subscribers (2019). Owned by Apple. A few popular titles on Paramount+ include The Morning Show, Ted Lasso and Mythic Quest.
Netflix enjoyed years of growth while it was licensing popular content from others. Now, other companies are taking their content back to list it on their own streaming platforms.
Moving forward, the streaming wars will be determined by who owns and produces the best content. Netflix has already anticipated this and got into the production game in 2013. Despite initial doubts, Netflix has proved that you can teach an old dog new tricks. In 2021, Netflix had 36 nominations and snagged seven Academy Awards. In the same year, The Flix also brought home 44 Emmy Awards. This was best among streamers and two awards higher than Disney (five).
Netflix Stock Price Prediction
Netflix stock has been a rocket ship over the past decade and is up over 8,000% since 2010. However, it also enjoyed over a decade of early mover advantage during this period. Now, it'll face steeper competition in the 2020s than it ever has before.
Luckily, Netflix has already proven that it's capable of producing quality content that people love. Shows like Stranger Things and The Queen's Gambit were overnight successes that raked in millions of views.
Also, when determining a Netflix stock forecast, a great place to look is at its senior leadership. Netflix has been run by Reed Hastings ever since he founded the company in 1997. In general, founder-led companies have a better track record of success than non-founder-led ones.
Hastings has also shown his savviness as a CEO by making two crucial decisions. First, he decided to pivot to streaming in 2007. Second, he decided to pivot to creating original content in 2013. Despite what his competition stirs up, investors have good reason to have faith in Hastings.
I hope that you've found this Netflix stock forecast valuable in deciding whether or not to buy Netflix stock. As usual, all investment decisions should be based on your own due diligence and risk tolerance.
If you're looking for even better investing opportunities, sign up for Liberty Through Wealth below. It's a free e-letter that's packed with investing tips and tricks.
---
A University of Miami grad, Teddy studied marketing and finance while also playing four years on the football team. He's always had a passion for business and used his experience from a few personal projects to become one of the top-rated business writers on Fiverr.com. When he's not hammering words onto paper, you can find him hammering notes on the piano or traveling to some place random.