Netflix (Nasdaq: NFLX) has been one of the most invincible stocks of the past decade. It revolutionized the entertainment industry and ruthlessly put Blockbuster video out of business. Now, Netflix stock is down 70% over the past six months. It also reported a decline in users for the first time ever. Is this the beginning of the end for Netflix? Or is it a great time to buy the dip on one of the FAANG stocks? Let's take a look.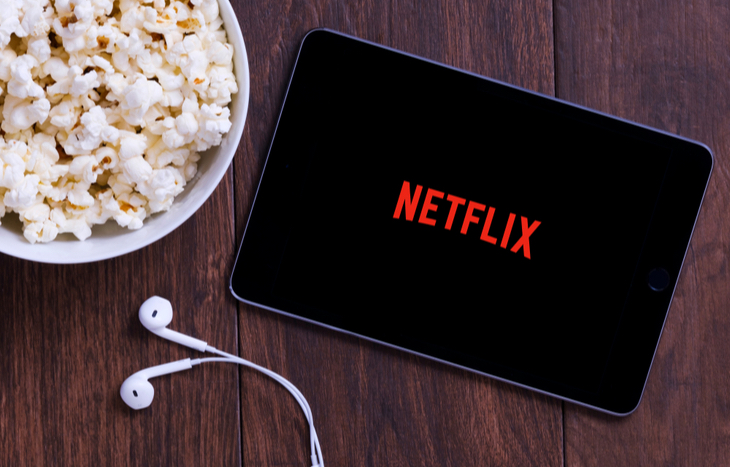 Why is Netflix Stock Down?
Netflix stock is down because the company lost 200,000 subscribers in the first three months of 2021. This was the first time that Netflix reported losing subscribers and the news rattled investors. On top of that, Netflix also lowered its forecast for 2021. Netflix stock dropped nearly 40% on the report and its 5-year return now sits at under 40%.
With that said, keep in mind that Netflix is still worth approximately $97 billion. It also reported annual 2021 revenue of $29.7 billion as well as $5.12 in profit.
Let's take a look at Netflix's Q1 earnings report to see what's going on.
Pulled-Forward Demand
Netflix attributed its slowing user growth to COVID-19. It experienced something known as "pulled forward" demand.
In 2020 and 2021, people were forced to stay inside. There was a huge advantage for Netflix, whose business is all about digital entertainment. During these two years, Netflix's subscriber base exploded. The pandemic most likely prompted a lot of people to sign up, who wouldn't have normally paid for an account. For this reason, Netflix got more business than usual and there were tons of demand for its service. But, a lot of the demand was artificially created by the pandemic.
Now, the opposite is happening.
People are rushing to travel, eat out, and enjoy the perks of non-quarantine life. With the world reopening, there is much less of an incentive to sign up for a Netflix subscription. Only time will tell if this is a short-term or long-term trend.
Increased Competition
For years Netflix enjoyed a hefty first-movers advantage. It was the first company to adopt streaming and essentially had no immediate competitors for years. For reference, Netflix started streaming in 2007. One of its top competitors, Disney+, didn't emerge on the scene until 2019 (12 years later). However, now the competition is coming in hot and heavy.
Here are just a few of the other streaming platforms that compete with Netflix:
Disney+ (Disney also owns Hulu and ESPN+)
Prime Video (Amazon)
YouTube (owned by Google)
HBO Max
Peacock
Paramount+
Apple TV+
TikTok (not quite a direct competitor)
In 2010, Netflix was the only game in town. Now, it has to work much harder to attract new eyeballs. This is especially true because consumers are not likely to sign up for multiple subscriptions. For example, if you already pay for HBO Max and Disney+, you might not want to pay for Netflix too.
This introduces the next problem that's killing Netflix stock.
Password Sharing
Password sharing is a massive problem for Netflix. It has approximately 221 million paying users. However, Netflix estimates that its service is shared with an additional 100 million households. Not a small number, but it's believable. There's a fairly good chance that you reading this don't even pay for your own Netflix account. Or, if you pay for it, there's a good chance you've shared it with at least one person before.
If these 100 million password moochers all paid, it would add an extra $1 billion to Netflix's bottom line. This assumes that they pay the base price of $9.99 ($10 x 100 million).
So, are all of these issues reasons to stay away from Netflix stock? Let's answer the million-dollar question.
Is Netflix Stock a Buy?
In my opinion, yes. Netflix stock is a buy. With that said, this is my time to remind you that I'm not a financial advisor. I'm just offering my own thoughts and commentary. Here's my reasoning…
The entire market has been incredibly focused on the short-tern recently. Companies that report any type of bad news are getting killed. Even companies that report good news are sometimes getting slammed. This is because there is so much uncertainty in the market right now.
For nearly two years, the media has been almost non-stop doom-and-gloom. In 2020/2021, there was a once-in-a-lifetime pandemic, race riots, and mass unemployment. Now, there's a land war in Europe. The market used to be propped up by low-interest rates but even that's changing as the Fed battles record inflation rates.
It's hard to tell what will happen in the next year+, so investors are focusing on right now. It's true that Netflix reported bad news, but it wasn't horrific news.
First off, Netflix's annual revenue still grew 19% to $29.7 billion in 2021. Its net income also grew 85% to $5.12 billion. Its Q1 2022 numbers stayed pretty much flat.
Based on this alone, does it sound like Netflix stock should be down 70% so far in 2021? Not really. Of course, there's the issue of declining users to address.
Why Netflix Subscriber Loss Isn't as Bad as Facebook's
Netflix lost about 200,000 subscribers through the first three months of 2021. With a subscriber base of 221 million, this gives Netflix a churn rate .09% for Q1 2022. Churn is never good. However, you don't need to be an industry expert to guess that .09% is low. And it is.
According to ProfitWell, the average SaaS business has a churn rate of around 5%. This means that most software companies lose at least 5% of their clients each month. So… Netflix is still doing very well in this aspect.
The bigger concern for investors is that this churn rate will grow rapidly. It could be the start of a snowball effect that cripples the business. This probably isn't the case. To explain, let's compare Netflix to another company that's losing users: Facebook.
Facebook also reported a loss of users during Q1 2022. But this issue is a much bigger deal for Facebook than it is for Netflix. This is because Facebook's business relies on a network effect. Essentially, Facebook is only valuable if other people are using it. The more users leave, the more existing users will be encouraged to leave. This is what creates an exponential snowball effect. On top of that, Facebook's revenue is almost entirely dependent on selling ads to its user base. If its user base leaves, it doesn't have another way to make money (which is why it's pivoting to the metaverse).
Netflix doesn't rely on a network effect. I don't sign up for Netflix because my friends have it. I sign up for Netflix to watch their shows. So, there's no legitimate reason to assume that three months of declining users will cause other users to cancel.
That is, as long as Netflix rights the ship.
What Netflix Stock Needs to Focus On
There are three main things that Netflix needs to focus on to get back on track. If it tackles these three things then Netflix stock should eventually make a recovery.
Password Sharing
As mentioned, Netflix estimates that 100 million households share passwords. Addressing this issue is an easy way to instantly pad its bottom line.
Kicking off non-paying users is "using the stick" to encourage growth. However, Netflix also needs to use a carrot, which for Netflix means producing quality shows.
New *good* Content
This is obviously easier said than done. If creating quality content was easy then every streamer would do it. Also, remember that COVID-19 put a lot of new production on hold. For example, seasons 3 and 4 of the wildly-popular Stranger Things were both delayed due to COVID-19. Netflix is probably still working through these types of production issues with many of its shows.
With that said, Netflix only needs one or two hit shows to draw in subscribers. One more "Squid Game" could instantly cause investors to change their minds.
Diversification
Netflix has already released a beta version for streaming video games. This is a great step in diversifying its business and attracting new customers. It has also toyed with the idea of introducing ads. This would allow it to offer a free subscription, which could draw in budget-conscious viewers.
Based on the facts, Netflix stock doesn't seem like it deserves to be down 70% in six months. More likely, it's a harsh overreaction from a short-sighted market. From here, Netflix needs to clamp down on password sharing, keep producing good content, and find new ways to boost user growth. If it's successful in these areas then Netflix stock still will surely be a buy.
I hope that you've found this article on Netflix stock to be valuable! Please remember that I'm not a financial advisor and am just offering my own research and commentary. As usual, please base all investment decisions on your own due diligence.
---