I played sports competitively growing up. This included football and basketball high school teams, an AAU basketball team that played nationally and football at the University of Miami. Unless things have changed dramatically in the few short years that I've been off the fields and courts, Nike has an absolute stranglehold on the psyche of today's athletes. And understanding its brand helps with a Nike stock forecast.
On the basketball court, Nike was the go-to shoe for kids on the court. And it wasn't just shoes. Kids would wear Nike socks, Nike sweats, a Nike headband or arm sleeve, as well as a Nike uniform. If you wore a different brand of socks underneath your Nike shoes then you ran the risk of getting mocked.
I was playing football at Miami when we switched sponsors from Nike to Adidas. The pushback from our fanbase over the move was incredible. After the announcement, fans took to social to complain. They insisted that the switch from Nike to Adidas was a sure sign that Miami Football had "fallen off" (whether Miami football has fallen off is a topic for another time).
As a side note, media companies continue to expand. Check out these top media stocks for some more investing opportunities.
It didn't matter that Adidas was paying us triple what Nike was. Nike is the coolest brand, so our fans wanted Nike.
Founded back in 1964 by Phil Knight, Nike originally started as Blue Ribbon Sports. Phil started Nike when he got the idea to import athletic footwear from countries like China. It was cheaper to manufacture goods overseas which would allow him to compete with already established companies like Adidas. Today, Nike has a market capitalization of around $250 billion, its brand is valued at $32 billion, and it employs almost 77,000 people worldwide.
So does this mean that every investor should add Nike stock to their portfolio? Or have the best days already passed for Nike's stock?
This article will conduct a quick Nike stock forecast and answer the question: is Nike stock a good buy?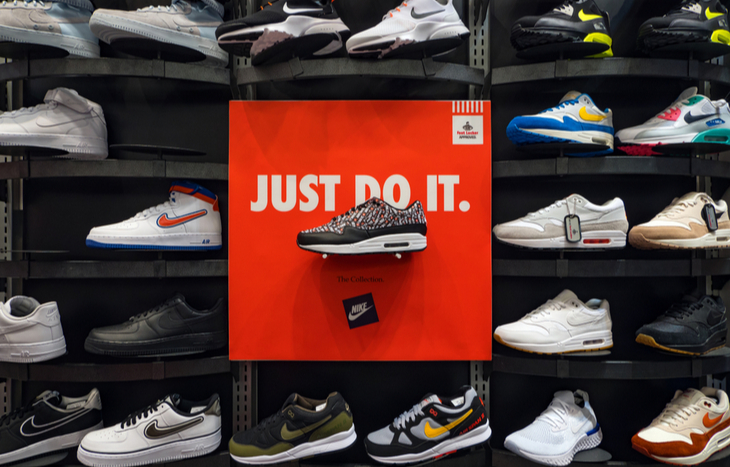 NOTE: I'm not a financial advisor and am just offering my own research and commentary. Please do your own due diligence before making any investment decisions.
Nike Stock Analysis
There are a handful of companies in the United States that seem to just have unlimited demand. For example, Disneyland has been incredibly popular for years so you might think that people will get tired of it. However, almost every new attraction that it opens still sells out in minutes.
Apple is the same way. People literally camped outside stores to buy their first iPhone. 13 models later, almost half of all iPhone owners say that they'll upgrade to the newest iPhone 13.
Nike falls into this same category.
I have no idea how many different styles of Jordan sneakers Nike has pumped out over the years. All I know is that people seem to get equally excited about every single pair that comes out. To give you an example of just how out of hand it gets, I took a look at the sneaker-reselling site StockX. On this site, owners of rare Jordan sneakers can resell their shoes (like eBay but only shoes).
StockX currently has 240 pairs of Jordans selling for over $1,000 a pair. About 70 pairs are selling for over $5,000 a pair. The highest-selling pair received a top bid of $20,000. Incidentally, the Jordan brand grew 31% in 2021 to about $5 billion total.
So, is Nike stock a good buy? Well, it's certainly cheaper to buy Nike stock than to buy Nike sneakers.
A critical component of the sports industry is getting athletes to rep your gear. When it comes to endorsing athletes, Nike dominates.
Nike endorses 79 out of 128 (61.7%) college football programs (but not Miami!) as well as 17 of the last 19 national champions. As far as athletes, Nike has sponsored most of the world's most elite athletes for years. It's to the point where it's a newsworthy event when an athlete chooses to go with another brand.
So how does all of this impact Nike stock? Let's take a look at some numbers as well as a Nike stock forecast.
Nike Stock Forecast
Since 2017, Nike's stock is up over 200%. While sales dipped a little bit in 2020, they have already bounced back strong in 2021. Nike reported a FY 2021 revenue of $44.5 billion with a net income of $5.73 billion. These numbers were largely fueled by its digital business, which has more than doubled since 2019 (before the pandemic).
Despite being a well-established brand, Nike has been growing revenues at an average of 8.4% over the past five years. In order to maintain this growth, CEO John Donahoe plans to focus on its women's business, apparel, Jordan brand and international markets. In particular, its women's business will be a main focus as it has experienced outsized growth over the past few years.
He also stated that the company doesn't plan to just try and win market share from competitors. It wants to inspire more people to consider themselves athletes and grow the total size of the market.
Now, a quick look at Nike stock earnings prediction.
Nike Stock Earnings Prediction
Nike is expected to report earnings on September 23, 2021. Analysts are expecting EPS of $1.12 and total revenue of $12.46 billion. One interesting thing to note is that Nike has beaten its earnings per share (EPS) expectations for the past four quarters in a row. Twice in the past four quarters, Nike has beaten expectations by over 80%.
However, COVID-19 still poses a significant risk to Nike's business. Although the bulk of the pandemic has already passed in the United States, many other countries are still feeling the effects. This is important because it can interrupt Nike's supply lines overseas as well as hurt its sales in these markets. Remember that 'international' is a large focus for CEO John Donahoes' plan for growth. Either of these scenarios would hurt Nike stock forecast in the short term.
Right now, it's predicted that Nike could lose as much as 160 million pairs of shoes due to facility closures in Vietnam. While COVID-19 didn't have much of an impact on Nike's business in 2020, that doesn't mean that things might be different this time around. Also, it is always difficult to tell how investors will react to news. For example, Nike could beat expectations but the stock still might fall.
At the end of the day, pending a cultural shift in the minds of athletes, the long-term Nike stock forecast will almost always be bright. Nike's brand, marketing and business fundamentals are incredibly strong. Even if Nike stock does fall in the short term, it will likely only be a temporary setback.
I hope that you've found this Nike stock forecast to be valuable in determining whether Nike is a good stock to buy! As usual, all investment decisions should be based on your own due diligence and risk tolerance.
If you're looking for more investing opportunities, check out these top sports stocks. You can also sign up for Wealthy Retirement. It's a free e-letter that's packed with investing opportunities, tips and tricks. You'll hear directly from investing experts.
---
A University of Miami grad, Teddy studied marketing and finance while also playing four years on the football team. He's always had a passion for business and used his experience from a few personal projects to become one of the top-rated business writers on Fiverr.com. When he's not hammering words onto paper, you can find him hammering notes on the piano or traveling to some place random.