Nikola stock forecast has wowed onlookers with its electric truck concepts such as the Nikola One. These vehicles are hydrogen-powered semi-trucks. And may be capable of replacing some of the long-haul semi-trucks you see on the road today. They would do so with zero emissions, giving them the potential to revolutionize the trucking industry.
However, Nikola has also been shrouded in controversy. Having recently been investigated by the Securities and Exchange Commission in a fraud case. Hence, investors should be aware of what exactly they are getting with Nikola stock.
We'll take a closer look at Nikola, allegations against the company, and whether it's worth investing in NKLA stock as a whole.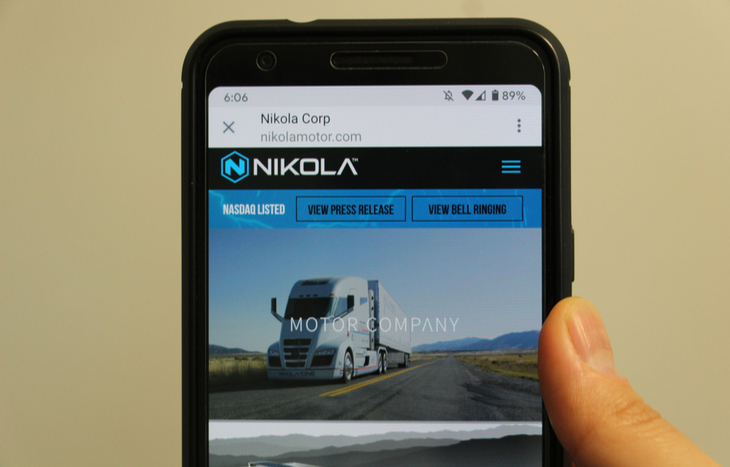 Nikola Stock Forecast: What is Nikola?
Nikola Corporation (Nasdaq: NKLA) is a Phoenix, Arizona-based company. The company has followed Tesla's lead in naming itself after famed electrical engineer Nikola Tesla. Nikola Tesla is credited with inventing the alternating current that still runs through our homes today.
Nikola unveiled numerous electric vehicle concepts between 2016 and 2020. Including the Nikola One, Nikola Two and Nikola Tre. All of its vehicles have remained mere concepts. However, Nikola has stated it plans to bring some of them into production and scale up.
Nikola's public debut was on June 4, 2020, in a $12 billion IPO. And its shares debuted on the Nasdaq at $37.55. Nikola said it would deliver its first electric trucks in Q4 2021. It made good on that promise, delivering its first Tre battery-electric vehicles (BEVs) in December. The Tre is capable of 350 miles of electric range. Making it best-suited to local deliveries.
One can't overstate the importance of Nikola's first delivery. Many doubted Nikola's ability to produce a real vehicle as opposed to just renders on a screen. While it is still very early and Nikola will have to increase production by an order of magnitude, seeing a real-world Nikola truck is an encouraging sign for investors.
Quarterly Earnings
It comes as no surprise that Nikola stock forecast quarterly earnings don't look very encouraging at the moment. The company only just delivered its first truck in December 2021. That said, its net income for Q3 2021 was -$267.57 million. Its operating income was -$271.8 million, and its cash declined by $45.7 million.
Interestingly, it has been beating earnings per share (EPS) projections, doing so in each of the past four quarters. The projection was a negative EPS in each quarter. But having high-than-expected EPS is the one bright spot in NKLA's quarterly financials at the moment.
Nikola Stock Price Forecast
Nikola shares are currently priced at around $10, which is much lower than its peak of about $65 shortly after its IPO. And its price didn't increase enough to be worth mentioning after the delivery of its Tre semi-trucks in mid-December.
However, Nikola has big plans for 2022 and beyond. It will complete phase 1 production of its assembly expansion plan at its Coolidge, Arizona plant. With phase 2, it will be able to produce 20,000 vehicles, including its Tre BEV. It also completed a facility in Ulm, Germany in September 2021, allowing it to expand to Europe's largest economy. In 2023, Nikola stock forecast plans to release its first Tre fuel-cell electric vehicle (FCEV).
All this has projections for NKLA stock around 40% to the upside for next year. Of course, what both freight companies and investors want to see is actual production. As production expands, it stands to reason that the share price would increase.
That said, the most prevalent recommendation right now is to hold rather than buy. Perhaps that will change as Nikola begins to scale up production and enter more markets. If it does, we will no longer see Nikola stock forecast at its current price of just $10; a much higher price would become a reality over the next few years.
Keep reading for more info on Nikola stock forecast. 
Fraud Allegations
Fraud is a serious allegation. And not one that investors take lightly. So, it seems worth briefly addressing here. Former Nikola CEO Trevor Milton was under investigation by the SEC over an alleged fraud scheme. In July 2021, Milton was charged with three counts of criminal fraud for "lying about 'nearly all aspects of the business." Importantly, those charges were waged against Milton and not against Nikola.
Exhibit A for these fraud allegations was the demonstration Nikola showed of its One BEV rolling down a hill with no onboard propulsion. In other words, it wasn't clear the truck could actually move forward without the force of gravity. An investigation later confirmed that the truck was indeed motorless.
Milton then resigned as CEO, and Steve Girsky became non-executive chairman of the board. However, the damage was done, and not just in terms of NKLA's share price. For instance, BP backed out of a partnership to build hydrogen refueling stations for Nikola trucks. Then in November 2020, GM announced it would no longer pursue an equity stake in Nikola.
Should You Buy Nikola Stock?
Nikola is not in the best position right now after the PR nightmare it sustained amid fraud allegations. As a result, its share price is a fraction of what it was, even on its first day on the Nasdaq. Thus, it's no surprise that most analysts can't do more than recommend holding the stock for now.
Still, in reviewing Nikola stock forecast, it's far from throwing in the towel. In fact, it completed its very first vehicle delivery in December 2021. And it continues to work on expanding its production capacity. It should be able to produce 20,000 vehicles per year once it completes phase 2 at its Coolidge plant. Then, in 2023, it plans to start delivering FCEVs.
Given how early it is for Nikola, though, it may be best to add the stock to your watch list. As mentioned, the company is not profitable yet, after all. Once it expands production capacity, it may be able to reach profitability. For now, though, it remains a (mostly) future-state business.
---