Tech Stocks
Nuance Stock Forecast: Microsoft Deal Brings Immediate Value
Nuance stock is set for a major boost after Microsoft's latest announcement. In fact, the tech giant is buying Nuance Communications (Nasdaq: NUAN) in a mega deal that is sure to shake-up the industry. Let's take a closer look at this acquisition by Microsoft (Nasdaq: MSFT).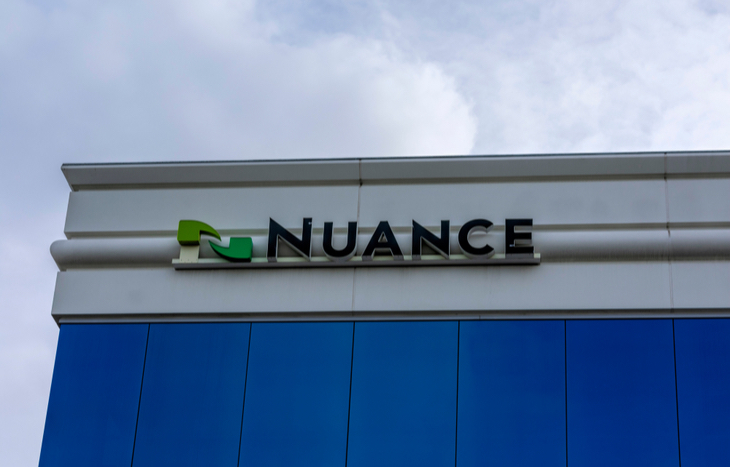 How Will the Microsoft Acquisition Impact Nuance Stock?
Microsoft is buying Nuance Communications for $56 per share in a deal worth about $19.7 billion. That's 23% higher than Nuance stock's closing price of $45.58 on the last trading day before the deal was announced on April 12, 2021.
And this represents Microsoft's largest acquisition in five years. In 2016, Microsoft bought LinkedIn for $26 billion.
Just last week, Microsoft acquired gaming company Zenimax for $7.6 billion. As you can see, the multinational tech company is no stranger to making headline acquisitions.
Investors are now expecting Nuance to receive a boost as trading resumes this week. However, it's important to learn more about this speech recognition company before investing in Nuance stock.
Nuance Communications Background
Nuance Communications was founded in 1994 in Menlo Park, California. It was originally a spin-off of Speech Technology and Research (STAR) Laboratory to commercialize speech recognition technology.
By 1996, Nuance had deployed its first commercial, large-scale speech application. And in 2000, its success led to an initial public offering (IPO) on the Nasdaq under the ticker symbol NUAN. Nuance stock was original listing was for $17 a share.
In 2005, Nuance was acquired by and merged with ScanSoft, a Xerox spin-off that produced scanner hardware and software. The deal was worth $221 million. And the company took on the Nuance Communications name going forward.
It has since acquired a wide range of companies before seeing drastic growth in 2020. And now its joining Microsoft's portfolio for a whopping $19.7 billion.
Microsoft's goal is to utilize Nuance's artificial intelligence (AI) solutions to deliver higher capabilities across healthcare and other industries. Before the deal, Nuance was an acquisition target for Apple (Nasdaq: APPL) and several other companies.
Nuance Stock Forecast
Nuance stock is sure to benefit from the Microsoft acquisition. And it was doing just that within hours of the announcement. Therefore, many experts and investors expect the company to have a huge year as Microsoft rolls out Nuance's technology on its cloud products.
This is great news for investors. Not only does it create more interest, but it helps Nuance's growing reputation as an industry leader in voice recognition technology and artificial intelligence.
This may be a great addition to your investment portfolio going forward. Nevertheless, you will want to keep a close watch on this company over the coming months.
Investing in Tech Stocks
Tech stocks are always in the spotlight. And they aren't leaving the spotlight anytime soon. Some of the most successful companies are tech giants. The proof is everywhere.
For example, Alphabet (Nasdaq: GOOGL), Amazon (Nasdaq: AMZN) and Facebook (Nasdaq: FB) are household names that dominate the market.
To stay up-to-date with the latest tech news and upcoming IPOs, sign up for the Investment U e-letter below. You don't want to miss out on the next big tech stock to hit the market.
Microsoft is a big believer in Nuance Communications. So, you may want to get in on the action before Nuance stock takes off.
---
Corey Mann is the Content Manager of Investment U. He has more than 10 years of experience as a journalist and content creator. Since 2012, Corey's work has been featured in major publications such as The Virginian-Pilot, The Washington Post, CNN, MSNBC and more. When Corey isn't focusing on Investment U, he enjoys traveling with his wife, going to Yankees games and spending time with his family.