Getting rich doesn't happen overnight… Well, unless you hit the lottery. But for most, it takes years of determination and a solid plan to get there. And one of the most overlooked game plans is making passive income investments.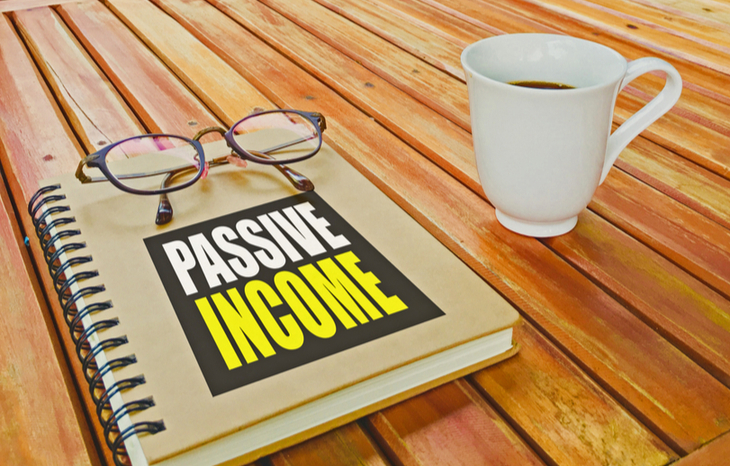 There are lots of passive income investment strategies out there. But they all boil down to the simple idea of putting your assets to work.
For instance, let's say you've got a fancy car that's mostly collecting dust. It should be worth more money in the future, but in the meantime, it's not really being used.
If this sounds familiar, there are website like turo.com that can turn that car that's collecting dust into a money-making machine. All you have to do is post your vehicle on the company's website and it allows individuals to rent it from you.
Forbes reported that car owners have been using the service to pay off car loans years early. And for those don't have a car payment, that money can go straight into bolstering your retirement account.
That being said, turning your driveway into a car rental lot isn't for everybody. But that's just one investment you can put to work and start earning cash.
Here are some of our favorites…
Passive Income Investment No. 1
Since this is Investment U, we're going to focus on the more practical investment side of things. And one of the most profitable investments out there is staking a claim in dividend aristocrats. This is a tried and true passive income investment strategy. It can grow an individual's wealth in more ways than one.
For the uninitiated, dividend aristocrats are companies that have increased dividend payouts to shareholders for at least 25 consecutive years. For example, back in 2000, PepsiCo (Nasdaq: PEP) paid out a quarterly dividend of $0.14 per share. But today in 2020, that quarterly dividend has grown to more than $1 a share.
So shareholders have not only seen an increase in the price of shares, but also their quarterly payouts. And with a little effort, it's possible to lock in a stream of passive income every month by investing in the right companies. Check this out…
Dividend aristocrat Clorox Company (NYSE: CLX) delivers its dividend in January, April, July and October. But Target Corporation (NYSE: TGT) pays its dividend February, May, August and November. Meanwhile, T. Rowe Price (Nasdaq: TROW), sends its dividend out in March, June, September and December. So by holding shares in these three companies, investors are all but guaranteed to be rewarded with a monthly influx of cash. There aren't many passive income investments as simple and straightforward as this one.
Passive Income Investment No. 2
We've heard it time and time again. Bonds are boring. But that's kind of the point. And bonds hold some of the highest potential compared to other passive income investments. They require virtually no management and the cash can start flowing in almost immediately.
While the underlying price of bonds does fluctuate, investors are guaranteed a fixed return on their investment as long as it is:
Held to maturity
The company doesn't default on its loan
And these can be perfect for long-term investors. That's because the interest rate is typically higher for long-term bonds. Payment schedules do vary – payments can be sent annually, quarterly or monthly – so keep this in mind when looking to bonds as a passive income investment.
To put it simply, for people who depend on income from their investments to cover daily living expenses, bonds are a no-brainer.
Now there are a lot of options to choose from. Corporate bonds, mortgage bonds, municipal bonds, foreign bonds and U.S. Treasury bonds are some of the most popular. U.S. Treasury bonds though are considered one of the safest investments in the world…
While they don't have as high a yield as some others, passive income investors only have to give up a little bit of yield in exchange for a virtually risk-free portfolio. And with a little bit of effort or help from a broker, it's possible to set up coupon payments and maturities that can operate in line with almost any income needs. It just takes a little money upfront to do so. That's what makes bonds (especially U.S. Treasuries) such a compelling passive income investment.
For a more thorough primer on bonds and to learn why they make such a good passive income investment, check out our bond introduction here.
Passive Income Investment No. 3
If you're looking to make money from passive income, follow the lead of institutions that have been successful at it: banks.
Banks have developed all sorts of ways to make money. But one of the easiest paths of theirs to follow is the lending process.
Now you don't have to get licensed by the Federal Deposit Insurance Corporation (FDIC) to get into the lending game anymore. There are several platforms out there that allow investors to "play" banker.
What it consists of is depositing money into an account and then picking which borrowers you'd like to lend to. This new form of peer-to-peer lending takes the bankers out of the equation. It can help borrowers consolidate credit cards, expand a small business or pay off a car loan. And in return, lenders are rewarded with higher interest.
And unlike banks, it doesn't take millions of dollars to get the process started. Peer-to-peer lenders can start with a loan as small as $25.
One of the most popular peer-to-peer lending websites is Prosper. Once you set up an account potential lenders can look through lists of those looking to borrow funds. Potential lenders are then given information about the person seeking the loan. While you won't be privy to borrower's personal information, you can see their credit score, personal income and other details that can help you decide if you would be willing to lend to this borrower.
And just like banks, the higher the rating a borrower has, the lower the interest rate the lender will be paid. But just like a credit card or mortgage payment, the lender is paid back interest and principal each month.
So a person with an outstanding rating will generate around 4% to 5% yield on the loan for the borrower. But someone with a not-so-great rating can generate a 35% yield for the lender. But naturally, with the higher yield, comes higher risk.
There's no guarantee that the borrower will pay back the loan in full. But just like defaulting on any other type of loan, if the borrower doesn't pay back the loan in full, their credit rating will take a hit.
Peer-to-peer lending is an easy passive income investment to put your money to work. But just like any other form of investing, it's smart to diversify. This way if one loan is defaulted on, it won't hurt too bad because other loans will still be generating income.
In addition to Prosper, Lending Club, Funding Circle and Upstart are services that offer a similar structure for peer-to-peer lending. But always remember that in general, the higher the reward, the higher the risk. But even the lowest risk yields are sure to generate a lot more passive income than parking your money in a savings account and pulling in a meager 1% interest.
Looking for A Little More?
As mentioned above, this is only a small taste of the myriad ways to start generating wealth by through passive income investments.
But if you're interested in taking a deeper dive and learning critical strategies to start growing your wealth, you can sign up for the Investment U Private Wealth Seminar which is being live streamed from Park City, Utah right here.
And don't forget to sign up for the free Investment U e-letter below. It's packed with passive income investment opportunities from market experts.
Read Next: The Best Passive Income Stocks for 2020
---
Matthew Makowski is a senior research analyst and writer at Investment U. He has been studying and writing about the markets for 20 years. Equally comfortable identifying value stocks as he is discounts in the crypto markets, Matthew began mining Bitcoin in 2011 and has since honed his focus on the cryptocurrency markets as a whole. He is a graduate of Rutgers University and lives in Colorado with his dogs Dorito and Pretzel.