With absolutely zero data to support my statement, I'm declaring pizza as the world's favorite food (pizza stocks will thank me later). This is based purely on the fact that I've never met someone who doesn't like it. It's good for parties, Friday nights, quick lunches, etc. Pizza is a good option to feed a crowd or you can also just grab a quick slice for yourself. It's honestly one of the most versatile foods in the world.
When it comes to finding tasty pizza spots, there are probably dozens of options in your neighborhood to choose from. However, when it comes to finding a potential pizza stock, the options are actually few and far between.
This is because there are only a handful of publicly-traded pizza stocks. If pizza stocks were a pizza pie, it would be cut into just three slices. The three main pizza stocks are Domino's, Papa Johns and Yum! Brands (Pizza Hut). Nestle also has a portfolio of popular frozen pizza brands, so I've included them as well.
Whether or not you actually like the brands pizza hardly matters. What matters is determining whether any of these pizza stocks are a good fit for your portfolio. I've pulled a few highlights for each brand below in order to help you make this decision.
Let's take a look at the four best pizza stocks to buy.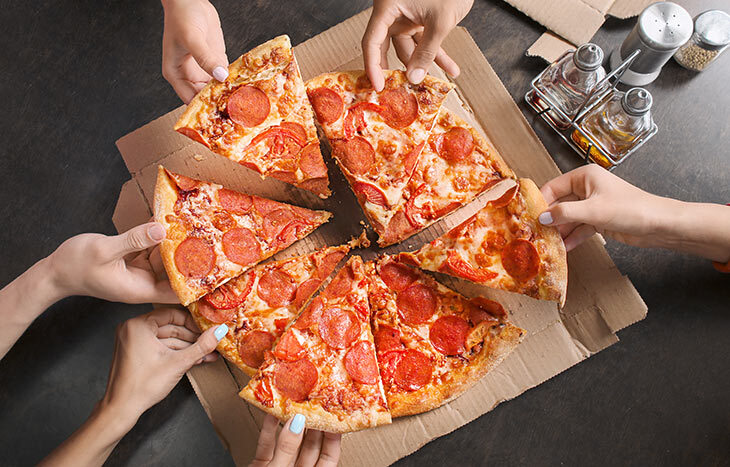 Pizza Stocks To Buy
Domino's (NYSE: DPZ)
Domino's is currently the world's largest pizza chain. It has 18,057 locations in over 80 countries. Domino's brought in $4.12 billion in annual revenue this year. This was up 13.78% from 2020. It also posted a net income of $491 million, which was up 22% from 2020. Domino's revenue has grown by an average of 13% annually over the past five years.
What's especially interesting about Domino's is that it's really an eCommerce company that just happens to sell pizza. In 2015, Domino's VP of Multimedia Marketing literally said, "We're starting to think of ourselves as an e-commerce company that sells pizza. So we can take a few more risks and lean forward a little more. E-commerce companies move fast and launch stuff and learn along the way." Today, Dominos receives 75% of all its orders digitally.
Since this statement, Domino's has been exploring new ways to improve the pizza delivery model. To start, Domino's introduced the pizza tracker. This service lets customers know exactly where their pizza is at in the delivery process. Domino's also recently introduced Anyware. This service lets customers order pizza from virtually any platform (Slack, Alexa, your smartwatch, text message, etc.).
More recently, Domino's introduced its two-minute "Carside Delivery Service." Customers order a pizza, drive to a Domino's location and get their pizza delivered right to their car by a Domino's employee.
Domino's stock is up 37% so far in 2021 and up 217% over the past 5 years.
With that said, it's no wonder why Domino's is one of the best pizza stocks to buy.
Papa Johns (Nasdaq: PZZA)
If Domino's is Nike, then Papa Johns is Adidas. It's a close runner-up that offers a great alternative product. Papa John's has a humble origins story. It was started when John Schnatter renovated a closet in his dad's tavern. To buy the necessary pizza equipment, John sold his 1971 Camaro. He began to sell pizza to his father's customers. The business grew until he eventually bought the neighboring store. After Papa John's went public, John bought his 1971 Camaro back after offering a $250,000 reward.
Today, Papa John's is ranked as the fourth-largest pizza chain in the world. It falls behind Domino's, Pizza Hut and Little Caesar's. In 2020, Papa John's pulled in $1.8 billion in revenue but just $57.93 million in net income. Even though it sells a lot of pizza, Papa John's has a profit margin of just 3%. This means that it makes very little profit per pizza sold.
That said, Papa John's stock could be poised to break out over the coming years. In 2019, it welcomed a new CEO from Arby's, Rob Lynch. Over the past two years, Mr. Lynch has been strategically optimizing the company's capital structure. Papa John's has started 2021 hot with three profitable quarters in a row. After reporting strong Q3 2021 earnings, Rob stated, "Papa John's has passed the inflection point from turn-around to the long-term growth story."
Papa John's stock is up 53% so far in 2021. Interestingly, it's also up 53% over the past 5 years.
Yum! Brands (NYSE: YUM)
One thing to note is that Yum! Brands is a massive restaurant operator. Combined, it operates about 43,617 restaurant locations. A few notable brands that it owns are KFC, Taco Bell, The Habit Burger Grill, and Pizza Hut. Since it owns a few brands, Pizza Hut sales only make up a percentage of Yum! Brand's total sales. If you are looking specifically for a pizza stock, Yum! Brands is probably not it.
With that said, Yum! Brands brought in $5.65 billion in revenue in 2020. It also posted a net income of $904 million. Of its three main brands, KFC makes up about 50% of Yum! Brands sales. Pizza Hut and Taco Bell split the other 50% evenly
Pizza Hut hangs its hat on being the first to offer pan pizza and stuffed crust pizza.
Since it owns a diversified portfolio of popular restaurants, there's a good chance that Yum! Brand's stock will stay relatively stable. Additionally, it recently declared a dividend of $0.50 per share. This could make it a good option if you're looking for a safer, more reliable pizza stock.
Pizza Hut also has a new CEO set to start in 2022, David Graves. Graves has high-level experience at both KFC as well as Proctor & Gamble.
Yum! Brands stock is up 18% so far in 2021. It is also up 100% over the past 5 years.
Nestle (OTC: NSRGY)
Nestle is a swiss multinational food and drink conglomerate. It is also the world's largest food & beverage company by total sales. It has a wide portfolio of brands including Cheerios, Hot Pockets, Nesquick, Haagen Dazs, Gerber, Kit Kat, Nescafe, Coffee-Mate, San Pellegrino and more. Due to this, it is not technically a pizza stock. However, it is one of the leaders in frozen pizza.
Nestle owns a few of America's most popular pizza brands. This includes DiGiorno. California Pizza Kitchen, Tombstone and Jack's. Nestle's pizza division alone has almost 1,800 employees. That said, these brands are going to make up a very small portion of Nestle's overall income.
Nestle's stock is up 18% so far in 2021 as well as 97% in the past 5 years.
Investing in Pizza Stocks
Another potential pizza stock to consider is California Pizza Kitchen. California Pizza Kitchen is not publicly traded yet. However, it's reportedly planning either a sale or an IPO. If you're a CPK fan, be sure to keep your eyes peeled for more news!
Whether you're looking for big growth opportunities or stable dividends, you'll find them in the Liberty Through Wealth e-letter. This free e-letter is packed with investing tips and tricks. No matter your level of investing experience, there's something for everyone.
I hope that you've found this article valuable when it comes to learning about a few potential pizza stocks to buy. As usual, all investment decisions should be based on your own due diligence and risk tolerance.
---
A University of Miami grad, Teddy studied marketing and finance while also playing four years on the football team. He's always had a passion for business and used his experience from a few personal projects to become one of the top-rated business writers on Fiverr.com. When he's not hammering words onto paper, you can find him hammering notes on the piano or traveling to some place random.