The Plaid IPO is eagerly awaited by investors. The open banking leader is one of the most anticipated IPOs of 2022. So when can investors expect Plaid stock?
Plaid IPO: About the Business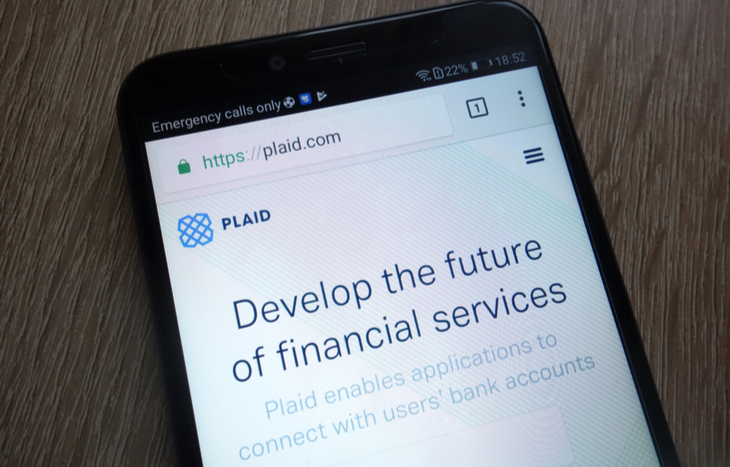 Plaid enables clients to link their bank accounts to other apps to transfer money and make payments more quickly and efficiently. Founded in 2012, the fintech company is leading the "open banking" revolution.
Third-party application developers can connect with user accounts using an application programming interface (API). So, any time you connect your bank account to an app by simply signing into your bank account, there's a chance you're using Plaid's technology.
As a result, Plaid receives a small fee for helping to facilitate transactions. For example, you connect your bank account to Robinhood and transfer money. In return, Plaid receives a small fee for facilitating the service.
Growth Fuels Demand for Plaid Stock
Open banking isn't a new concept. However, it's gained a lot of momentum in recent years. COVID-19 forced customers to do more business online and through mobile apps. As a result, Plaid's 2020 revenue skyrocketed to $170 million, representing 60% growth from the year prior. Furthermore, it looks like the transition online is here to stay. Zach Perret, Plaid's CEO, told Forbes…
Three-fourths of consumers are saying they've achieved a new normal in their financial life, and they plan to fully interact with their financial services digitally. The 50-plus demographic, for example, is one of the fastest-growing demographics amongst many of our customers.
Furthermore, the rapid growth of APIs and new regulations are fueling the push for open banking. Major financial institutions are beginning to embrace change and it's catching the eye of investors.
For example, JP Morgan's CEO Jamie Dimon criticized Plaid in January 2021, saying that there's a battle brewing with companies that "improperly use the data that they're given." However, the banking giant got the attention of investors when it invested as part of Plaid's Series D fundraising round just months later.
More importantly, Plaid drew attention when news broke of a merger with industry leader, Visa (NYSE: V). However, the deal did not materialize, so investors are holding out for Plaid stock.
Plaid IPO Likely After Visa Calls Off $5.3 Billion Acquisition
In early 2020, Plaid signed an agreement for a merger with Visa for a staggering $5.3 billion. However, the acquisition fell through just months later. The Justice Department filed a lengthy antitrust lawsuit challenging the deal, claiming it would grant Visa an unlawful monopoly in the market for online debit cards. A member of the Justice Department's Antitrust Division said…
Visa is attempting to acquire Plaid, a nascent competitor developing a disruptive, lower-cost option for online debit payments. If allowed to proceed, the acquisition would deprive American merchants and consumers of this innovative alternative to Visa and increase entry barriers for future innovators.
The deal challenged Visa, saying the online debit giant has been using exclusionary tactics that prevent rivals from expanding or entering. As a result, Visa abandoned the offer. However, Plaid faced rapid growth even after. And it doesn't seem likely that the company will seek out another merger partner. So, investors are eagerly waiting for the Plaid IPO.
Plaid Reaches $13.4 Billion Valuation After Funding
Because Plaid is still private, its finances aren't available to the public. The company's latest funding took place in April 2021. Plaid announced a Series D funding round led by JP Morgan and American Express that raised $425 million. The funding round gave the fintech giant a $13.4 billion valuation. The figure is far more than the $5.3 billion Visa was ready to pay for Plaid in January 2020.
In total, Plaid has raised $735 million in Venture Capital funding, according to Crunchbase. Some of Plaid's investors include Andreessen Horowitz, JP Morgan, MasterCard, Visa, American Express Ventures, Citi Ventures and Spark Capital. So, it begs the question… how much can the Plaid IPO raise?
Plaid IPO Filing Details
Many investors want to know when they can expect Plaid stock. However, a Plaid IPO is a rumor for now. There are no filings or official announcements. However, sources have reported that the company is likely to make a public debut in 2022.
Plaid's IPO date is not defined yet. However, if you're interested in Plaid stock, keep an eye out for updates as new information becomes public.
The ticker is unknown at this time. However, sources report that the stock ticker for Plaid will probably be PLAD. So, investors should start preparing to invest in the stock. You can learn more about the IPO process in this step-by-step guide to going public.
As always, make sure to research before you invest. IPOs can be volatile for the first few months and share prices are constantly changing. Furthermore, if IPO investing interests you, check out our top recent IPOs and our IPO calendar. We update the calendar daily to give you the latest news on upcoming and filed IPOs.
---
Aimee Bohn graduated from the College of Business and Economics at Towson University. Her background in marketing research helps her uncover valuable trends. Over the past year, her primary focus has been researching IPOs and other trends.