With stocks down across the board this year and negative news about the economy every week, many folks are trying to keep up on recession predictions. Honestly, it's very hard to predict a recession, even for the experts.
A good start may be knowing exactly what a recession is. Commonly, folks believe a recession is two straight quarters of negative growth in Gross Domestic Product (or GDP). Officially, a recession is determined by a panel of experts from the National Bureau of Economic Research (NBER).
NBERs webpage provides a little clarity. On it, they say: A recession is a significant decline in economic activity spread across the economy, lasting more than a few months, normally visible in real GDP, real income, employment, industrial production, and wholesale-retail sales. A recession begins just after the economy reaches a peak of activity and ends as the economy reaches its trough. By that definition, we won't know if there is a recession until well after it starts.
One key term in the definition is real GDP and real income. To clarify, the term 'real' refers to the effect of inflation. With inflation running at a record pace this year, it could be hard for GDP and income levels to remain positive.
On the other hand, employment is also a determining factor. Currently, employment in the U.S. is strong. Unemployment is low, and there are plenty of job openings. So, what do the experts think? Let's take a look.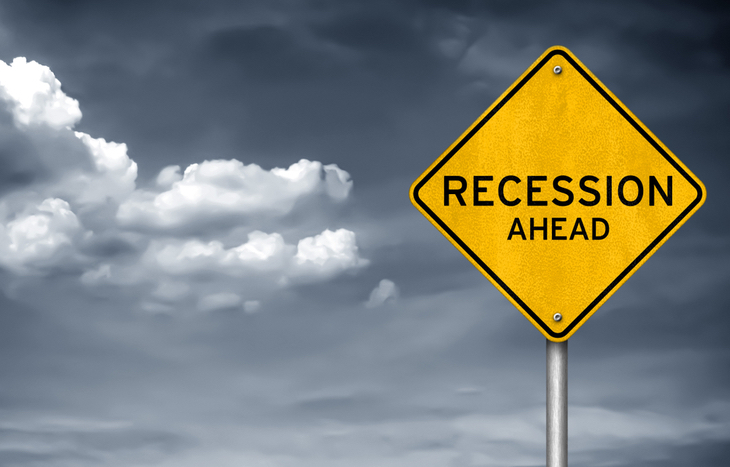 U.S. Recession Predictions
Instead of breaking down NBER's subjective definition, we could look at predictions for its determining factors.
Top Recession Predictions
With so many question marks about the Russia/Ukraine conflict and inflation, calls for a recession in the U.S. have been mounting. Some more optimistic leaders think recession fears are overblown. The CEOs of major banks have a clear view of the U.S. economy, even they are split.
Jamie Dimon, CEO of JPMorgan, shared his thoughts on the possibility of a recession. At a recent conference in New York, Mr. Dimon said, "You know, I said there's storm clouds but I'm going to change it… it's a hurricane." For example, he was referring to the increasing negative effect a recession could have on the economy.
Brian Moynihan, CEO of Bank of America, is more optimistic. In a recent interview, he says consumers are in good shape and not overleveraged. He added, "What's going to slow them down? Nothing right now."
On a related note, maybe we should be asking when a recession will hit the U.S. Recently, one poll of economists showed that they think a recession will hit the U.S. in 2023, not 2022. One question in the poll asked, "In which range is the most likely starting quarter of the next recession (as determined by the NBER business cycle dating committee)?"
Of the 47 economists who answered the question, 38% said they think a recession will hit the U.S. in the first or second quarter of 2023. On top of that another 30% of responders think a recession will be high and the third or fourth quarter of 2023.
Interestingly, 21% said they think a recession won't hit the U.S. until the third quarter of 2024 or later. Those responders may be indicating the U.S. won't enter a recession due to its current issues.
What Should Investors Do About a Recession?
There are many unanswerable questions about recession predictions. Will there be a recession in 2022? If so, when will it hit? How bad will it be? What will the stock market do?
The one thing we know for sure is that the U.S. has recovered from every recession in its history. In addition, the stock market has also recovered. Some recessions last longer than others, and sometimes the stock market takes longer to recover from a downturn than others.
Investors may want to consider averaging down to take the guesswork out of your investment strategy. Averaging down works best for long-term investors. In addition, as recession fears hit the stock market, shares of your favorite stocks may be getting cheaper. By buying them at a lower price, you can take advantage of a recovery.
---