One of the chief draws of energy stocks is their healthy dividend. Yet, in the era of ESG investing, many investors have begun reallocating their portfolios with a mind for environmentalism. That means moving away from traditional hydrocarbon dividends and moving into renewable dividends. But what are the best renewable energy dividend stocks out there right now?
Renewables are still something of an emerging market. As a result, many up-and-coming companies aren't quite at the stage where they can reliably pay a dividend yet. Thankfully, there are more than a few large-scale organizations that have diversified into clean energy, and are large enough to bear the burden of a dividend. 
Here's a closer look at a few of the best, most reliable renewable energy dividend stocks available right now, and why they're worth a spot in your portfolio.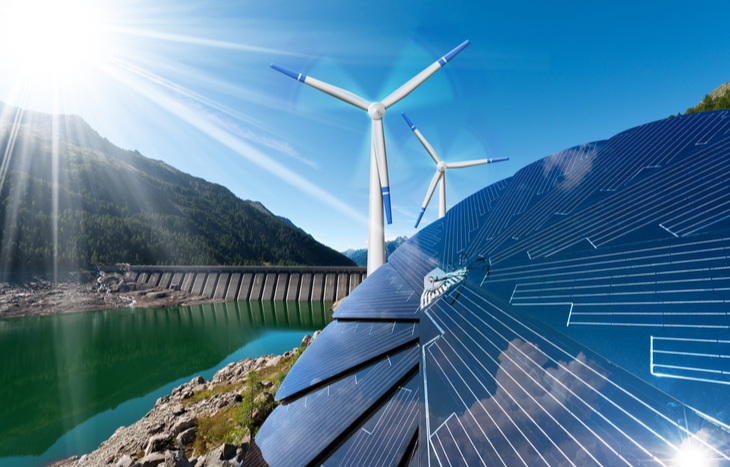 1. Algonquin Power & Utilities Corp. (NYSE: AQN)
This Canadian energy company has all the hallmarks of a dividend growth stock candidate. The company generates green energy through its hydroelectric, wind, solar and thermal facilities. Moreover, it sells energy through Power Purchase Agreements (PPA). It has a strong balance sheet and healthy financials, all of which support a dividend that's been nothing but consistent in its growth. 
As of Q1 of 2022, Algonquin Power & Utilities Corp. pays a healthy 4.3%. What's even more impressive is that it's paid a dividend for the past 15 years and increased its dividend over the past decade. The five-year trailing dividend growth for the company stands at an impressive 12.4%. As the company continues to command strong sales, a healthy margin and a growing EPS, shareholders can expect this renewable dividend to increase in the years to come. 
2. Brookfield Renewable Corporation (NYSE: BEPC)
Often considered the crown jewel of pure-play renewable energy companies, Brookfield Renewable Corporation is a subsidiary of Brookfield Energy Partners. It has an extremely strong history of returning value to shareholders and a healthy balance sheet that makes it possible to offer a very attractive 3.2% dividend. Investors looking for large-cap confidence with dividend growth potential will find it in this company. 
The truly attractive element of Brookfield's dividend is the balance sheet performance that enables it. The company has a stellar operating margin of 57.7%, which paves the way for superb free cash flow. Recent reporting shows strong quarterly sales growth of 20% and astounding quarterly earnings growth of 108%: figures every dividend investor wants to see from a long-term dividend growth candidate.
3. NextEra Energy Partners (NYSE: NEP)
Great diversification across solar, wind and natural gas makes NextEra Energy Partners an intriguing investment among renewable energy dividend stocks. The company has several revenue streams and plenty of PPA opportunities to lean on, and it does so successfully enough to offer a very stable 3.5% dividend. Stable cash flow, healthy margins and strategic reinvestment are all working in favor of NextEra Energy Partners and its attractive dividend. 
This company recognizes the power of its dividend to attract shareholders. Executives have publicly stated their intent to increase the dividend annually by 12%, to 15% through at least 2024. Given its current 23% operating margin and annual sales just shy of $1 billion, there's little reason to believe NextEra Energy Partners won't deliver on its promises and continue to reward shareholders. 
4. Clearway Energy (NYSE: CWEN-A)
Through a generous partnership with its affiliate company, Clearway Energy Group, Clearway Energy has one of the best operating models of companies on this list. The success of its PPAs and continued demand pipeline have driven the company's dividend up to 4.3%. It's a dividend powered by a 16% operating margin on more than $1.6 billion in annual sales. 
The most exciting prospect for Clearway Energy's dividend is the company's continued reinvestment in its clean energy generation capabilities. Right now, the company can produce 4.2 GW of renewable power, alongside another 2.5 GW of natural gas. However, the company has another 10 GW of production capability under development. This positions it to become significantly larger, with a dividend that's likely to follow suit. 
5. Polaris Infrastructure Inc. (OTCMKTS: RAMPF)
Don't let the fact that this stock trades on the pink sheets fool you: Polaris Infrastructure Inc. and its 4.4% dividend are worth looking at twice. The company's financials aren't as buttoned up as some of the others on this list, but the company is extremely consistent in generating revenue. The company prospects renewable energy opportunities in Latin America, focusing on geothermal and hydroelectric production. 
Polaris' dividend can seem a little high for its cyclical profitability. Furthermore, its dividend payout ratio is known to balloon from time-to-time. That said, as the company acquires new projects, it seeks to bring stability to its balance sheet. The company has paid its dividend for 24 straight quarters regardless of financial turbulence, showing a commitment to maintaining it even amidst volatility. 
Dividend Opportunities Will Continue to Grow
Renewable energy dividend stocks are a rare breed right now as the industry continues to take shape. The above companies represent some of the highest-paying dividends in the sector right now; however, other companies are likely to join them as clean energy providers solidify themselves in the space. Just as the transition to renewable energy won't happen overnight, dividend investors should also temper their expectations as they seek to move toward more sustainable investments. Start with the five dividend stocks above.
---