Although wood products may not seem like an exciting business, it's been a rewarding one as of recently. Forestry stocks are soaring with increasing demand for wood products. One opportunity that's benefitting from the demand is Resolute Forest Products stock (NYSE: RFP).
Resolute Forest Products was formed in 2007 through a merger between two forestry companies. But, the company has been in business long before that. In fact, in May 2020, Resolute celebrated its 200th year.
As a leader in paper products, the forestry company is cashing in on the greater demand for its materials.
Despite the challenges the industry has faced this past year, Resolute Paper has managed to continue growing. However, can the growth last with wood prices declining?
Let's take a look at RFP stock and how the company plans on continuing its success…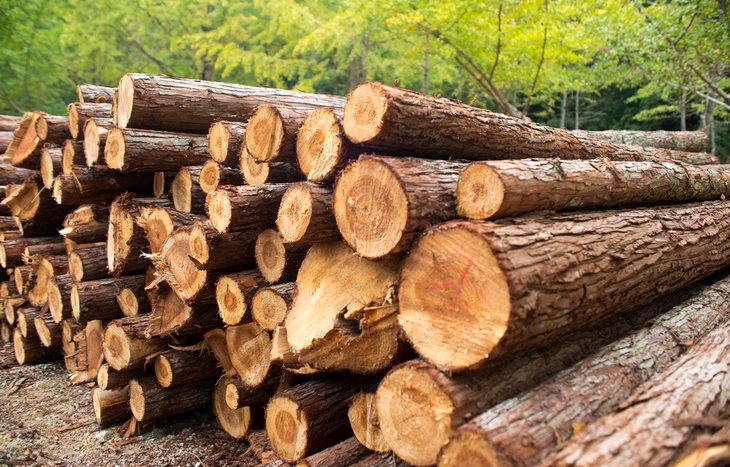 Resolute Forest Products Stock Weathers the Storm
Last year when the pandemic raced across the globe, it disrupted industries, causing companies to adapt. In Resolute Forest Products 2020 10K annual report, the company laid out two primary goals:
Protect the health and well-being of its people and,
Support the business through uncertainty.
With that being said, paper products such as those sold by the company were classified as essential. For example, wood products such as lumber saw considerable demand as many people set their sights on home buying. As a matter of fact, data from the National Association of Realtors shows in July 2020, home sales grew 24.7%, the highest monthly total ever.
Additionally, those that weren't buying a home were busy upgrading. A consumer survey found by June 2020, nearly 80% of homeowners started a DIY project.
Resolute Forest Products preyed on the opportunity to transform its business. By focusing on the strength in demand for wood, the company overcame weaknesses in other parts of the business.
On top of this, by strategically protecting employees, it avoided any injuries at over half its sites.
Next we'll look at some areas of business could benefit Resolute Forest Products stock.
Resolute Forest Products Areas of Business
Believe it or not, forest products go far beyond lumber. Although lumber was a big part of Resolute's growth this past year, the company has other products. The four business segments include:
Wood Products
Market Pulp
Tissue and,
Paper
If one business area is hurting, another can pick it up, such as the case in 2020. When tissue and paper sales were hurting, wood products helped to cushion it.
1)    Wood Products
Wood is the most sustainable building material. These products can include lumber, engineered wood, and other types. What's more is Resolute is the number one producer east of the Canadian Rockies.
The category was the most significant in terms of sales in 2020, with $1.025 billion. And in 2021, so far, the company has already generated $1.094 in sales. The unit was supported by higher demand for lumber.
Also, at the beginning of 2020, Resolute bought three U.S. sawmills, contributing to more sales.
2)     Market Pulp
Market pulp is used to make goods like paper towels and coffee filters. With that being said, Resolute Forest Products is one of the only producers capable of supplying different grades.
The segment generated $668 million in sales in 2020 despite several challenges. The market pulp unit produced $30 million in operating income in the second quarter, up 153% from Q1.
3)     Tissue
Tissue paper is another critical business area that could influence Resolute Forest Products stock price. If you missed the tissue paper shortage of 2020, lucky you. But, tissue paper is only one product the company makes. It also produces things like napkins and facial tissue.
In fact, the company bought a converting facility in Maryland in December. What's more is the facility comes with three bath tissue & towel converting lines to boost sales.
But, as of right now, tissue is the poorest unit for sales. It generated $173 million in 2020 and another $77 million so far this year.
4)     Paper
Paper sales have been somewhat consistent when compared to other units. These products include things like newspapers and books.
Resolute's annual capacity sits at 44% of the North American market. Despite a slowdown in newspaper demand, sales have remained consistent. In 2020, paper sales reached $934 million.
The State of Forestry
Although many commodities saw their values increased significantly in 2020, wood has been among the best stories to follow. Having said that, the big storyline is lumber prices. The higher demand for housing has led to rapid price gains.
But, as Covid19 hit, many of us realized just how vital other products are like toilet paper. Regardless of the slowdown in other paper products like newspapers, the industry has remained relevant.
The digital transformation has actually revived the forestry industry. While companies like Amazon and eBay thrived during the pandemic, it created a higher demand for packaging products. Additionally, restaurants transitioned to serve more delivery options, further boosting packaging sales.
On top of this, technology advances in the industry are reducing costs. As a result of fewer expenses the company can potentially earn more.
Resolute Forest Products Stock Forecast – Will the Boom Last?
With lumber prices already down over 90% since their highs, can Resolute Forest Products continue its run?
As RFP stock prices are extending over 200% in the last year, the stock looks a bit overheated. But, with a new upgrade from Scotiabank to a street high of $17, it makes it look cheap. On top of this, the current P/E ratio is sitting at 2.72, showing a value in earnings.
Currently sitting at $12, Resolute's Forest Products stock price is 37% off its high of $17.65 earlier this year. Plus with the company announcing a special dividend of $1.00 per share, the stock looks like deal.
If wood prices can remain elevated, it will help to boost Resolute Forest Products' earnings. In that case, Resolute stock investors could see more upside. Keep in mind, if wood prices continue falling, it could cut into its earnings outlook.
Forest industry conditions can change quickly. Resolute Forest Products stock is just one of many opportunities on our radar. To stay up to date with all the latest investment news, sign up for Profit Trends today. This free e-letter will help you on your way to becoming a smarter, more profitable investor.
---
Pete Johnson is an experienced financial writer and content creator who specializes in equity research and derivatives. He has over ten years of personal investing experience. Digging through 10-K forms and finding hidden gems is his favorite pastime. When Pete isn't researching stocks or writing, you can find him enjoying the outdoors or working up a sweat exercising.