Despite what you may have heard, physical retail isn't dead. True, some retailers have struggled in the wake of rapid industry disruption by Amazon (Nasdaq: AMZN) and the rise of e-commerce. But there are plenty of investment opportunities available to you when it comes to retail stocks.
Perhaps no activity belongs to the fabric of what it is to be American more than shopping does. Whether done in traditional brick-and-mortar stores or through online portals, Americans will continue to shop in any foreseeable future. So expect retail stocks to continue producing profits for many years to come.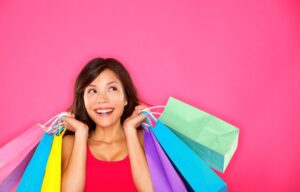 What Is the Retail Industry?
Retail companies sell goods to consumers for their personal use. They are not to be confused with wholesalers, who sell goods to other intermediary businesses for distribution to retailers. So while wholesale companies take a business-to-business (B2B) approach, retail outlets are business-to-consumer (B2C) entities.
The products that retailers sell can be sold through either traditional brick-and-mortar storefronts or online shops. In the contemporary age though, it's hard to exist as a retailer without some kind of e-commerce platform.
In the wake of Amazon's industry dominance, many stores have had to launch cutting edge e-commerce platforms to compete. Walmart (NYSE: WMT) is one example of a company that has adapted to this new technology-driven environment.
Retailers can sell almost any products. Some examples include groceries, appliances, electronics, apparel, home goods, auto supplies, toys, books and much more.
Why Invest in Retail Stocks?
Given the turbulence in the retail industry, you may wonder why you should bother investing in retail stocks. Many companies – like J.C. Penney (NYSE: JCP) – have struggled and some – like Sears – have even gone bankrupt. Doesn't that make retail a poor investment?
Not necessarily. In fact, there are several reasons why you may want to consider an investment in retail. Those reasons include the following:
Retail Is Currently Cheap
Many retailers rely on the idea of "big sales!" to get customers either in their doors or log in online and shop. In a way, there is currently a "big sale" on retail stocks because they have been beaten up in recent years.
Recently, retail stocks have underperformed the broader market. As a result, traditional metrics like the price-to-earnings ratio indicate that retail stocks might be undervalued.
The time to scoop up stocks is when they are cheap. So now might be the perfect time to get in on high-quality retail stocks that have underperformed the market.
Significant Dividend Payouts
Retail stocks tend to be dividend payers. So if you're looking for income in addition to growth or value, then retail stocks could be for you.
More than a few retail stocks are even considered "Dividend Aristocrats" – perpetual dividend raisers that have increased their payouts for 25 years or more. Lowe's Companies (NYSE: LOW) is a good example. It recently announced that its August dividend will be $1.05 and that's 31% higher than last year.
Dividend investing is a great path to long-term profitability and substantial wealth. So picking up retail stocks that pay out dividends can be a lucrative strategy.
Some retailers have been hammered in recent years, even to the point of bankruptcy. But this has created significant opportunities for stronger brands to scoop up market share.
Brands that have capitalized on market share have been able to pave the way for solid revenue and profit growth in the face of a tough market.
And these stores have been further strengthened by the strong economy in recent years. While the market is in some turmoil right now, there are still retailers with solid performance.
Famed mutual fund investor Peter Lynch once famously said that investors should "buy what they know." This means that you should invest in companies and business models that you are familiar with.
Many investors are far removed from a lot of industries. How many of us have hands-on experience with something like blockchain as a service (BaaS) businesses recently?
Yet as consumers, all of us know the retail industry. How many hours a month do we spend shopping for groceries, running into big box stores or scrolling through products on Amazon (sometimes maybe even during work hours).
Because we are so familiar with retail, we have key insight into what's working and what's not. Therefore, if Peter Lynch is right, we can use our consumer insights to be smarter about investing in retail than we can be in less familiar industries.
Opportunities & Threats
On the positive front, the retail industry continues to grow. This is not surprising as the population of the world continues to increase and societies become more affluent.
In 2022 alone, retail sales are expected to rise between 6% and 8%. This would put total sales over $4.8 trillion.
Reasons for this solid growth include strong job growth and declining unemployment. Prices being driven higher by inflation also contributes to the projected increase in total sales for the year.
The overall shift from brick-and-mortar-driven sales to e-commerce-driven sales is also an important opportunity to consider. Companies like Amazon and Walmart are taking advantage of this shift and technological innovations to drive profits.
Roughly 14% of all retail sales are online, and that number is steadily increasing. Buying goods online and picking them up later at the store is becoming a popular model for retailers like Walmart and Target (NYSE: TGT). They will even have their employees pack your car with the goods you bought online mere hours earlier. What service!
But one firm's opportunity is another company's threat. Many traditional retail brands are struggling to keep up in the face of the e-commerce revolution.
Mall-based brands like L Brands' (NYSE: LB) famed Victoria's Secret and large department stores like J.C. Penney have suffered in the switch to e-commerce. And Sears was even forced into bankruptcy.
Another threat to the traditional retail industry is supply chain disruptions. The pandemic brought around major supply issues as factories shut down and workers were sent home.
While most of these disruptions are only temporary, they can be frustrating for the average consumer. Every day it seems there is a new shortage. And as one shortage ends, it seems like another begins.
Top Retail Stocks to Watch
Amazon (Nasdaq: AMZN)
Walmart (NYSE: WMT)
Target (NYSE: TGT)
The TJX Companies (NYSE: TJX)
Lululemon (Nasdaq: LULU)
Home Depot (NYSE: HD)
Dick's Sporting Goods (NYSE: DKS)
Five Below (Nasdaq: FIVE)
Lowe's (NYSE: LOW)
Costco (Nasdaq: COST)
Ways to Analyze Retail Stocks
As with any stock, before you make a selection you should do your homework. There are a number of methods specific to the retail industry that you can use when analyzing a stock. Here are some of those methods:
Gross margins – Gross margins measure a company's sales against the cost of goods sold. This includes the cost of the merchandise itself, labor and occupancy costs. At a healthy company, gross margins should be growing both sequentially and year-over-year.
Inventory trends – Store inventories should be increasing roughly at the same pace as sales. If inventories begin to greatly outpace sales, this can be an indication that stores are having trouble selling the merchandise. Which could lead to either steep discounts or complete write-offs of significant inventory down the road.
E-commerce presence – Look at whether the brand has made itself impervious to e-commerce competition. It's almost impossible for large brands to compete without an online store now. Not only that, but their e-commerce platforms need to be competitive with industry leaders like Amazon and Walmart when it comes to user experience and functionality.
State of their stores – Go to the stores and look around! What is the shopping experience like? Is deep discounted merchandise strewn all about or are big-ticket items neat, orderly and being purchased by lots of customers? Is the store crowded? How long are the checkout lines? Don't forget to browse the online shop to understand its ease of use and functionality as well.
Final Thoughts on Retail Stocks
Retail can be a tricky industry because there has been so much innovation, disruption and change. But there are definitely moneymaking opportunities out there.
Rely on strong brand power, healthy sales, big profit margins, e-commerce competitiveness and the presence of products that people want to purchase to separate the retail wheat from the chaff. Do your homework and make sure to continue following the Investment U for our latest articles, insights and tips on retail stocks. There are lots of investing opportunities to consider today…
---
Brian M. Reiser has a Bachelor of Science degree in Management with a concentration in finance from the School of Management at Binghamton University.
He also holds a B.A. in philosophy from Columbia University and an M.A. in philosophy from the University of South Florida.
His primary interests at Investment U include personal finance, debt, tech stocks and more.