Robinhood is widely used because it's a great way to get started with investing. There are a variety of stocks on the platform. And it's easy and fun to invest. Even a few more-seasoned investors use the platform. If you know how to profit from penny stocks, below are the nine best Robinhood stocks under $1.
Starting out, it's important to note that penny stocks are volatile and risky. If you know how to read stocks and companies for potential investments – as well as diversify – you'll be fine. And you probably also know you will likely lose some money sometimes.
But if you're new to penny stock investing, heed a sign of caution. Penny stocks are volatile, and the cheaper they are, usually the more volatile. Of course, this isn't always true. But it's good to make sure the business you're investing in checks some boxes before you invest. Especially with stocks under $1.
Make sure they're in a growing industry. Make sure the company has increasing revenues. Look at the stock chart. It's a good thing if the stock is rising, especially over the long term. If the stock isn't rising, has it had any recent spikes that "broke out" of the regular momentum of the stock price?
Of course, there are more things you can check for to increase your odds and amount of success.
For now, let me share with you the best stocks I found on Robinhood for under $1…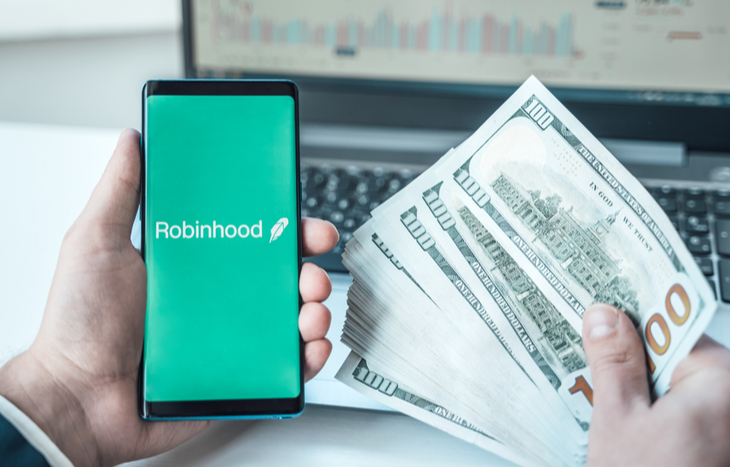 Best Robinhood Stocks Under $1
Superior Drilling Products (NYSE: SDPI)
Check-Cap Ltd (Nasdaq: CHEK)
Oragenics Inc (NYSE: OGEN)
United States Antimony (NYSE: UAMY)
Cyren Ltd (Nasdaq: CYRN)
Avinger (Nasdaq: AVGR)
Inuvo Inc (NYSE: INUV)
Borr Drilling (NYSE: BORR)
Kelso Technologies (NYSE: KIQ)
Robinhood Stocks Under $1 to Buy
Superior Drilling Products
Superior's financial reports are up in Q2 of 2021. Revenue is up from last year by over 67% and net income is still negative but moving in the right direction.
Superior Drilling is a manufacturer of drilling tools for the oil and gas industry. It also designs and repairs these tools.
Up until the past few days, its stock was in a bear overall. But with a recent spike, it's climbed just above $1. Still, this might be a great stock to buy, especially with the increase in gas prices.
Plus, demand for natural gas is increasing. That means there will be more drillers bringing up gas. They need those drills and tools to extract the gas. And the demand for the drills will increase with the demand for gas.
Check-Cap Ltd
Check-Cap's price has been on the downhill for its life. But that bear is slowing down. Soon, it may turn into a bull. If you're not familiar with bull and bear movements, click on that link to learn more.
Check-Cap has created a new way to test for colorectal cancer. This technology finds polyps before they become cancerous. And it does so in a non-invasive manner. You swallow a pill-shaped piece of x-ray technology. It has low dose x-ray tech, and communicates safely with imaging software outside of the body.
This technology is finding a clear path to commercialization in Israel, the EU and the US. It might be smart to invest now because this stock has major potential.
Oragenics Inc
Oragenics has been at low prices for a long time. Ever since its listing, it has been declining. It doesn't show much sign of turning back into an upward climb yet. But it does look like it is slowing down. And that's the first step to turning up into a bull again.
It might be wise to watch this stock and see what it does in the future. It might be one of the best Robinhood stocks to buy under $1. It might not stay at its low price for long.
United States Antimony
The quarterly financials look great for UAMY. Quarterly revenue for June 2021 is up from last year by 44%. Net income is up 223%. And net profit margin is up from last year by 186%.
UAMY had a nice, big healthy bull in 2012. Then it came back down and bumped up a couple more times. Then it had a small peak in February of 2021 and corrected. It is now not at a low or a high. And it's acting as though it's going to come up again.
Cyren Ltd
Cyren is another that has been hovering very low for a long time. Since 2001, it's been staying mostly around the $1-$3 range. And more recently it's dropped lower making it one of the best Robinhood stocks under $1 to buy.
Now you should know what Cyren does. It was founded in 1991. It is a cloud-based internet security technology. It targets businesses and has threat detection and email security.
As companies are looking for more and more ways to enhance security, this stock might become something special.
Avinger
Avinger is at commercial stage. And it designed and developed the first and only catheter-based system to find Peripheral Artery Disease.
In 2015, Avinger stock was worth around $9,084. Now it's worth about $0.80. The stock may have come down so much and so dramatically because of how high its original price was. It blew up a lot after listing on public markets. Then, after correcting, it kept going down as large-capital investors pulled out.
This low price gives a better buying opportunity. Although, as mentioned before, there's plenty of risk with these Robinhood stocks under $1. If this company rebounds, it could lead to some big gains for investors.
Inuvo Inc
Inuvo is a company in artificial intelligence. It delivers consumer-focused product and brand messaging. The technology mimics the way the human brain works by associating ideas, images, etc.
This stock had really big bulls in 1997 from $0.63 up to almost $45. And then again in 2003 from $2.70 to $60 in 2005. But by February of 2020, it was down to $0.33. This stock stays low most of the time, but it likes to make spikes every once in a while.
Borr Drilling
Borr provides oil and gas drilling operations to its customers. It goes up to 400 feet deep, and its mission is to be the leading offshore drilling company.
This stock is down from 2018, but the bear seems to be lifting its head again. 2020 saw an all-time low of below $0.40, but now it has come back up to around $0.80 at the time of writing this.
Borr Drilling might be a good investment because of the rising demand and prices for natural gas. Here are more of the top oil penny stocks to buy.
Kelso Technologies
Kelso saw a high above $6 in 2014. Since then, it has pushed up a couple times, but nothing major for this Robinhood stock under $1.
Kelso creates and manufactures railway equipment, truck suspension and parts for tank trailers. In other words, equipment for railroads, semi-trucks and regular trucks for consumers.
By the way, I looked at the suspension system for regular trucks. Wow. This technology can allow the truck to crabwalk its way through obstacles if it must. You can inflate and deflate the tires from the driver's seat, too. This tech is exciting.
Investing Beyond Robinhood Stocks Under $1
There are tens of thousands of investments opportunities out there. Although, the tough part is finding the best ones for your portfolio…
If you're looking for more investing tips and tricks, sign up for Trade of the Day. It's a free e-letter that's packed with investing insight. You'll hear directly from investing experts who have helped tens of thousands of readers.
---
Vanessa Adelman graduated with an Interdisciplinary degree. She majored in Entrepreneurship, Painting, Music and Film. Shortly after, she received a copywriting mentorship with Mark Morgan Ford. Then, she earned her AWAI Verification. Now, Vanessa freelances in the financial direct response industry. She's been investing since 2016. In her free time, she enjoys books about money and wealth. She loves being with her boyfriend, hunting, fishing and going on outdoor adventures.