Are you interested in the Tech sector? Me too. Semiconductor penny stocks are low cost. They are also very efficient. That makes them great go-to's in the tech world.
And the demand for new technologies, especially electronics? It never seems to have an end. This is why investors love them so much.
Semiconductor penny stocks are a great way to invest in a lucrative industry. Plus, one that has a speculative side and some strong history behind it. They allow you to invest with a bit more safety. And, being penny stocks, they have potential for high gains.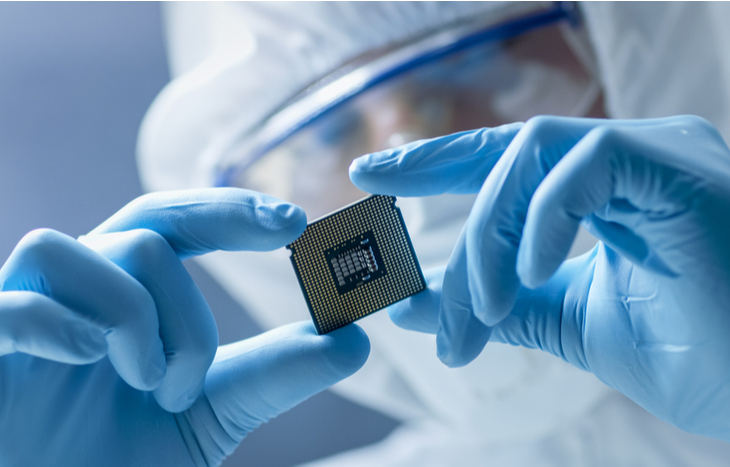 What are Semiconductor Penny Stocks?
Firstly, I'll tell you what semiconductors are. They are materials, rather than products. Silicon is a common one. It still has some conducive properties. But not as great as copper or a similar conducive material.
Secondly, penny stocks are any stock that is currently trading for $5 or less.
Further, penny stocks are known for their volatility. Moreover, volatility means the price fluctuates up and down quickly.
So, the price goes up and down fast. And if you invest in that stock, your investment will go with the price. This can be great, or terrible. It depends on when you take your money out. And how susceptible you are to letting your emotions control your trades.
In addition, you can gain a lot, but you can also lose a lot. Don't let your emotions make you take huge losses. A great way to separate yourself from your investing is to have a plan. And stick to that plan.
Semiconductor Penny Stocks to Buy
Summit Wireless Technologies, Inc. (Nasdaq: WISA)
EMCORE Corporation (Nasdaq: EMKR)
Pixelworks, Inc. (Nasdaq: PXLW)
Resonant Inc. (Nasdaq: RESN)
QuickLogic Corporation (Nasdaq: QUIK)
ASE Technology Holding Co. Ltd. (NYSE: ASX)
GSI Technology, Inc. (Nasdaq: GSIT)
Canaan Inc. (Nasdaq: CAN)
Kopin Corporation (Nasdaq: KOPN)
Best Semiconductor Penny Stocks
No. 9 Summit Wireless Technologies, Inc.
Summit Wireless operates in a unique niche. It offers wireless sound technology. And the company does this in intelligent devices and sophisticated home entertainment systems.
Offering many products, the main theme centers around soundboards. The kind that goes inside the technologies. In addition, they offer dozens of different sound systems. Modern-looking, unique shapes and superior sound.
And, the leadership checks out. Each member of management has great success behind them. Plus, they've got experience working for large companies, like Microsoft.
No. 8 EMCORE Corporation
EMCORE is a semiconductor penny stock that serves the defense and aerospace industries. They also have customers in the broadband communications market. Many different electronics are offered, including optic electronics, gyroscopes and navigation electronics. In addition, cable TV and Telecom are even part of their offerings.
Back in August, one of their products in the aerospace market reached over 5,000 units sold. And in 2021, they received a buy order for $4.1 million worth of fiber optic gyroscopes.
And, they listed on the Russel 2000 Index. This is a huge deal.
No.7 Pixelworks, Inc.
Pixelworks is a semiconductor penny stock with focus on the artistic side of things. It offers various mobile solutions and gaming. And products for cinematic productions and videography. Projectors is another one of its offerings. The company really focuses on the viewer experience.
Several offices around the globe and in Silicon Valley show they commit to success. In addition, their leadership has tons of past successes behind them, too.
The current CEO of Pixelworks even took TriQuint from $300 million to $1.1 billion while working there.
No. 6 Resonant Inc.
Resonant is creating a technology that will filter 5G. Seems like it's doing its best to make Wi-Fi and connectivity better for the user.
In the past couple of years, they've appointed a new member to the advisory board. And this semiconductor penny stock has even created a technical committee. Its shipment volumes grew 200% YOY.
Most importantly, the leadership seems to have things in order. Chief Operating Officer has 20 years of prior relevant experience. And the CEO has gone up through the ranks. Plus, he's held other various leader positions in other companies.
No. 5 QuickLogic Corporation
This semiconductor penny stock focuses on producing AI. And voice processing software.
They have many different products. And those products have many various applications for use. QuickLogic has recently added two new people to the Board of Directors. Further, they've been participating in virtual events and in person conferences. Including a global investment conference.
QuickLogic keeps pumping out new products. And, they keep promoting and bettering the ones they have now.
No. 4 ASE Technology Holding Co. Ltd.
ASE is a global company with employees in Europe, Asia and North America. With over 100K people employed around the world, they are a huge company. They provide semiconductor assembly services and testing. In addition to others that are related to this type of offering.
ASE stresses ethics. They're involved in the community, and keeping their processes earth friendly.
No. 3 GSI Technology, Inc.
GSI Tech is a semiconductor penny stock that operates in Aerospace and Defense. And they offer several techie packages to help with technological needs.
They've recently participated in a tech summit, so that always helps with marketing. In addition, they've begun testing of AI in a contract with NASA.
Semiconductor Penny Stocks No. 2 Canaan Inc.
Canaan is a computer hardware creator and producer. The company operates out of China. And this semiconductor penny stock specializes in hardware for mining cryptocurrency. They've created their own AI. A developer community is supported on their website, too.
Canaan has a mission to provide low-cost and super-efficient solutions.
Semiconductor Penny Stocks No. 1 Kopin Corporation
Kopin is known best for its electronic displays for small wearable devices. The company caters to many different industries. Including the military, medical and consumer markets.
Recently, they received a buy order for almost $20 million. And they've also begun to ship the order they received from the Army. In addition, this order was for $3.5 million in products. Further, the products ordered are a mounted display system for helmets. Moreover, it's likely they'll be used in training or active duty. This stock is a great add to your list of semiconductor penny stocks to buy.
---
Vanessa Adelman graduated with an Interdisciplinary degree. She majored in Entrepreneurship, Painting, Music and Film. Shortly after, she received a copywriting mentorship with Mark Morgan Ford. Then, she earned her AWAI Verification. Now, Vanessa freelances in the financial direct response industry. She's been investing since 2016. In her free time, she enjoys books about money and wealth. She loves being with her boyfriend, hunting, fishing and going on outdoor adventures.