Crypto
Is Shiba Inu Coin Reversing After SHIB Burn? 4 Things to Know
Shiba Inu coin (SHIB) looks to be gathering momentum after its lead developer updated the SHIBArmy on the progress of major projects. The No. 15 cryptocurrency by market cap is up 15% since last Monday after a series of positive developments. For one thing, Shiba Inu's new burn strategy is creating hype after over 1.3 billion coins have been burned over the past couple of weeks.
With fewer Shiba Inu coins in circulation, the idea is each SHIB coin will hold more value. But the burn is just the start of what the company is planning to boost Shiba coin's utility.
Starting as a meme token, Shiba Inu coin exploded in popularity after Elon Musk promoted it on his Twitter. Meanwhile, the developers are busy expanding the ecosystem while providing value to holders.
Keep reading to learn more about Shiba Inu coin and what to expect as new projects are unveiled.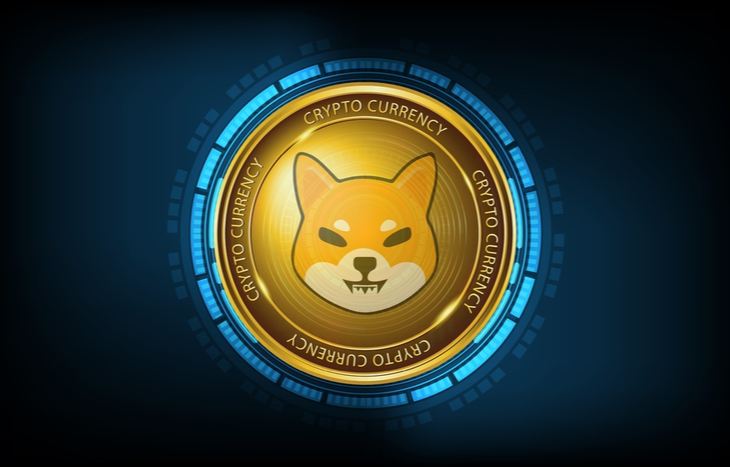 No. 4 Shiba Inu Coin Bouncing Off Lows
Since reaching an all-time high market cap of over $41 billion in October last year, Shiba Inu coin has lost over two-thirds of its value. Yet the trend may be changing.
Shiba coin is trading in a tight price range, suggesting a big move is likely. With this in mind, several catalysts support higher values going forward. For example:
Robinhood (Nasdaq: HOOD) now lists Shiba Inu Coin for users to trade and invest in. More investors create higher demand which could be a reason for the price bump.
Shiba Inu Coin is implementing a new burn strategy to support price value. So far, the team has burned over 260 billion SHIB coins.
Between both events, Shiba coin price is bouncing off its prior lows as the developer's strategy seems to be paying off.
At the same time, several popular cryptocurrencies are up during this time. For example, Bitcoin (BTC) is up over 6%, and Ethereum (ETH) is up 5%. So, the move may not be as significant as it seems.
However, the developers have bigger plans in store…
No. 3 Providing Utility to the SHIBArmy
The SHIB burn is only the first step in the team's strategy to provide value for the SHIBArmy. In light of this, developers are creating new features to expand the ecosystem.
Entering the Metaverse (MV): The SHIBArmy is entering the MV in a big way. Shiba Inu's "SHIB: The Metaverse" consists of Shiba Real Estate, a method for holders to purchase land in the Metaverse. Furthermore, the land will come with additional benefits as the team works with top partnerships to advance the project.
Doggy DAO: Established as a way of moving towards even further decentralization. The DAO is launching on ShibaSwap, which brings the ecosystem together in a decentralized exchange (DEX). So far, the community is creating voting rights for future projects.
As can be seen, the team is working hard to bring the community more value. Meanwhile, they are taking a page from some of the more successful projects, such as the Bored Ape Yacht Club (BAYC).
No. 2 BONE & LEASH
Although Shiba Inu coin (SHIB) is the main token in the project's ecosystem, developers introduced BONE and LEASH to unleash more value. Developers are creating the two tokens to further Shiba's ultimate goal of decentralization. You can buy all three tokens on Shiba Inu's DEX, ShibaSwap.
Although the vision for BONE and LEASH is still not fully clear, there are a few clues as to what you can expect. For one thing, BONE looks to be useful in structuring voting rights as the community grows. On the other hand, LEASH holders had exclusive access to land sales in SHIB: The Metaverse.
With this in mind, LEASH is limited to 107 thousand tokens, giving it a unique structure over the other two. For instance, LEASH can provide exclusive access to events like the land sale, making it more valuable for holders.
The Shiba Inu ecosystem has potential with over 585 thousand community members. Yet they are only scratching the surface of its actual value so far.
No. 1 More Than a Meme
Even though Shiba Inu Coin is notorious as a meme coin, developers are taking the community to new heights.
The team is expanding beyond what most people imagined for the token between new projects and partnerships. Currently, Shiba Inu has a few exciting plans in the works.
Shibarium: Generating the most hype is the Layer two blockchain, Shibarium L2. The most important thing about the blockchain is that it will feature low (or zero) gas fees.
Shiba Inu Games: Shibu Inu is developing games with PlaySide to introduce Shiba Inu into the gaming industry. So far, the team is developing two games, one focusing on NFTs and the other a classic mobile game.
New Partnerships: On top of a big deal with AMC Theaters (NYSE: AMC) to accept Shiba Inu coin, the team is expanding its partners. For example, new deals with Sorbillo, WELLY's and John Richmond will further SHIB's reach into pizza, fast food, and fashion.
If the news doesn't get you excited, you must not be holding Shiba Inu coin. The team is working hard to break out of its meme coin status to unlock the true value for holders.
What to Expect From Shiba Inu Coin Next
The team's roadmap is starting to come together, and we can see a clearer vision of what to expect next. With Shiba Inu coin down 25% YTD, and a coiling pattern, the next move could be soon.
With several big catalysts coming up (blockchain, games, metaverse, etc.) I would not be surprised to see a short-term bottom. Especially with a loyal community in the SHIBArmy and dedicated developers, Shiba Inu coin looks to solidify its position in the crypto world. Will they crack the top ten again? That's what the creators are planning for.
Then again, the crypto market is volatile and can change rapidly. Competition is popping up, and other tokens are also developing their own ecosystems. Shiba Inu will need to continue innovating and progressing to advance the project.
---