Yesterday afternoon, Hurricane Ian smashed into southwest Florida with a historic force. The powerful Category 4 storm sustained winds around 150 mph as it hit the island of Cayo Costa just outside of Fort Myers and Cape Coral. Ian, now a tropical storm has left more than 2.5 million customers without power. For the purposes of this article, we'll be looking into some of the best solar stocks to invest in.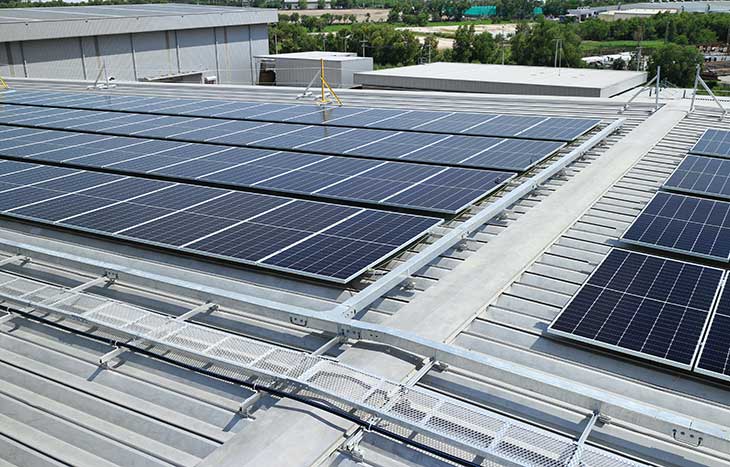 In recent years, investing in battery storage systems combined with rooftop solar has become increasingly popular. It's invaluable to be able to keep the heating and cooling systems running, as well as lights and refrigeration powered. The idea of being off-grid and self-sustaining is also very appealing. The uptick in the clean energy sector has lead to massive growth for solar, wind and green energy as a whole.
Are Solar Energy Stocks a Good Investment?
The answer to that question really depends on your time horizon. The transition from fossil fuels to clean renewable energy is a slow but unavoidable necessity. And the push to slow climate change isn't stopping anytime soon. Europe and North America are leading the charge, but there are still many decades and trillions of dollars before we get there.
This year we've seen gas and oil prices reach new highs. This has only hastened the need for green energy solutions. Those looking for solar energy stocks to invest in have a lot to consider. Solar capacity expects to account for over half of the new energy production in 2022 and 2023. However, the industry's growth has slowed this year in the face of rising interest rates and supply chain challenges.
Clean Energy Solar Stocks to Invest In
| | | |
| --- | --- | --- |
| Name | Market Cap | PE Ratio (TTM) |
| First Solar, Inc. (Nasdaq: FSLR) | 14.088B | 77.74 |
| SolarEdge Technologies, Inc. (Nasdaq: SEDG) | 13.271B | 97.36 |
| Sunrun Inc. (Nasdaq: RUN) | 5.921B | N/A |
| SunPower Corporation (Nasdaq: SPWR) | 3.961B | 379.17 |
| JinkoSolar Holding Co., Ltd. (NYSE: JKS) | 2.599B | 31.62 |
| Sunnova Energy International Inc. (NYSE: NOVA) | 2.561B | N/A |
| Canadian Solar Inc. (Nasdaq: CSIQ) | 2.394B | 17.74 |
| Maxeon Solar Technologies, Ltd. (Nasdaq: MAXN) | 1.05B | N/A |
| ReneSola Ltd (NYSE: SOL) | 338.292M | 83.98 |
With solar stocks, like an other sector, there are good investment opportunities if you know what to look for. Out of all the solar stocks to invest in, First Solar, Inc. has had the most recent excitement. The stock has nearly doubled since the end of July. The majority of Wall Street analysts consider it a "buy" with significant long-term upside.
Maxeon Solar Technologies, Ltd. also saw its share price increase 54% since the end of July. Numerous research analysts have rated the solar energy stock a "buy," including Goldman Sachs Group earlier this month. According to MarketBeat, the average rating of Maxeon Solar is a "Moderate Buy" with a consensus price target of $23.60.
Although some individual solar stocks have seen growth this year, when looking at the sector as a whole, the results have not been as promising. Solar stocks, as represented by the Invesco Solar ETF (TAN), have dropped more than 6%, only barely outperforming the broader market YTD.
Final Thoughts
As stated before, those seeking solar stocks to invest in will have to be patient and implement a buy and hold strategy. First Solar and others on this list may see positive short term returns, but with the number of uncertainties going on in the world right now, investors should be on alert.
Finally, to learn more about solar stocks to invest in and other great opportunities, sign up for one of our free e-letters today. Just visit our best investment newsletters page and select a service that fits your investment goals.
---