Welcome sports card investors. If you've been following this space, you've no doubt seen the crazy numbers that are happening in sports cards right now…..
James Park, co-founder and CEO of FitBit, just paid $1.32 million for a Tom Brady autographed 2000 Playoff Contenders Championship Ticket RC. Before that, the Panini National Treasures rookie card of Chiefs quarterback Patrick Mahomes sold for $861,000.
CNN reports that "Wall Street is piling into trading cards as prices soar." Goldin Auctions founder Ken Goldin said 'There's never been a time like this." Just like that, the sports collectibles market has now transformed into a major investment market.

Sports Card Investors – Undervalued QB Rookie Card #1
2009 NATIONAL TREASURES MATTHEW STAFFORD AUTO PATCH PSA 10
Sold October 31st, 2019 for $885.77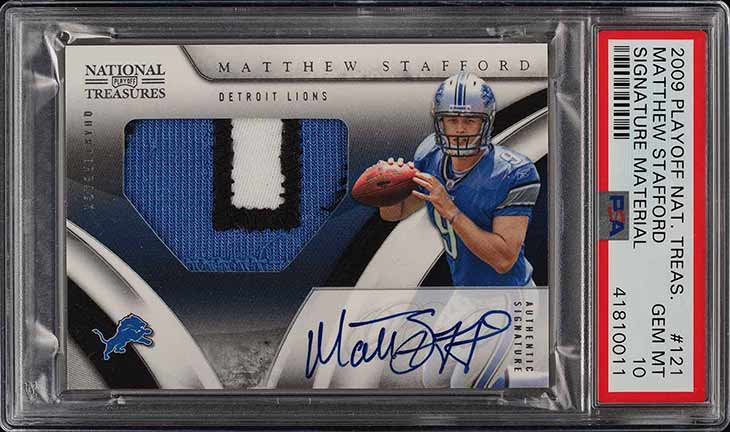 Why I like It: Matthew Stafford has played his entire 12-year career (thus far) with the Detroit Lions. As a result, most collectors and sports card investors have let the team's losses overshadow how good Stafford has been – making his rookie cards (in my opinion) the most undervalued NFL QB to buy – right now. You may not realize this, but…..
More TD passes than Joe Montana.
Ranks third all-time in passing yards per game
Has the most passing yards through 160 starts in NFL history (43,901) – more than Aaron Rodgers (43,027) and Drew Brees (42,831)
His 274 touchdown passes are the eighth most in league history (through 160 starts), and his 3,803 pass completions are first (ahead of Drew Brees).
In order to finally get recognized, Stafford has to switch teams. And guess what? This just happened. Putting him onto the high-powered Rams offense just might be what it takes to elevate his cards to new levels – which is exactly why I believe they're grossly undervalued right now. Oh, and don't forget, he's only 29 years old. The future arrow is pointed up! If Pat Mahomes' best RC is now selling for $800K, getting Stafford's best RC for below $1,000 sounds like a absolute steal.
Sports Card Investors – Undervalued QB Rookie Card #2
2012 NATIONAL TREASURES GOLD RUSSELL WILSON ROOKIE PATCH AUTO BGS 9
SOLD April 26th, 2020 for $6,366.00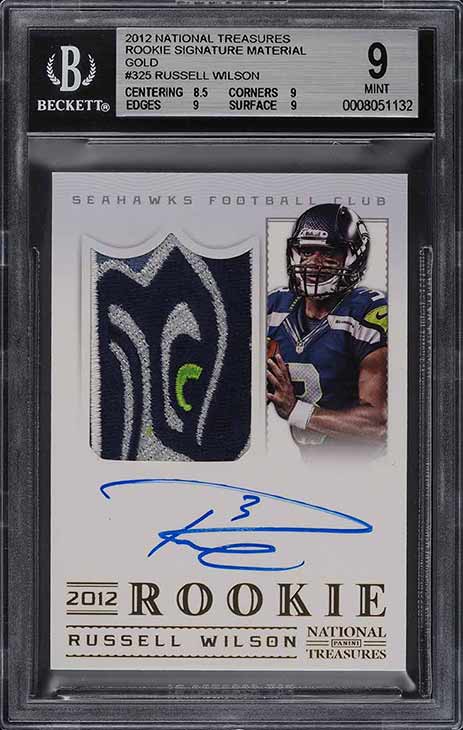 Why I like It: It's hard to believe, but Russell Wilson has only been in the NFL for eight seasons – but he's already started in two Super Bowls, winning Super Bowl XLVIII – and he should've won the second one – if only they handed the ball off to Marshawn Lynch! Since his rookie season, he's arguably been one of the most successful QB's in the modern era. Those investing in sports cards should consider these statistics…
2nd-highest career passer rating (100.3) in NFL history. The only player above him is Aaron Rodgers, who has a career passer rating of 103.1 (we'll get to him in a moment)
Most wins by a quarterback in his first 7 seasons in NFL history (75)
The most passing TD's from 2017-2020 (114), which is far ahead of the second place Tom Brady (91)
He's 32 years old, which means he has a lot of career left ahead of him. His numbers (and thus, his card values) will only go higher and higher. If a Pat Mahomes National Treasures RC is selling for $800K, then the equivalent card of Russell Wilson for $6K seems like a value play.
Sports Card Investors – Undervalued QB Rookie Card #3
2005 PLAYOFF CONTENDERS AARON RODGERS RC BGS 9.5 GEM MINT
SOLD September 24th, 2020 for $17,100.00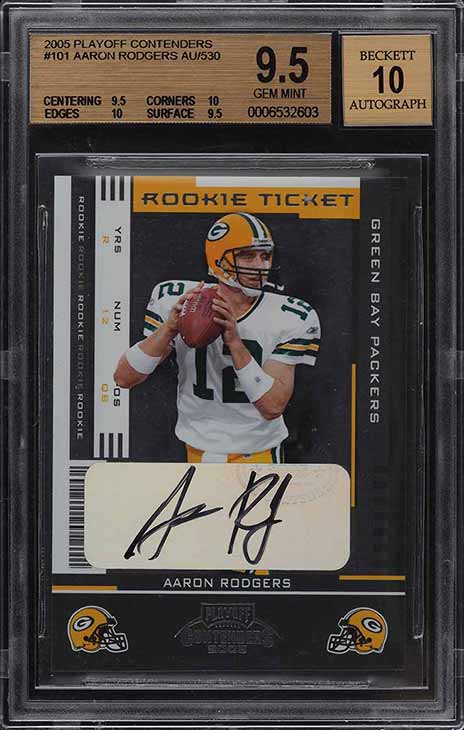 Why I Like It: You know the Tom Brady rookie card that I mentioned above – the one that FitBit CEO James Park just paid $1.32 million for? Well, this card is Aaron Rodger's equivalent – and it's currently selling at an 98% discount to Tom Brady levels. Sure, Brady has more Super Bowls rings. But honestly, is there really that much difference between the two QB's? While you ponder that, consider some Aaron Rodgers statistics…
All-time passer rating (103.9) is more than six points better than Brady's (97.3) and more than seven points better than Manning's (96.5).
3 NFL MVP awards tie him with Brett Favre and Tom Brady, second to only Peyton Manning's 5
MVP and Super Bowl winning year (2011) just might go down as the single greatest season in NFL QB history – capped by his heroic three TD pass performance to beat the Steelers in Super Bowl XLV
Add in the fact that Aaron Rodgers has some of the most highlight-worthy clips of any great QB. I consider his incredible Hail Mary throws to be some of the most amazing throws in NFL QB history.
He's 37, so clearly, the clock is ticking. If he doesn't win another Super Bowl, this card probably retains its current value. But if he DOES win another Super Bowl, it could easily go up 10X.
Get All of Bryan's Daily Picks – FOR FREE!
Make sure to check out Bryan's Top 5 Sports Cards To Invest in for 2021.
Whether you're a sports card investor, a stock investor, or anything in between, sign up now! Bryan will always tell you his best ways to make money – every single day – FOR FREE! Enter your email below to receive his daily picks and commentary right now!
---
Bryan graduated with a business degree from the highly rated Indiana University Kelley School of Business, and his first job out of college was trading stock options on the floor of the Chicago Board Options Exchange. He was mentored by some of the country's top floor traders in the heart of the technology boom from 1999 to 2000, where he learned to identify and implement some of his most powerful trading secrets. Now he shares his secrets with a group of elite traders. We will be republishing some of his highly sought after content from his free e-letter, Trade of the Day.