With so many investment apps out there, deciding which one to use can be a challenge. In our latest evaluation, we review Stash. It's an app geared towards finding cash to invest. This is extremely helpful for those who struggle to save each month. Stash's platform uses automation to tell your money where to go, so you can save and invest in a way that aligns with your budget and your financial goals.
In this review, we'll take a look at the pros and cons, how Stash works, who is best suited for Stash, notable features and safety concerns. Let's get started.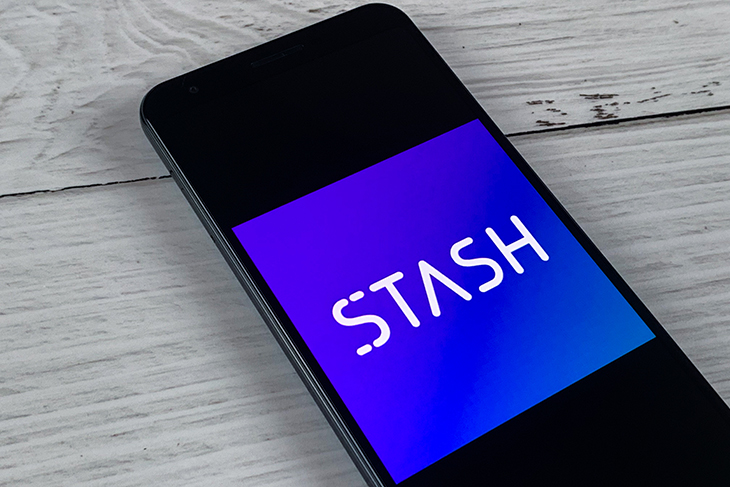 Pros and Cons
Pros

 

Cons

No Trade Fees or Commissions
Great Educational Resources
Fractional Shares
Stock-Back Card

High Monthly Fees ($1 – $9/mo)
High ETF Expense Ratios
Some Customer Support Complaints

How Stash Works
Who is Best Suited for Stash?
Most reviews pin Stash as an ideal tool for new investors looking to buy stocks and/or ETFs. But the reality is Stash has options for intermediate and advanced investors as well. The Stash Beginner plan is certainly suited for those new to the investing world. Meanwhile, the Stash Growth and Stash+ plans can work for long-term savers, investors, families and everything in between. Overall, Stash is a really great tool for those who want to integrate saving and investing into their lifestyle. Who wouldn't want that!?
Stash Review: Notable Features
Fractional shares
Fractional shares are critical in helping investors with less cash gain access to higher priced stocks and ETFs. For as little as $1, fractional shares open up the much larger world of investing to everyone.
Stash Banking
When you bank with Stash, your account is through Green Dot Bank and is designed specifically for Stash investors. One of the most beneficial aspects of banking with Stash is there are no overdraft fees or minimum balances. They also have over 19,000 ATMs across the United States.
Early Payday – "If you've set up direct deposit with Stash, it's possible for you to get your paycheck up to two days early. We call it ASAP Direct Deposit™.
The Stock-Back Card – Gives Stash users the ability to earn up to 10% cash back at participating U.S. retailers. This cash can then be invested directly into stocks and funds, or you can choose to withdraw it.
Round-Ups – When you make a purchase, Stash automatically rounds up to the nearest dollar and deposits the spare change directly into your personal investment account.
Stash offers guidance throughout your entire journey. Therefore, you can make the most out of your paycheck.
Budgeting Tools
When you join Stash, you're not just joining an app. You're joining a community. Stash does a very good job of providing educational resources through their StashLearn site. The best budgeting tool you have is you and your mindset! However, the Stash app does a great job of helping you pay reoccurring bills, avoid fees, track transactions and more. With Stash's budgeting tools, you can stick to a budget that makes sense within your circumstances.
Dividend Reinvestment
It's no secret that here at Investment U we are big fans of dividend reinvestment. In fact, our Income Expert, Marc Lichtenfeld, literally wrote the book on How to Get Rich With Dividends. Automatically reinvesting your dividends is a major asset for those looking to build their portfolio or brokerage account. This is definitely a tool that gives Stash an upper hand.
IRA
Another great feature we found during our Stash review is the option to setup a Roth or Traditional IRA. After all, investing your earnings will help you build wealth and reach your goals much faster! Once your account is active, you can also setup automatic contributions. It's important to note that this feature is only included with Stash Growth and Stash+.
Life Insurance
Another bonus offering with Stash is the ability to purchase life insurance. For that, Stash has partnered with Avibra and includes 10k in coverage. Again, this feature is only available with Stash+, which retails at $9 a month.
In addition to these features, Stash really excels from a design and UX standpoint. Their app does a great job of assessing your risk level and goals. They then compile lists of stocks and ETFs that represent common investing themes along with comprehensive investment breakdowns.
Is Stash Safe?

Stash is regulated by the Securities and Exchange Commission (SEC) and Financial Industry Regulatory Authority (FINRA). This should provide relief for any concerns new investors to the platform may have. Investments made through Stash are held by Apex Clearing Corporation. Trade confirmations, asset custody, settlements and the delivery of securities is done by ACC. Overall, Stash should be considered very safe from a platform standpoint. Investing, on the other hand, always comes with a certain level of risk. While Stash aims to assess that risk and offer appropriate investment opportunities, new investors should always proceed with caution.
Stash Review: Final Thoughts
In conclusion, the Stash Beginner plan will really help new investors get their feet wet. Stash is also a very useful platform for managing your overall finances. With so many financial apps out there, Stash stands out for their ability to integrate finance with your individual lifestyle choices.
We hope you enjoyed this Stash review article. Visit Investment U often for more on apps for trading stocks or the latest investment opportunities. To get our latest trades every day – for FREE, sign-up for our Trade of the Day newsletter below.
Read Next: Ally Invest Review: Fidelity's Foe is Growing in Popularity
---