Steel penny stocks are a great buy. The steel industry is one of the most important sectors in the United States' economy. It employs hundreds of thousands of workers. And produces billions of dollars in value each year. The industry has a long history in this country, and it is vital to our manufacturing sector.
Along with that, the recent infrastructure bill continues to be worth investors' attention. There's so much money pouring into the construction and materials industries. So, it only makes sense to take advantage of the influx of cash.
Penny stocks are a great investment for those who want higher possible gains. But, those come with higher risks. Many penny stocks are not well known, so they may be undervalued. Additionally, most penny stocks are not regulated as much as more expensive stocks. So, there is the potential for greater profits. But, penny stocks also come with a greater risk, so it is important to do your research before investing. Finally, remember to always invest money that you can afford to lose.
Steel penny stocks are an underrated investment choice. Especially given the current state of the steel industry. Steel is a key component in many manufactured goods. And the industry is facing challenging times. But despite that, steel penny stocks remain a compelling investment option.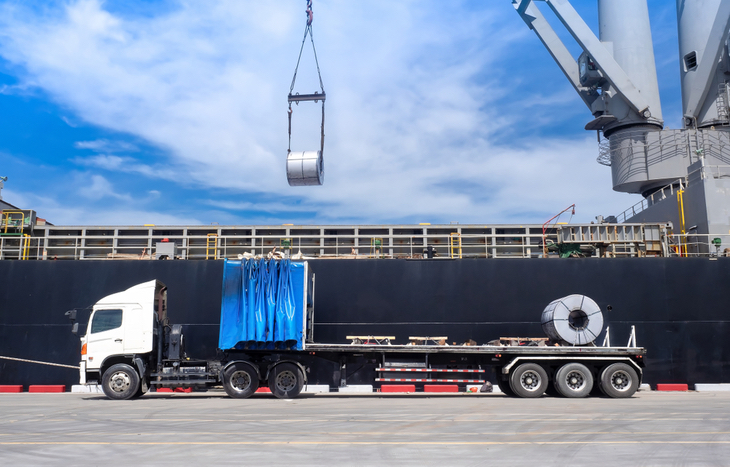 Why Invest In Steel Penny Stocks?
There are several reasons why steel penny stocks may be a good investment choice right now. First, steel is necessary for many industries. So even in difficult times, there will always be a need for it. Second, steel penny stocks are often undervalued by the market. And that provides investors with good opportunities to make profitable investments. Finally, steel penny stocks tend to have lower volatility than other penny stocks. Which makes them slightly less risky investments than some other options.
Steel penny stocks might not be a well-known investment. But they definitely offer investors the chance to make a lot of money. Here are a few of the top steel penny stocks on the market today. These all have at least 10% gross profit margins.
Best Steel Penny Stocks
Angang Steel Company Limited (OTC: ANGGF)
Kobe Steel, Ltd. (OTC: KBSTF)
Tree Island Steel Ltd. (OTC: TWIRF)
General Steel Holdings, Inc. (OTC: GSIH)
Algoma Steel (Nasdaq: ASTLW)
Vesuvius Plc. (OTC: CKSNF)
Steel Penny Stocks to Buy
No. 6 Angang Steel Company Limited
Angang Steel Company Limited is a steel manufacturer based in China. The company produces products for the construction, automotive, and engineering industries. It's listed on the Hong Kong Stock Exchange. And the stock has a market cap of over $5 billion. So, they are definitely a large player. The company has some history under its belt. And usually, that makes a reliable investment.
The company has been struggling in recent years due to falling steel prices. That, and increasing competition from other steelmakers. However, things may be turning around for Angang. Steel prices have hit very low prices in 2021. And, they've begun heading upward again.
Plus, in the first half of 2016, Angang reported a profit for the first time in three years. Additionally, its revenues increased by 5%. This could be a sign that the company is starting to recover. And, since publicly listing in 2017, stock price has been small. But, a large flush of money into the steel business could bring some nice growth to Angang.
No. 5 Kobe Steel, Ltd.
This steel penny stock is a manufacturer located in Kobe, Japan. The company, founded in 1905, has remained a family-owned business ever since. Kobe Steel is the fourth largest steel producer in Japan and caters to a variety of markets. Including construction, automotive and machinery.
It's seen steady growth in recent years. And its products are highly sought after by customers in Japan and abroad. Kobe Steel's stock lists on the Tokyo Stock Exchange and is one of the top steel penny stocks on the market. This one is for investors who are looking for a solid company with a long history of success.
No. 4 Tree Island Steel Ltd.
One company that stands out among steel penny stocks is Tree Island Steel Ltd. Recently, the company has been making nails and screws. And this could lead to increased demand for its products very soon.
Despite the steel market volatility, Tree Island has maintained a strong position. The company also has a diverse product line that has helped them weather any storm.
No. 3 General Steel Holdings, Inc.
As one of the top steel penny stocks, General Steel Holdings, Inc. has seen impressive gains in share value in 2019. And since then, it fell. This created a great buy opportunity. The company has a strong presence in steel production and fabrication. With a focus on the construction and infrastructure industries, too. Plus, the stock has a solid record of profitability. And it's expecting to continue growing in the coming years. For investors looking for a strong steel penny stock with upside potential, General Steel Holdings is a stock to keep your eye on.
No. 2 Algoma Steel
Algoma Steel Inc. is another top steel penny stock worth considering. The company has a long history dating back to 1902. And they're a leading manufacturer of steel products in Canada. Algoma Steel is positioned to capitalize on the growth of the steel market. And the company has a strong track record of profitability.
No. 1 Vesuvius Plc.
Vesuvius Plc. is a global ceramics producer with a market cap of over $1.2 billion. But, the steel industry uses its products for many different things. This company has a wide range of products and services. And the company is focused on delivering value to their customers. The stock is well-positioned to capitalize on the growth of the steel industry. And they have a strong track record of profitability. Vesuvius Plc. is a good option for investors looking for a steel company with a solid financial foundation.
Conclusion
The steel penny stocks listed above are all worth considering. Especially for investors looking to get exposure to the steel industry. These stocks are all on the rise. And they have a lot to gain from the new legislation. All these companies have a solid track record of profitability and are expected to continue growing in the coming years. Additionally, they're all undervalued compared to their competitors. So, if you're looking for a steel penny stock with potential upside, any of these companies would be a good option.
---