Since the beginning of 2022, stocks have been down. Despite a recent uptick, the markets have still not returned to their January highs. Therefore, many investors are looking for stocks that are down right now in order to get in at a discount.
Inflation, interest rates, poor earnings reports, the Ukraine invasion, supply chain disruptions…the list goes on. These are all reasons why 2022 has been a very difficult year for investors.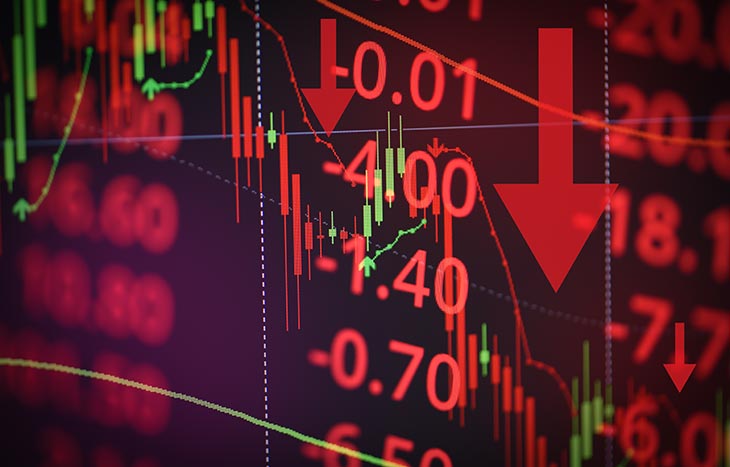 Buy low and sell high is a common strategy when investing. However, many times it can be difficult to know which stocks or funds to buy. Many analysts say that price and relative volume are the two most important indicators when determining if a stock is nearing a low. More specifically in regards to price, Price-to-book ratio is a common metric used when looking for undervalued stocks. If a stock's P/B ratio is lower than 1, it may undervalued. To determine the relative volume of a stock, you simply divide the current volume of the stock with the average volume over a certain period of time.
More on stocks that are down right now…
Quotes About Stocks That Are Down
"There will be bear markets about twice every 10 years and recessions about twice every 10 or 12 years but nobody has been able to predict them reliably. So the best thing to do is to buy when shares are thoroughly depressed and that means when other people are selling." – John Templeton
"The true investment challenge is to perform well in difficult times." – Seth Klarman
"Whether we're talking about socks or stocks, I like buying quality merchandise, when it is marked down." – Warren Buffett
"You get recessions, you have stock market declines. If you don't understand that's going to happen, then you're not ready. You won't do well in the markets. If you go to Minnesota in January, you should know it's gonna be cold. You don't panic when the thermometer falls below zero." – Peter Lynch
"If you're going to be in this game for the long pull, which is the way to do it, you better be able to handle a 50% decline without fussing too much about it." – Charlie Munger
Stocks That Are Down Right Now in 2022
Here are the three stocks that have seen the greatest YTD percentage decrease.
TDH Holdings Inc (Nasdaq: PETZ)
%Chg: -96.16
High: 87.80
Low: 1.70
Toughbuilt Industries Inc (Nasdaq: TBLT)
%Chg: -92.95
High: 60.00
Low: 1.34
Embark Technology Inc (NASDAQ: EMBK)
%Chg: -92.91
High: 180.00
Low: 7.01
Stocks That Are Down Right Now: Summarized
When stocks are down, the opportunity to buy is high. As Warren Buffet once said…be "fearful when others are greedy, and greedy when others are fearful." No matter what is going on in the market, there is always an opportunity to turn a profit. This list of stocks that are down right now is a good place to start.
However, if you truly want to stabilize your portfolio long term, you need to stay up-to-date with the latest and greatest investing news. Fortunately, the team here at Investment U is dedicated to delivering top notch investment opportunities to you on a daily basis. To get started, just visit our best investment newsletters page and select a free mailing that fits your investing style.
---