DoorDash (NYSE: DASH) launched its initial public offering (IPO) yesterday and began trading at $182 on the New York Stock Exchange. While it had been priced at $102 on Tuesday night, the stock closed its first day of trading at $189.51. This was a gain of more than 85%.
Investors clamored for a stock that has, unlike many companies, actually benefited from the effects of COVID-19 and the resulting restrictions on public spaces and stay-at-home orders.
There are some future risks for DoorDash. But the IPO reveals that investors are highly optimistic about the company's viability in the food delivery industry. Here's the scoop.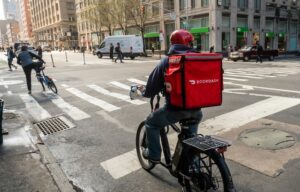 The DoorDash IPO Was a Hit
At its closing price on Wednesday's IPO day, DoorDash's stock closed at 16X revenue, compared with Uber's at just under 8X revenue. Uber (NYSE: Uber) and Grubhub (NYSE: Grub) are major competitors of the San Francisco-based DoorDash.
Investors have good reasons for optimism. While the company is not yet profitable, it has slashed its losses and increased its revenue massively. Between January and September 2019, the company reported revenue of $587 million and a net loss of $533 million.
In 2020, DoorDash improved those numbers to $1.9 billion in revenue and a net loss of $149 million over the same period. Clearly, DoorDash is delivering optimism to its investors.
As of its closing on the day of the IPO, DoorDash's market valuation was about $60.2 billion. Considering its massive rise in price on the first day, investors feel that despite some risks, the company will continue to grow and thrive.
DoorDash is officially on the @NYSE! We're proud to take the next step toward our mission of growing and empowering local economies. https://t.co/5OuZDxMN2Z

— DoorDash (@DoorDash) December 9, 2020
The COVID-19 Effect
COVID-19 has raged for nearly nine months so far, devastating both public health and the broader economy. It has created massive opportunities for delivery services to thrive, though.
While coronavirus numbers are growing like an out-of-control forest fire, people are staying home, and governments are limiting or closing restaurants and bars.
And while this a terrible situation, delivery service companies have stood to benefit greatly. According to DoorDash SEC filings, the company has acquired millions of customers as a result of the pandemic. The number of restaurants using the app, as well as its number of delivery personnel, have also increased at similar rates.
During the pandemic, the company has expanded its services. Before, it was limited to restaurant deliveries. But it now includes grocery stores, convenience stores and pet stores in its stable.
Now that so many customers have discovered the platform, it is likely that many will continue to use it more often as society returns to a more normal level of safety.
The Risks of DoorDash
However, as with all stocks, there are some risks here to be aware of. For instance, the company is being legally challenged to convert its delivery personnel from freelancers into full employees.
Using an army of freelancers is a major way the company keeps its costs down. If workers become reclassified as employees, the company will be on the book for fixed payroll expenses, healthcare and other benefits. Employee litigation is also a potential legal issue.
Another important issue to consider is DoorDash's controversial relationship with its delivery people (Dashers) and its ability to continue attracting and retaining them.
Last month, the company settled a suit for $2.5 million for allegedly withholding tips from employees. This suit damaged the brand's image and potentially makes hiring workers more costly.
Nevertheless, at this point, DoorDash stands to continue to perform well if all goes according to plan post-IPO. In pre-market trading, the stock was down slightly to $184.87 (-2.45%), but we will see where it ends up at the closing bell.
Closing Thoughts on the DoorDash IPO
Investors clearly wanted to get in on the stock's IPO yesterday, a sign of optimism and potential future growth. Despite the risks, the increasingly pretty financial strength of the firm paints a potentially rosy picture of the future.
If you're interested in learning more about how to trade IPOs and other stocks, I highly encourage you to sign up for Bryan Bottarelli and Karim Rahemtulla's free e-letter Trade of the Day.
In this e-letter, the two trading experts discuss how to play post-IPO stocks like DoorDash and options as well. It's a fun read and has great, potentially moneymaking insights for you each day of the week.
---
Brian M. Reiser has a Bachelor of Science degree in Management with a concentration in finance from the School of Management at Binghamton University.
He also holds a B.A. in philosophy from Columbia University and an M.A. in philosophy from the University of South Florida.
His primary interests at Investment U include personal finance, debt, tech stocks and more.