Successful retirement requires planning. It's the job of retirement plan companies to help clients determine how much money they will need, save and manage money in retirement. Learn more about how these companies can help you reach your retirement goals and enjoy your post-work years.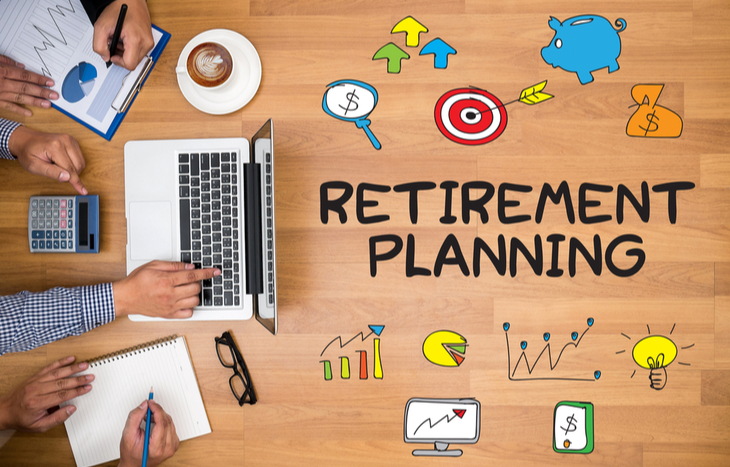 Top Retirement Plan Companies
The top retirement plan companies include major brokerage, mutual fund and financial advisory firms. These retirement companies have many things in common, such as providing tools for clients to factor how Social Security benefits factor into retirement. Each company has plenty of advice, news and research on its website as well as regular client updates.
Clients may choose between traditional and Roth IRAs, as well as 401(k) and SEP IRAs for small business owners or the self-employed. The target-date retirement mutual funds offered by these companies make managing investment risk much easier. Also known as lifecycle funds, it's a simple matter of choosing your approximate retirement year. For instance, say, 2045, and the fund rebalances investments from growth to income as that date approaches.
Here are some of the top retirement plan companies…
No. 4 Charles Schwab
Schwab retirement accounts all come with investment help and guidance. The company is known for its Intelligent Portfolios automated robo advisor investing. These robo advisors are especially popular with younger, novice investors. This is because getting started is inexpensive and little in-depth market knowledge is necessary. A robo advisor can also help those near or in retirement manage their portfolio and assist in tapping assets with the best tax strategies in mind.
Clients can receive advice from Schwab's financial professionals on all sorts of retirement-related matters. That includes specialists in taxes, estates, insurance and more.
Regarding fees, Charles Schwab does not charge opening or maintenance fees for IRAs, and there are no account minimums. For its individual 401(k) plan for the self-employed or small business owner, there are no monthly service fees and no commissions. This is in regards to online listed equity trades or ETF trades in your Schwab account.
Keep reading to learn more on retirement plan companies.
No. 3 Fidelity
Fidelity offers flexible retirement planning that "changes as you do." It's long been one of the top choices for retirement accounts, and with good reason. Fidelity's managed retirement funds provide clients with a single, age-aligned investment strategy.  Advisors can also help with a multi-fund strategy in which you build your own portfolio. Fidelity's model portfolios are available to generate ideas.
The company also offers a Roth IRA for Kids, enabling children to start saving for retirement as soon as they have a job. A parent or guardian manages the account until the child is no longer a minor.
In addition, with a Fidelity IRA, there are no account fees or minimums if you manage your IRAs yourself. However, if you want Fidelity to manage your IRA, there is an advisory fee.
No. 2 T. Rowe Price
T.Rowe Price is a retirement plan company that offers a full range of retirement planning. For example this includes all types of IRAs and 401(k) or IRA rollovers. Business owners and the self-employed can find a variety of tax-deferred retirement plans.  After completing a short questionnaire, T. Rowe Price recommends a diversified model portfolio. They recommend this for each client's unique needs via its ActivePlus Portfolios program.
Its ReadyChoice IRA pairs a traditional or Roth IRA with a T. Rowe Price retirement fund. Schedule a regular recurring transfer from your bank account to your IRA with its Automatic Buy program. Start by contributing as little as $100 monthly to your retirement account.
The company touts that over 95% of its retirement funds with a 10-year track record beat their 10-year Lipper average as of March 31, 2022. The Lipper averages are indices produced by this Thomson Reuters subsidiary to establish portfolio, ETF or mutual fund benchmarks.
In addition, for IRA or individual 401(k) accounts below $10,000, there is a $20 annual fee. However, those subscribing to paperless delivery are not charged participant fees.
No. 1 Vanguard
Vanguard is tops when it comes to target-date retirement funds, although Fidelity and BlackRock also rank highly. When it comes to mutual fund choices for retirement accounts, Vanguard is second to none. This makes it a great addition to this list of retirement plan companies. It offers more than 100 no-load Vanguard funds, with no minimum initial investment for retirement accounts. It's a solid choice for index fund and ETF retirement investors.
Vanguard is known for its low fees. The expense ratio of the average Vanguard mutual fund or ETF is 82% lower than the industry average. For retirement accounts, Vanguard charges $20 annually for each Vanguard mutual fund in an individual 401(k) or Roth (401)k plan. However, if the participant has at least $50,000 in qualifying Vanguard assets, these fees are waived. Vanguard offers free stock and ETF trading.
Retirement Plan Companies Considerations
The top retirement plan companies offer many similar features. How to decide which one is best for you? When comparing retirement plan companies, look at fees, which eat into profits over time. Do you need a lot of investing advice, some guidance, or are you a DIY investor?
Before deciding on what company to invest with, put together a basic retirement plan for yourself. Your retirement plan company advisor will let you know whether your plan is realistic and the best ways to reach your goals.
---