The Topps IPO has sports fans investors cheering on the sidelines. A leading name in the card-trading industry, Topps works with sports such as American football, soccer, baseball and basketball, just to name a few. And since investing in sports cards is a growing trend, investors are thinking Topps stock looks pretty good.
But should you invest in Topps? Here's what we know…
Topps IPO: What Is It?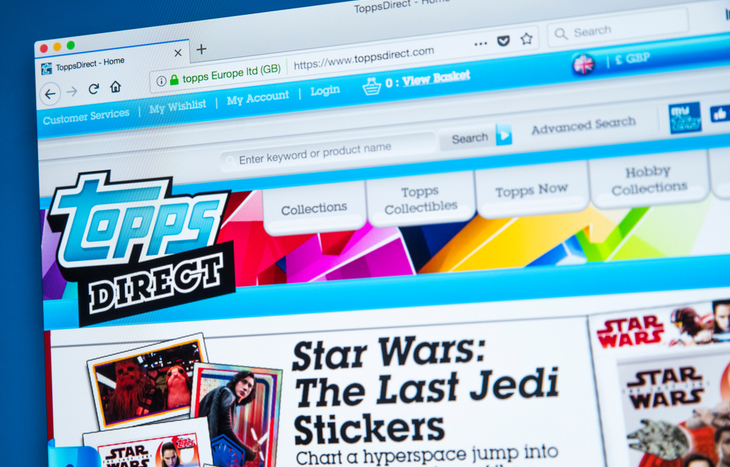 Founded in 1938, Topps is an American company with what it calls Sports & Entertainment and Confections businesses. However, the company is mostly known for its collectibles and sports trading cards.
With 80 years of experience, Topps is the leading global Sports & Entertainment company. It's seen a growing interest in its multichannel businesses, including sports and entertainment collectibles and its e-commerce platform. Topps capitalized on digital marketplaces for better convenience, social engagement and to address today's consumer wants.
President and CEO Michael Brandstaedter stated…
Topps is an 80-year-old company with decades of rich tradition and history, but very much built for the 21st century. We partner with some of the world's most iconic brands, and we are in the business of creating powerful consumer connections every day. The strategies we have implemented in recent years, including building a digital business that has deepened consumer engagement, have driven excitement and innovation across Topps, fueling strong and increasing revenue with accelerating profitability. The future for Topps has never been brighter, and, with a talented and dedicated management and employee base, we are excited for the road ahead.
Investors and fans alike are excited for that road, too. The Topps IPO could present a unique investing opportunity. So, for those thinking about Topps stock, let's take a closer look at the company.
Topps' Product Offerings
In the IPO announcement, Topps breaks down its products into four categories.
Physical Sports & Entertainment. This includes trading cards, stickers, albums and games sold both in stores and on its website. Partnerships include Major League Baseball, Major League Soccer, National Hockey League, Disney and Star Wars, just to name a few.
Digital Sports & Entertainment. This includes interactive mobile apps. Topps claims it "creates communities of users who collect, trade and play online." It recently started to explore blockchain and NFTs.
Gift Cards. The Topps Digital Services provide gifting and payment solutions around the world. It includes companies such as Airbnb, DoorDash, Instacart and Netflix.
Confections. Topps is behind the Bazooka Candy Brands, which includes product lines under Bazooka, Ring Pop, Juicy Drop, Push Pop and Baby Bottle Pop brands.
With this diverse stream of revenue, the company increased sales 23% in 2020. It totaled $567 million, according to the announcement.
Topps Stock: The Management
Investors looking at Topps stock likely know leadership is a big part of a company's success. And in addition to its revenue channels, Topps has an impressive name behind its management: Michael Eisner. Eisner is the former Chairman and CEO of Disney and currently serves as Chairman of The Topps Company. And more will be joining.
Jill Ellis is the former coach of the U.S. women's national soccer team. Some credit her as the most successful coach in women's soccer history. She led the team to victory in the 2015 and 2019 FIFA World Cups.
Alongside Eisner and Ellis is Maria Seferian, general counsel of Hillspire LLC; Marc Lasry, co-owner of the Milwaukee Bucks and co-founder of Avenue Capital Group; and Andy Redman, president of The Tornante Company. Brandstaedter will continue as President and CEO after the Topps IPO.
But according to the announcement, Topps stock won't come the traditional way. Instead, the company is moving forward with a SPAC IPO.
SPAC Mudrick Capital (Nasdaq: MUDS)
A SPAC is a special purpose acquisition company, or blank-check company. It goes public in an offering so it can raise funds from investors. Those funds are then placed in a trust until the SPAC finds a company to acquire. A SPAC IPO refers to the process of a SPAC acquiring or merging with a private company. The result is a publicly traded company. In this case, Topps is the acquiree and Mudrick Capital Acquisition Corporation II (Nasdaq: MUDS) is the SPAC.
On the matter of the Topps SPAC IPO, Eisner commented…
The strong emotional connection between the Topps brand and consumers of all ages is truly foundational, and, when combined with our growing portfolio of strategic licensing partnerships, creates a profitable business model with meaningful competitive advantages. Equally important, the management team at the helm of Topps, which we've been building for the last 14 years, is outstanding, with deep roots in sports and entertainment, digital, gift cards and confections. Through this transformation, Topps has enjoyed a strong partnership with Madison Dearborn Partners. With the support of our new partners at Mudrick Capital, the company will continue its long history of innovation and global expansion, bringing consumers the best of collectibles and confections products while successfully extending into new verticals and emerging categories to take advantage of digital content innovation and high-growth opportunities across the globe. That is why I'm not selling a single share of Topps stock in this transaction.
Founder and Chief Investment Officer of Mudrick Capital Jason Mudrick added…
We believe Topps' culture of innovation, strong management team, expanding margins, robust cash flow and conservative balance sheet set it apart from other consumer growth companies. It also is well-situated with a universally recognized brand to capitalize on the fast-emerging market for collectible NFTs. We are excited to partner with this exceptional organization to help write the next chapter in the long history of its truly iconic brand.
So what are the Topps IPO details?
The Topps SPAC IPO Transaction
The transaction will provide up to $571 million in cash, assuming no stock redemptions from current MUDS shareholders. This number includes a private placement of $250 million. Of this investment, $100 million will come from Mudrick Capital and the remaining $150 million will come from GAMCO Investors and Wells Capital Management.
The deal gives Topps an enterprise value of $1.3 billion. The private investment in public equity (PIPE) prices Topps stock at about $10.15.
If you're looking for the latest investment opportunities, sign up for the free Trade of the Day e-letter! It's full of useful tips and insight from investing experts. And if IPO investing interests you, check out our IPO calendar to stay up to date on the market's latest offerings.
What is the Topps IPO date? According to the announcement, the transaction should be completed in late second or early third quarter of 2021. Topps stock will trade on the Nasdaq under the ticker symbol TOPP.
---
Amber Deter has researched and written about initial public offerings (IPOs) over the last few years. After starting her college career studying accounting and business, Amber decided to focus on her love of writing. Now she's able to bring that experience to Investment U readers by providing in-depth research on IPO and investing opportunities.