The past few months have not been kind to fast-growing startups. The tech-heavy Nasdaq is down nearly 30% YTD and many freshly public companies are down 50% or more. For example, the AI-powered lending company Upstart (Nasdaq: UPST) is down over 90% from its all-time high. Interestingly, despite this selloff, Upstart's revenue has still been growing consistently on a quarterly basis. Let's examine a UPST stock forecast to determine if you should be buying the dip on this exciting fintech company.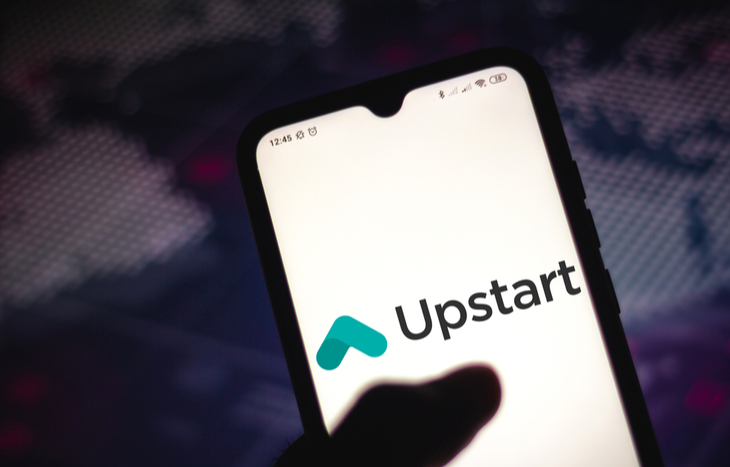 Upstart Holdings Stock Forecast
Upstart is a lending company that's powered by artificial intelligence. Its mission is to improve access to affordable credit. This basically means making it easier for people to get approved for small business loans, auto refinance loans, debt consolidation loans, and more. To do this, Upstart uses AI to analyze different factors such as a person's employment history, bank transactions and education. This eliminates the need for a credit score and ensures that more loan applicants get accepted.
It's important to note that Upstart is not a bank. Instead, it works with 57 partner banks to offer lending products. It acts as a middleman between consumers and banks. For its customers, Upstart helps them get instant access to loans. For its banking partners, it helps them make lower-risk loans.
According to Upstart's internal data, it approves 173% more applicants than traditional banks. At the same time, Upstart originated loans experience 75% fewer defaults.
Recent Announcements:
Added three new partner banks in June 2022.
Has helped 2.1 million customers get access to credit.
Has originated $25 billion worth of loans total.
Most Recent Earnings Report:
Upstart released its Q2 earnings report on May 9. It announced quarterly revenue of $310 million and a net income of $32.7 million. These numbers were up 156% and 224% respectively year-over-year.
For the FY 2021, Upstart announced revenue of $851.86 million and a net income of $135.44 million. Both of these figures were up over 200% YoY. Notably, 2021 represented the first year where Upstart posted a significant profit.
As far as Upstart's stock, the company went public at $44 per share in late 2021. It surged 600% to reach a peak of $390 per share. But, since then it has crashed 90% to $35 per share.
With that in mind, let's examine a UPST stock forecast. How could things play out for this company in the coming months?
Is UPST Stock a Buy? Potential Upsides
There are a lot of reasons to remain bullish on Upstart. This is because, despite the recent selloff, Upstart's core value proposition remains strong. Let's take a closer look at UPST stock forecast.
Adds Value for Consumers
Upstart has been in business since 2012. By this point, the data is fairly concrete. Upstart helps more consumers get access to credit. In particular, it helps underbanked groups get approved for home, car, and personal loans.
Adds Value for Banking Partners
In addition to approving more loans, Upstart-originated loans also have a lower default rate. This means that Upstart's algorithm-based lending system adds value to its banking partners. Upstart currently has 57 bank partners and is adding more at a rapid pace. It added three more bank partners in June alone. The rate at which it's adding new partners is a testament to its service.
A Constantly-improving Algorithm
Upstart's algorithm is what drives its business forward. In 2014, Upstart's algorithm analyzed just 23 different variables. Today, it analyzes over 1,500 variables. One of Upstart's main value propositions is that this algorithm is constantly improving. Comparatively, many traditional banks still rely on one-dimensional lending tools like a FICO score.
New Products
Upstart still has lots of room to expand. The total addressable market for consumer lending is estimated to be about $6 trillion. Upstart is already experimenting with new products. For example, it recently launched Upstart Auto Retail software. This new auto lending product is already used at more than 400 dealer locations.
Based on the available data, there seem to be few downsides to using Upstart's platform. It helps borrowers get better access to loans with lower interest rates. And, it also helps banks get access to safer loans. This win-win scenario is what should set Upstart up for success in the coming years. With that said, there is one massive risk to factor into this UPST stock forecast.
Potential Downsides
For most of Upstart's history, interest rates have been incredibly low. For nearly 10 years, the Federal Funds Rate was below 2.5%. This is the rate that dictates the rate that banks can offer to consumers. Recently, the Fed has started raising this rate. This could have a vastly negative impact on Upstart's business.
Recession and Inflation Risk
Many analysts expect that we are entering into a recession. If we do, then people will have less income to repay their loans. This could lead to more consumers defaulting on Upstart-originated loans.
Additionally, inflation is at its highest point since the 1980s. Higher inflation is squeezing consumer spending, and again, could make it more difficult for people to repay their loans. These are two risks that could limit Upstart's growth over the coming months.
Over-Lending Risk
Upstart boasts that approves more people for loans. In general, this is a good thing assuming that people can pay back their loans. Too much consumer lending is a precursor to nearly every single financial recession. In fact, easy mortgage lending was a main contributor to the 2008 Financial Crisis. Essentially, consumers borrow money that they have no means to repay.
In Upstart's quest to make credit more available, it has to be careful not to get too lenient. This may not necessarily hurt Upstart (since it doesn't offer its own loans) but it will hurt its partner banks.
UPST Stock Forecast: Final Thoughts
There is too much uncertainty in the global economy to leave this UPST stock forecast on a positive note. While Upstart has a great product, it seems like a risky time to be in the consumer lending business. This is mainly because we are entering a period of rising interest rates, record inflation, and a potential recession.
For most of its history, Upstart has also enjoyed years of record-low rates. Now, this is changing rapidly. Granted, a recession will probably not mean the end of Upstart. However, it definitely has the potential to slow down its growth prospects. For now, I would let the next few months play out before buying Upstart stock.
I hope that you've found this UPST stock forecast to be valuable! Please remember that I'm not a financial advisor and am just offering my own research and commentary. As usual, please base all investment decisions on your own due diligence.
---