Lidar is an important technology as more automakers introduce self-driving or autonomous vehicles. Lidar sensors use light detection to create 3D maps of their environment, allowing them to "see" the world in front of them. Velodyne Lidar (Nasdaq: VLDR) develops these sensors, meaning it stands to benefit greatly from the advent of self-driving vehicles.
However, Velodyne has struggled as of late, trading for just a fraction of its price from January 2021. There are some valid concerns around Velodyne Lidar, but the question is whether they could be overblown to some extent. To answer this question, we'll take a closer look at Velodyne and some of the issues it has faced.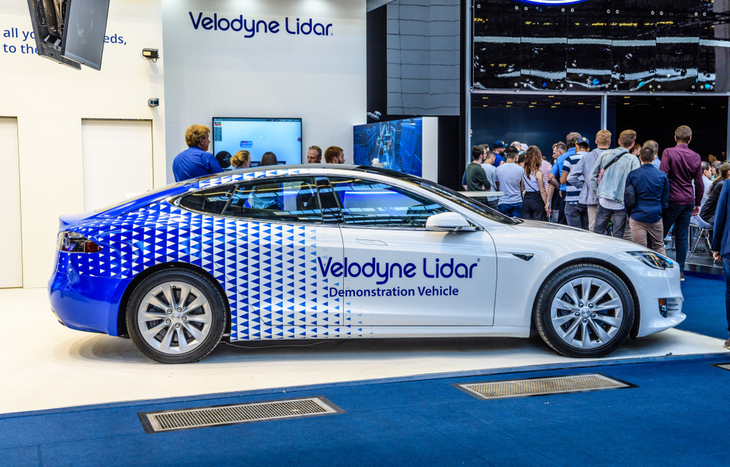 What is Velodyne Lidar?
Velodyne Lidar is a San Jose, California-based company that produces lidar sensors for use in autonomous vehicles, advanced driver assistance systems, robotics, mapping, smart city applications and infrastructure. It was spun off from Velodyne Acoustics in 2016 after more than 10 years of experience working with lidar sensors.
Around the same time it became a separate business entity, Velodyne Lidar stock announced $150 million in funding from Ford and Chinese search giant Baidu. The funding helped it open a large factory in San Jose to help it speed up production. Since its initial funding, it has pursued with organizations with as Mothers Against Drunk Driving.
Quarterly Earnings
Those considering Velodyne Lidar stock might be a bit put off by the company's earnings. Most recently, it posted a Q3 2021 net income of -$54.7 million, a 933% year-over-year (YOY) decrease. Granted, its Q3 2021 net income was better than its Q4 2020 net income, which was -$111 million. Its net profit margin for Q3 was -419%.
Velodyne Lidar's cash reserves are shrinking, too. At the end of Q3, it had $57 million cash on hand; compare that to $204 million in Q4 2020 and $155 million in Q1 2021.
Velodyne Lidar Stock Forecast
Things don't look great in the near term for VLDR, and the stock has a bearish short-term sentiment. The company went public in September 2020 as part of a SPAC merger with Graf Industrial Corp. Since then, its share price has been on a downward trend. It went from just under $29 in September 2020 to under $5 today. Many investors will probably be discouraged with this trajectory.
However, it's far from all bad news for VLDR. After all, lidar is one of the leading technologies that will guide the self-driving vehicles of the future and Velodyne Lidar is a major player in that market. Most automakers pursuing self-driving technology are using lidar sensors (except Tesla, notably). Velodyne has already worked with at least 300 customers, so it already had a solid client base.
Given its favorable position going forward, projections show an increase of about 50% for VLDR over the next 12 months. Given its low point of barely above $4, a 50% increase is not as tough to imagine as it would be for higher-value stocks. The question is how soon Velodyne Lidar stock can turn things around financially, as it will need to turn a profit before investors have confidence in the company.
Why is the Stock Dropping?
Velodyne Lidar stock has been dropping due to a combination of its poor earnings and some controversy within the company. The biggest issues are a claim by Criterion Technology that Velodyne stole trade secrets and issues with the company's leadership.
Specifically, David Hall, founder of Velodyne Lidar, stepped down as CEO in favor of Anand Gopalan in January 2020. But Gopalan wouldn't last long: he stepped down as CEO in July 2021. David Hall later called for the resignation of chairman Michael Dee and director Hamid Zarringhalam. He has also publicly called for the resignation of another board member, Christopher Thomas. 
In November 2021, Velodyne gained a new CEO in Theodore Tewksbury. Despite the turmoil at the company, it will look to press forward under its current leadership.
Should You Buy Velodyne Lidar Stock?
Velodyne Lidar stock has had a rough couple of years. The company went public in September 2020, and founder David Hall has been unhappy with several board members after its SPAC merger with Graf. In fact, he has publicly called for the resignation of several board members and issued a letter to shareholders outlining problems with the company. Amid all this, its share price has been on a downward trend ever since the SPAC.
Despite all this, Velodyne remains well-positioned as one of the most capable manufacturers of lidar sensors, which will be important as more automakers pursue self-driving technology. Plus, its low share price could be a great entry point for those looking to invest.
That said, the most common recommendation for VLDR right now is to hold. In other words, existing shareholders don't necessarily have to sell, but conditions aren't quite right to buy, either. As the company moves forward and if it can improve its finances, this could easily turn to a buy recommendation. But for now, it appears the best decision is to hold.
---