Vimeo stock hit the market today. For those who haven't heard, IAC (Nasdaq: IAC), the parent company of Vimeo, took the company public in a spinoff. This isn't the first time IAC has done this, and it likely won't be the last. Here are all the details on the Vimeo IPO.
Vimeo Stock: The Business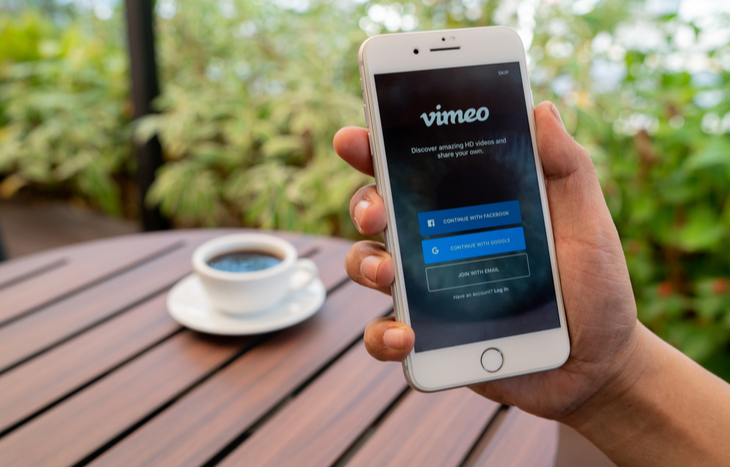 Zach Klein and Jake Lodwick founded Vimeo in 2004. Vimeo is an American video hosting, sharing and services platform. Headquartered in New York City, the company aims to deliver high-definition video across a number of devices. Vimeo's business model is software-as-a-service (SaaS).
According to Vimeo's website, the platform has more than 200 million users and 1.6 million paid subscribers. These users are in more than 190 countries. Additionally, Vimeo claims 350,000 new videos are added each day. And the platform has over 100 billion video views.
Vimeo serves corporate companies, but also content creators and entrepreneurs. And as the world begins to find its new normal post-COVID-19, video communication continues to be a popular media. So it's not surprising that IAC chose now to offer up Vimeo stock.
Finances and Market
On May 5, 2021, Vimeo released its first quarter revenue report. In the first quarter of 2020, Vimeo recorded revenue of $57 million. In the first quarter of 2021, that figure increased to $89.4 million for growth of 57%. Additionally, Vimeo went from a net loss of $20.3 million in 2020 to net earnings of $3.3 million in 2021.
Vimeo expects the SaaS market to be worth $70 billion by 2024. The company claims it's positioned to take advantage of the growing market. That's because it's the go-to platform for local shops and Fortune 500 businesses alike.
On the Vimeo stock spinoff, CEO Anjali Sud commented…
As a video software solution serving more than 200 million professionals, teams and organizations, Vimeo is making professional-quality video far easier and more effective than ever before. This is a proud moment for Vimeo, but just the beginning. Looking ahead, as an independent public company, we are well-positioned to keep innovating with urgency to expand our software suite and put the full power of video in the hands of every business and team in the world.
Board of Directors
Additionally, the company announced an entire board of directors specifically for the new spinoff company. There are 11 members:
Joey Levin, chief executive officer, IAC (chairman of the board)
Adam Gross, technology investor and software industry veteran
Alesia Haas, chief financial officer, Coinbase
Kendall Handler, general counsel, IAC
Ida Kane, chief financial officer, Appfolio
Mo Koyfman, founder and general partner, Shine Capital
Spike Lee, film director, producer, screenwriter, actor and professor
Nabil Mallick, general partner, Thrive Capital
Glenn Schiffman, chief financial officer, IAC
Anjali Sud, chief executive officer, Vimeo
George C. Wolfe, playwright, film and theater director
IAC CEO and Vimeo Chairman of the Board Joey Levin stated…
Vimeo has been part of IAC for 14 years, growing into a strong industry leader ready to stand on its own. Hard to believe that what started as a small team inside College Humor is now positioned to become a big public company with a world-class board of directors. Vimeo represents the best of IAC – a long-term investment with a product that delights users in a large and growing market, an incredible management team, and big ambition.
Some other companies IAC has spun off publicly include Match Group (Nasdaq: MTCH) and Angi Inc. (Nasdaq: ANGI), a combination of IAC's HomeAdvisor and Angie's List. IAC continues to acquire and spin off companies, with Vimeo being its 11th. Barry Diller, chairman and senior executive of IAC, said, "It appears there is validation in repetition. On to the 12th."
So let's look at what the Vimeo stock transaction entailed.
Vimeo Becomes a Publicly Traded Company
On May 25, 2021, IAC announced it completed the spinoff IPO of Vimeo. But this wasn't a typical IPO. A spinoff creates a new independent company with new shares. Under the transaction agreement of the Vimeo spinoff, IAC shareholders received 1.6235 shares of Vimeo stock for each share of IAC stock held as of May 24, 2021.
Vimeo stock began trading on the Nasdaq under the ticker symbol VMEO. Shares of Vimeo stock opened at $47.15 Tuesday morning.
Are you looking for the latest investment opportunities? Then sign up for our free Trade of the Day e-letter! It's full of useful tips and research from our investing experts. And if IPO investing interests you, check out our Top Recent IPOs and our IPO Calendar to stay up to date on opportunities like Vimeo's stock.
---
Amber Deter has researched and written about initial public offerings (IPOs) over the last few years. After starting her college career studying accounting and business, Amber decided to focus on her love of writing. Now she's able to bring that experience to Investment U readers by providing in-depth research on IPO and investing opportunities.