At the end of 2020, the Weedmaps IPO was announced. After more states legalized cannabis in the 2020 election, cannabis stocks grabbed investors' attention. And Weedmaps stock could be one of those investment opportunities.
But should you invest in the Weedmaps SPAC IPO? Here's what we know…
Weedmaps Stock: The Business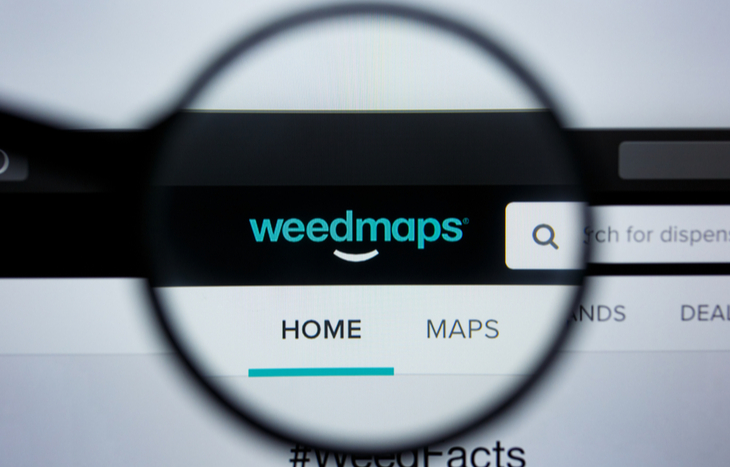 Justin Hartfield and Keith Hoerling founded Weedmaps in 2008. It's a technology company focused on the cannabis industry. Headquartered in Irvine, California, Weedmaps has more than 400 employees. It also has offices in Denver, Tucson, New York, Barcelona and Toronto.
Weedmaps claims it's the leading technology and software infrastructure provider for the cannabis industry. It provides a two-sided marketplace, serving both customers and retailers as well as software as a service (Saas), including B2C and B2B.
The company's marketplace keeps consumers up to date on information such as the availability of products and allows them to place orders with retailers. Customers can also rate and review businesses as well as their products. And as more states continue to legalize cannabis consumption, Weedmaps could be well-positioned to take advantage. That's one reason the Weedmaps IPO is coming to market soon.
The Cannabis Market
Weedmaps is unique among cannabis-related companies. Many cannabis businesses aren't able to list shares in the U.S. because they involves selling marijuana or "plant touching." However, Weedmaps doesn't do this. It's simply a third-party tool.
And there's a reason the Weedmaps stock announcement came when it did. It was less than a week after the House of Representatives voted to decriminalize marijuana. And now more than 30 states allow some form of cannabis use, whether medicinally or recreationally.
Weedmaps vs. DOJ
But it's not all rainbows and butterflies for the Weedmaps IPO. You might be wondering why the company hasn't gone public yet when the announcement was six months ago. The answer is the company was involved in a federal investigation. And as far as the filings tell, the situation is "unresolved."
The U.S. Department of Justice (DOJ) subpoenaed company records for the company's business dealings back in 2019. The filings state…
As of November 10, 2020, the DOJ investigation has not been resolved. In our dialogue with the DOJ, we have had productive discussions about a potential resolution, but no agreement has been reached… Following an initial production of documents in November 2019, further productions responsive to the subpoena have been postponed pending discussions about resolving the matter.
The subpoena identified 100 companies and individuals. Weedmaps believes the DOJ is focusing on unlicensed retailers, particularly in the state of California. The DOJ has not currently filed any charges.
However, some analysts are bullish on Weedmaps stock. After the company announced it was going public via SPAC IPO, shares of the special purpose acquisition company (SPAC) jumped, reaching a peak of $28.71 in February. It opened at $17.37 on June 10, 2021.
For those interested in the Weedmaps IPO, it's important to know the company didn't choose a traditional IPO.
Weedmaps SPAC IPO
A SPAC is also referred to as a blank-check company. These companies don't have business operations. Instead, they go public with a traditional IPO in order to raise capital. Those funds are used to acquire a private company. In this case, Weedmaps is combining with SPAC Silver Spike Acquisition (Nasdaq: SSPK).
WM Holdings is the parent company of Weedmaps. CEO Chris Beals commented…
We are thrilled to partner with Silver Spike to transition WMH to our next phase of growth as a public company. We passionately believe in the power of cannabis and the importance of enabling safe, legal access to cannabis for consumers worldwide. With this merger, we will be able to continue scaling the Weedmaps marketplace in the U.S. and internationally in service of our users while expanding the functionality of our WM Business SaaS offerings in service of our clients. Our partnership with Silver Spike will provide us a stronger platform to advance our mission to advocate for legalization, social equity and licensing in many jurisdictions while providing cannabis businesses with the tools needed to succeed in a highly complex world of regulations. I am grateful for the continued support from my teammates and investors and most thankful for the thousands – and what I expect over time to be hundreds of thousands – of business clients on our platform. We are energized by the opportunities to continue helping our business clients thrive as regulated cannabis markets expand and grow.
Silver Spike CEO and Chairman Scott Gordon added…
We believe WMH is the most compelling investment opportunity in cannabis today. We established Silver Spike Acquisition to identify and partner with a best-in-class company and proven management team that are well-positioned to benefit from the macro drivers surrounding cannabis. We wanted to not only assist them with the transition to the public markets but also create a unique opportunity worthy of institutional investors. WMH is the perfect expression of our vision for Silver Spike Acquisition.
So what are all the details you need to know about Weedmaps stock?
Weedmaps Stock Details
The Weedmaps SPAC IPO gives the tech company a post-transaction value of $1.5 billion. This is assuming a $10 share price with a committed PIPE. The transaction is expected to provide up to $575 million, including $325 million from the PIPE. PIPE commitments include investors such as AFV Partners, the Federated Hermes Kaufmann Funds and Senvest Management LLC.
For more details on the Weedmaps IPO, you can look at the company's prospectus filed by Silver Spike Acquisition.
Are you looking for the latest investment opportunities? Then sign up for our free Profit Trends e-letter! It's full of helpful tips and research from our investing experts. And if IPO investing interests you, check out our IPO Calendar to stay up to date on the market's latest opportunities.
When is the Weedmaps IPO date? Voting to approve the business combination took place on June 10, 2021, at 10 a.m. Upon approval, Weedmaps stock will trade on the Nasdaq under the symbol MAPS and warrants will list under the symbol MAPSW.
---
Amber Deter has researched and written about initial public offerings (IPOs) over the last few years. After starting her college career studying accounting and business, Amber decided to focus on her love of writing. Now she's able to bring that experience to Investment U readers by providing in-depth research on IPO and investing opportunities.