Do you have a sweet tooth and prefer to satisfy it with natural sweeteners? Odds are you've sampled Whole Earth Brands sweeteners. How about Whole Earth Brands stock (Nasdaq: FREE)? It is looking sweet or sour these days? The company calls itself a "global food company enabling healthier lifestyles through premium plant-based sweeteners, flavor enhancers and other foods." It's also a global leader in licorice extract and product manufacturing. According to Whole Earth Brands, its "innovative product pipeline" addresses the growing consumer demand for more dietary options and taste profiles. In addition, it currently controls about 11% of the alternative sweetener market.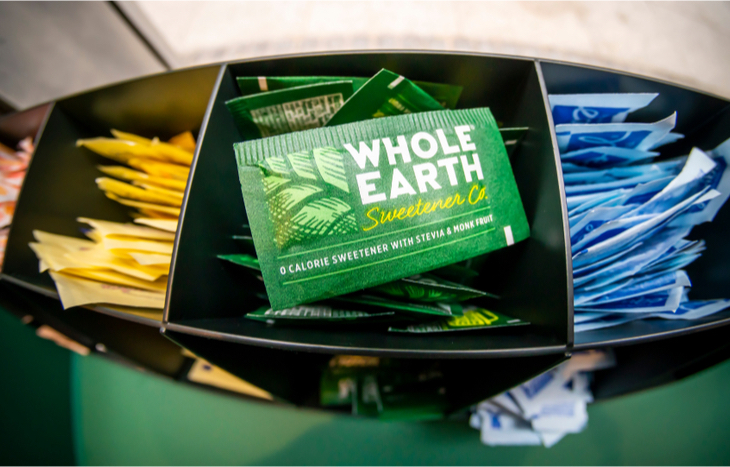 Whole Earth Brands History
Founded relatively recently, in June 2020, Whole Earth Brands Inc. was formerly known as Act II Global Acquisition Corp. At that time, the company completed its business combination transaction with MAFCO Worldwide LLC , the leading manufacturer of natural licorice products worldwide. Whole Earth Brands went public after a merger with a Special Purpose Acquisition Company (SPAC). According to Executive Chairman Irwin Simon, the shift away from sugar is accelerating while the natural ingredient demand intensifies.
Whole Earth Brands global distribution network currently operates in more than 100 countries. It is not an ingredients business per se but a consumer products company. It doesn't grow its own sweeteners but buys them from ingredient suppliers. The items are then branded before being sold to the public. This strategy lowers risks for the company if the popularity of a particular sweetener declines. Whole Earth Brands has other options available.
Whole Earth Brands Products
The company's brand portfolio includes all sorts of sweet and healthy items, ranging from sugar substitutes to jams, chocolates and more. Whole Earth Brand products include:
Whole Earth Sweetener®
Wholesome™
Swerve®
Pure Via®
Equal®
Canderel®
Its branded ingredient line, known as Magnasweet®, includes flavor enhancers, sweetness intensifiers and masking agents. The Wholesome™ line focuses on Fair Trade standards for its baking sweetener items. Two decades ago, the company became the first to establish Fair Trade standards for agave, honey and sugar.
Wholesome™ and Other Acquisitions
Whole Earth Brands completed its accretive acquisition of Wholesome™ Sweeteners Incorporated in February 2021. At the time of the acquisition, Wholesome™ was the top organic sweetener brand in North America. The acquisition of Wholesome™ and the previous acquisition of plant-based sweetener manufacturer Swerve® were expected to double the company's market share within seven months from the date of Whole Earth Brand's becoming a public company in June 2020.
Whole Earth Brands funded the $180 million Wholesome™ purchase price via a $375 million loan and a $75 million revolver loan. Additionally, Swerve® was acquired for approximately $250 million.
Whole Earth Brands Stock
On May 10, Whole Earth Brands announced its first-quarter 2022 results. The company reports consolidated revenue growth of $130.6 million, or 23.4%. However, the increase was mainly attributable to the inclusion of an entire quarter of Wholesome™ results in 2022. For 2021, only two months of Wholesome™ results were included in the prior-year period. Due to the strength of the U.S. dollar, consolidated product revenues dropped by 1.7% over the same quarter last year, or $1.8 million.
Its flavors and ingredients growth increased 12% over the same quarter last year. This segment's product revenues increased to $26.8 million for the quarter compared to $24 million for the same quarter last year. The increase was attributed to strong volume growth in licorice extracts and pure derivatives, as well as to Whole Earth Brand's innovation and expansion.
Overall, gross profit was $39.6 million, compared to $35.7 million in the first quarter of 2021. Whole Earth Brands had consolidated operating income of $7.1 million, versus an operating loss of $3.1 million in 2021's first quarter. Its adjusted EBITDA was $17.8 million.
CEO Albert Manzone said that during this quarter, the company's primary focus was the ongoing execution of its North America Supply Chain Reinvention Project. To that end, production at its new Alabama facility was "significantly" ramped up.
As of May 20, the 52-week stock price range was $6.02 to $14.63.
Long-Term Debt Increase
As of March 31, 2022, Whole Earth Brands had cash and cash equivalents of $29.4 million. It had $412.9 million of long-term debt, net of unamortized debt issuance costs. That increase results from the company's settling the Wholesome earn-out of $55 million during the second quarter.
Reiterating 2022 Full Year Outlook
Whole Earth Brands reiterated its full-year 2022 outlook.
The outlook notes that many factors may change the actual results from its forward-looking statement. For instance, these factors include:
The ongoing war in Ukraine and economic disruption.
New governmental business regulations.
Political and economic conditions, including instability in certain countries.
Further impact of the COVID-19 pandemic.
The ability to achieve the anticipated benefits of the integration of Wholesome™ and Swerve® in a timely manner or at all.
The company's full-year 2022 outlook includes:
Net product revenues of $530 to $545 million, growth of 7 to 10%.
Adjusted EBITDA: $84 million to $87 million.
Capital expenditures of $10 million.
Whole Earth Brands Stock Considerations
Over the past year, Whole Earth Brands stock price declined by 30%. Last year, its top four brands were in 85,000 stores. That's a 9% leap from a year earlier. As a relatively new company, it boasts no long-term history. Because of this lack, it's probably wise to wait and view its future performance.
---
Jane Meggitt specializes in writing about personal finance. Besides investing and planning for retirement, she writes about insurance, real estate, credit cards, estate planning and more. Her work has appeared in dozens of publications, including Financial Advisor, Zack's, SF Gate and Investor Junkie. A graduate of New York University, Jane lives on a small farm in New Jersey horse country.