Crypto
Here's Where the Apple Cryptocurrency Relationship Is Heading
Is there an Apple cryptocurrency on the way? The rumor mill has been spinning fast and furiously. But for the time being, there's no "iCryptocurrency" just yet. That being said, there are some titillating details to unpack.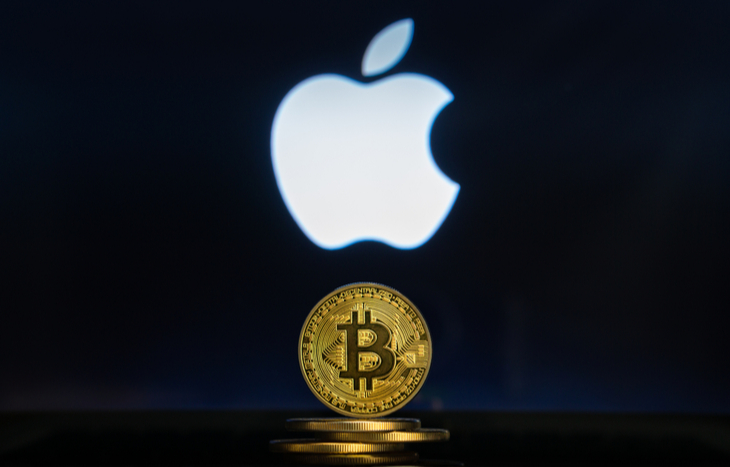 Tech giant Apple (Nasdaq: AAPL) has had a shaky relationship with crypto over the years. Back in 2014, it removed the blockchain wallet app from its app stores. When Apple offered no direct explanation as to why, it ignited ire from the tech community.
Comparisons to Standard Oil and Ma Bell soon followed. Apple had simply become too big and powerful to be trusted to serve the public good instead of its shareholders. It held a monopolistic position when it came to applications that could be used on its devices. And so, it was time to break up Apple.
While we know that little ditty hasn't unraveled yet, the criticism isn't without merit. The Blockchain app had been in Apple's app store for years. And it had been downloaded some 120,000 times before it was kiboshed.
Blockchain's response was even more direct:
"These actions by Apple once again demonstrate the anti-competitive and capricious nature of the App Store policies that are clearly focused on preserving Apple's monopoly on payments rather than based on any consideration of the needs and desires of its users."
Apple was deemed an enemy of Bitcoin. But the big blowout turned out to be not much more than a lover's quarrel. Apple reintroduced the Blockchain app six months later. Today, there are more than a dozen different crypto wallets in the app store. But they all lack a certain something. A something that RBC Capital Markets suggests could legitimize Bitcoin and make Apple a whole lot of cash. And this is where the Apple cryptocurrency relationship could get interesting.
The Apple Cryptocurrency Relationship Is Just Warming Up
Buying crypto comes with a bit of a learning curve. Some exchanges allow cryptocurrencies to be purchased only with other cryptocurrencies. Plus, many crypto wallet apps used to store it don't make it easy to transfer from one person to another.
On top of those factors, there aren't many retailers willing to accept crypto as payment. This despite the fact that the first infamous commercial transaction of Bitcoin happened more than a decade ago.
But all of this could be about to change…
When electric vehicle maker Tesla (Nasdaq: TSLA) bought $1.5 billion in Bitcoin in early February, it got a lot more than headlines. Shortly after the purchase – most likely the largest by a public company – Bitcoin surged more than 10% on the news. And Tesla's share of Bitcoin earned the company more than $150 million in a matter of hours.
But it's the "why" that makes this interesting. Tesla's big spend wasn't about making money so much as it was about opening the possibility of accepting Bitcoin as payment for its products. And when the world's top car manufacturer (at least by market cap) starts accepting crypto as payment, it could signal a tipping point.
Cryptocurrencies – despite their seeming ubiquity – still operate on the fringes. The Financial Crimes Enforcement Network doesn't consider crypto to be legal tender. The IRS, on the other hand, considers crypto to be property. It has even issued tax guidance. And the SEC has indicated that it considers cryptos to be securities.
To combat these mixed signals, a large company with a strong user base could – in theory – trigger a unified stance on crypto… both from the government and the public. And that company, according to RBC Capital Markets, is Apple.
How Far Will the Apple Payment Fall From the Apple Tree?
Apple's own Wallet app has become more robust over the years. But not quite crypto robust… yet. Plus, the company officially got into the financial services business when it released the Apple credit card in 2019. So there is precedent to move further into the financial sector.
This all seems to have been in the works for years, too. Apple released a "Cryptokit" for its mobile operating system in 2019. This allowed developers to create public and private keys that can be stored in and managed by Apple's Secure Enclave. Those keys can represent cryptos. And that means that the foundation for iPhone users to be able to exchange cryptos is already there. It should be just a matter of letting it happen.
Apple and Cryptocurrency: The Bottom Line
So where will the Apple cryptocurrency relationship go from here? Right now, Apple seems focused on its electric vehicle venture. But expanding its Wallet app to include crypto could be a quick way to boost its Wallet users. There's no doubt that if it wanted to, Apple could quickly become the market leader in the digital currency space.
A wallet initiative from Apple to include crypto could easily lead to a billion-dollar opportunity for the company. But, as RBC analyst Mitch Steves told Bloomberg, "The greatest market share would come from an exchange, but it could benefit from adding a digital currency to its balance sheet, which would send even more users to "Apple Exchange.'" Such a move would add rocket fuel to bitcoin's price. And the hodl-ers out there sure wouldn't mind seeing that. But for now, the Apple cryptocurrency relationship remains ambiguous.
It seems likely that Apple's Wallet app will eventually be able to handle crypto. But until more commercial businesses follow the lead of Tesla (and that pizza place back in 2010), it's uncertain when Apple will be impelled to enter the crypto fold. However, if it wants to corner a rapidly growing market, it'd better do so soon.
For the time being, our favorite crypto wallet is Coinbase. It's as safe and secure as they come. And if you're looking for the latest crypto news and the best way to fill up your Coinbase account, we suggest signing up for our Manward Digest e-letter.
Read next: The 5 Best Cryptocurrencies to Invest In for 2021.
---
Matthew Makowski is a senior research analyst and writer at Investment U. He has been studying and writing about the markets for 20 years. Equally comfortable identifying value stocks as he is discounts in the crypto markets, Matthew began mining Bitcoin in 2011 and has since honed his focus on the cryptocurrency markets as a whole. He is a graduate of Rutgers University and lives in Colorado with his dogs Dorito and Pretzel.