ARVN stock is receiving a lot of attention. And for good reason. Arvinas (Nasdaq: ARVN) is heading in the right direction due to the results of recent clinical trials.
The Connecticut-based company released Phase 1 data for its PROTAC protein degraders ARV-471 and ARV-110. The data shows encouraging potential for the stock market riser.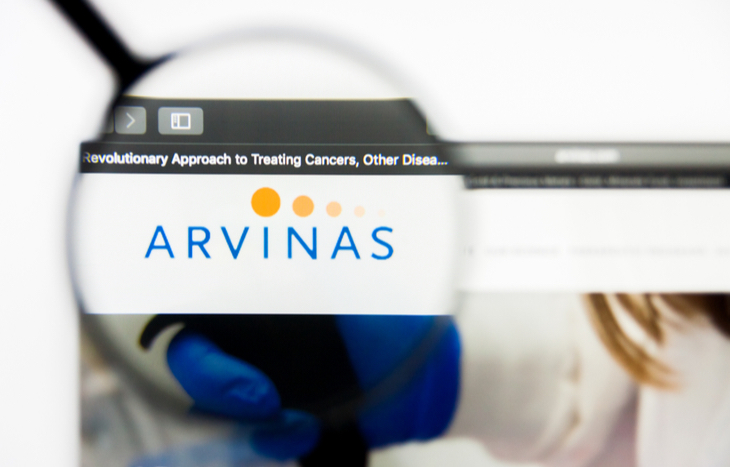 Why is ARVN Stock on the Rise?
Arvinas' stock is a market mover in late 2020 due to the advancement of clinical trials for the treatment of different cancers and other "difficult-to-treat-diseases." In fact, additional trials are expected to begin in 2021.
This can only be good news for the clinical-stage biopharmaceutical company. And ARVN stock will likely benefit as a result.
So, is it worth buying stock in Arvinas? For starters, it recently jumped well above a $2 billion market cap. Moreover, the company is known to strike deals with giants such as Pfizer. And "Big Pharma" is a massive hit for investors.
All signs are pointing in the right direction. But there's always a risk when investing in pharmaceuticals. This is even more true due to the Coronavirus pandemic and market volatility in 2020.
ARVN stock is sure to rise due to the recent clinical trials. The data suggests the company's PROTAC protein degraders, ARV-471 and ARV-110, show evidence of anti-tumor activity. In addition, there is a potential for PROTAC to be the "best in class safety and tolerability."
This is a massive breakthrough for Arvinas. And the company believes the PROTAC protein degraders have life-saving potential. CEO John Houston is encouraged by the recent trials and is looking forward to further testing.
"The clinical benefits we've seen in both patient populations, including tumor shrinkage and low incidence of adverse effects, are compelling and reinforce our belief that our PROTAC protein degraders could dramatically change the lives of patients who have few or no therapeutic options," Houston said.
Arvinas Stock Outlook
ARVN stock has had a rocky year. But this isn't an immediate cause for concern. The majority of the market has taken a hit or two in 2020.
Arvinas' stock dropped as low as $19.68 after starting the year over $40 a share. The major drops in share price began in late May and bottomed out in late October.
However, the stock has quickly regained momentum due to the recent news. This may lead to a strong finish to the year for Arvinas.
Once the trial data was released, ARVN stock began to skyrocket after closing on Friday, December 11th. On Monday, the stock had surged over 100% in early trading.
Investing in Biopharmaceutical Companies
Arvinas has a lot to look forward to in the coming year. But the company has many obstacles to climb along the way. It's common for clinical testing to face setbacks or even complete dismissal due to new findings.
To stay up-to-date with the latest biotech trends in the stock market, sign up for the Investment U e-letter below. Our team of experts provide invaluable research and stock insights on a daily basis.
Big Pharma is on the rise and Arvinas may be next in line. You will want to keep a close eye on ARVN stock going forward.
---
Corey Mann is the Content Manager of Investment U. He has more than 10 years of experience as a journalist and content creator. Since 2012, Corey's work has been featured in major publications such as The Virginian-Pilot, The Washington Post, CNN, MSNBC and more. When Corey isn't focusing on Investment U, he enjoys traveling with his wife, going to Yankees games and spending time with his family.