The Aurora IPO is giving investors the chance to invest in commercialized autonomous driving. The company hit the market after a SPAC deal with Reinvent Technology Partners Y.
Aurora SPAC IPO: About the Autonomous Driving Company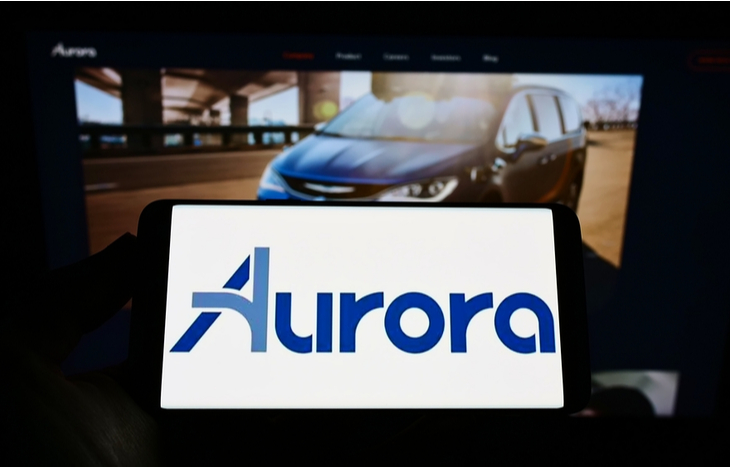 Aurora is a company dedicated to delivering the benefits of self-driving technology. Self-driving industry experts founded the company in 2017. The team behind Aurora includes former directors of self-driving programs at Google, Uber and Tesla.
Major names like Amazon and Sequoia back Aurora. The company tests its vehicles in the Bay Area, Pittsburgh and Dallas. Also, it has 1,600 employees across offices in those three cities and Bozeman, Montana.
Aurora offers services through its flagship autonomous driving product, Aurora Driver. The platform brings together software, hardware and data services to operate a variety of vehicles across a range of applications. With this technology, vehicles can be fully operated without a driver.
Aurora plans to start by automating heavy trucks. Aurora Horizon, an autonomous commercial trucking company, is set to launch by late 2023.
Furthermore, it will focus on ride-hailing and delivery services. It plans to launch Aurora Connect, a driverless ride-hailing service, in 2024.
Aurora offers an innovative business model called Driver-as-a-Service. Instead of operating vehicle fleets, Aurora plans to sell its hardware and software stack to other companies. To do this, the company has partnered with major industry players to collaborate.
Aurora Acquires Uber's Advanced Technologies Group
The company acquired Uber's self-driving unit, Advanced Technologies Group, in December 2020. In exchange, Uber invested $400 million in Aurora for a 26% ownership stake in the company. In addition, Uber CEO Dara Khosrowshahi joined the board of Aurora.
In a press release, Chris Urmson, co-founder and CEO of Aurora, said…
With the addition of ATG, Aurora will have an incredibly strong team and technology, a clear path to several markets, and the resources to deliver. Simply put, Aurora will be the company best positioned to deliver the self-driving products necessary to make transportation and logistics safer, more accessible and less expensive.
Aurora caught the eye of investors after partnering with the world's leading ride-hailing platform. Moreover, Aurora announced partnerships with Volvo and Toyota.
Aurora Partners with Volvo and Toyota
In March, Aurora announced a partnership with Volvo to develop and deploy on-highway autonomous trucks. The companies will center on integrating Aurora Driver into Volvo's on-highway trucks.
Furthermore, the companies will focus on the development of industry-leading Transport-as-a-Service solutions. Aurora's deep expertise in the development of self-driving systems and Volvo's leading products and safety track record lay the groundwork for these solutions.
The company also struck a deal with Toyota to develop self-driving minivans. In early 2021, the company announced a collaboration with Toyota and Denso, one of the largest global manufacturers and tier-one automotive suppliers. Together, the companies announced plans to build and globally deploy self-driving cars at scale.
In regards to the collaboration with Toyota, Urmson stated…
Toyota has an unparalleled legacy, engineering expertise, leadership, and ability to deliver high-quality, affordable, and reliable vehicles. They're also the preferred vehicle brand for transporting riders on ride-hailing networks, so we're excited and honored to work with them to unlock driverless mobility services with the Aurora Driver. Our development work on highway driving to support our first commercial product, a driverless truck, will also be critical for safely moving people, as a significant fraction of ride-share bookings today require the ability to drive over 50 mph.
In September, Aurora announced a milestone in its collaboration with Toyota. The company unveiled a Toyota Sienna prototype powered by the Aurora Driver. It is integrating Toyota's first S-AM models fresh off the production line.
An Aurora SPAC IPO will help to fund the company to reach the market faster. Despite this, the company expects to incur losses until 2027.
Aurora Expects to Incur Heavy Losses Until 2027
In taking this leap, Aurora and its founders will reap the rewards. We are just at the beginning of the self-driving car revolution. Autonomous vehicles are in their infancy and are still years away from widespread adoption. Aurora expects to incur losses until 2027 as the company prepares to launch self-driving trucks and ride-hailing businesses at scale.
Aurora anticipates starting to generate revenue from a fleet of 20 trucks that it will own and operate by 2023. By 2027, the company is aiming to break even from its losses.
Aurora founders and investors are taking a leap of faith as Aurora pioneers commercialized self-driving at scale. Furthermore, Aurora is also the first autonomous vehicle company to go public via merging with a SPAC. So what are the Aurora IPO details?
Aurora SPAC IPO via Merger with Reinvent Technology Partners Y
In July, the company announced plans for an Aurora IPO via a SPAC with Reinvent Technology Partners Y. The SPAC was founded by LinkedIn and PayPal co-founder Reid Hoffman and Zynga's Mark Pincus.
The reverse merger will secure funding for Aurora's expensive business operations. Upon closing the Aurora SPAC IPO, the company said it has $1.8 billion in "gross proceeds and cash in hand."
After merging was complete, Aurora listed on the Nasdaq on November 4 under the ticker AUR. As part of the Aurora SPAC IPO, RTPY changed its name to Aurora Innovation.
The merger valued Aurora at around $13 billion. Uber is the company's largest shareholder, with a stake worth about $3.28 billion.
AUR stock also maintains a four-year lockup period. For four years after the Aurora SPAC IPO, employees and existing shareholders cannot sell their shares. Each year, a quarter of the shares will release. "This is trying to signal to the market, Look, this is not a short-term, flip-it bet," Aurora CEO told Benzinga. "We're going to grow and create value here."
Make sure you do your research before investing. IPOs can be volatile for the first few months. Moreover, if IPO investing interests you, check out our top recent IPOs and IPO calendar. We update the calendar daily to give you the latest news on upcoming and filed IPOs.
If you're looking for the latest investment opportunities, consider signing up for Liberty Through Wealth. This free e-letter is full of market insights from leading experts. You'll hear from bestselling author and investment expert Alexander Green. It's one of the easiest ways to stay on top of market news out there. All you need to do is enter your email address in the box below to get started.
---
Aimee Bohn graduated from the College of Business and Economics at Towson University. Her background in marketing research helps her uncover valuable trends. Over the past year, her primary focus has been researching IPOs and other trends.