The same supply chain and labor shortages that have hit many stocks around the globe have also hit companies that make baby formula. The shortage in the supply of baby formula could mean a jump in prices for the formula made by baby stocks.
Abbott Laboratories (NYSE: ABT) put in place a voluntary recall of its powdered baby formula made at its Sturgis, MI facility. In February, certain brands of powdered baby formula were recalled and are not currently available to sell, making the shortage worse. The company is actively working with the Food and Drug Administration (FDA) to resolve the issues.
In the meantime, the FDA is taking steps to address the shortage. In a press release put out this month, FDA Commissioner Robert M. Califf, MD, said, "Our teams have been working tirelessly to address and alleviate supply issues and will continue doing everything within our authority to ensure the production of safe infant formula products."
The press release goes on to say that one of the steps the FDA is taking is to streamline the import entry review process for certain products coming from foreign facilities with favorable inspection records. In other words, international baby stocks may bump in business. With that being said, investors looking to benefit from the baby formula shortage may want to look abroad.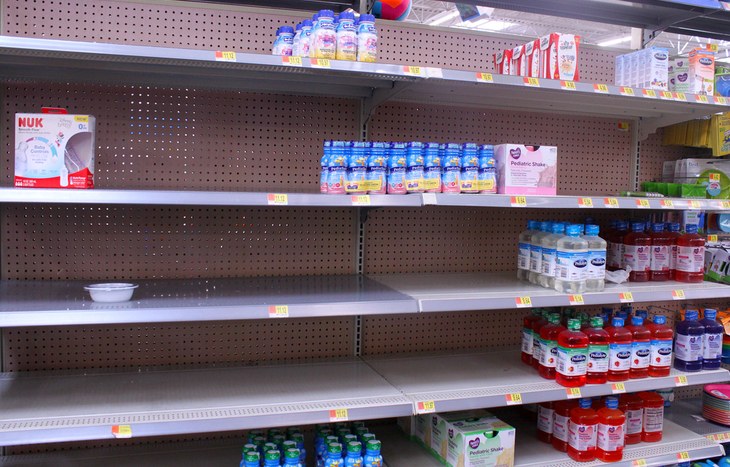 Best Baby Stocks
You may be surprised to know that some of the best baby stocks are foreign companies. For instance, Nestle (OTC: NSRGY) makes famous U.S. baby formula and baby food brand Gerber. In addition, Nestle makes other international branded baby formulas. Also, Danone (OTC: DANOY) makes Aptamil branded baby formula in the U.K.
Here is a closer look at the two foreign makers of baby formula…
Nestle
The maker of Gerber and other foreign baby formula brands like Nido and Cerelac. The company is based in Switzerland and makes many other branded packaged goods. Nestle's high-end branded bottled water brands include Perrier and San Pellegrino. The coffee brand, Nescafe, is made by Nestle. They are also big in candy and snacks. Readers in the U.S. may have eaten KitKat or Smarties made by Nestle. The company also makes ice cream brands like Haagen-Dazs and Dreyer's and pet food brand Purina. Pet care has been a quickly growing industry over the last several years.
Danone
In addition to baby formula, Danone sells products in other areas. Danone's biggest segments are dairy products, such as milk and yogurt, where they sell brands like Danone, Activia, and Oikos. They also make a coffee creamer brand, International Delight. Another segment is bottled water. The company sells Evian bottled water in the US and other popular brands in international markets.
Formula and Baby Stocks
There could be other ways to fill the baby formula shortage without help from imports. For instance, Perrigo Company (NYSE: PRGO) makes store-branded baby formula for big retailers like Walmart (NYSE: WMT), Target (NYSE: TGT) and Amazon.com (Nasdaq: AMZN).
In a recent press release, Perrigo CEO Murray Kessler said that he thinks the baby formula shortages will continue for the rest of the year. The press release states that the FDA has asked that Perrigo focuses on store-branded versions of recalled baby formula from Abbott.
Perrigo has about 8% of the U.S. baby formula market. That number has risen as the company works to fill the shortage, more information below for readers interested in Perrigo stock.
In addition to baby formula, Perrigo also sells health care products. The company sells skin care and personal hygiene products, upper respiratory drugs, as well as pain and sleep aids. The stock is down this year but has a dividend yield of 2.83%. The stock could rise if Perrigo sees additional sales of its baby formula this year.
Parents want to give their children the best food and products to ensure their babies are happy and healthy. You probably know those baby products are costly if you're a parent. For those reasons, readers may be interested in baby product stocks.
Baby Product Stocks
Like babies, baby product stocks come in many different shapes and sizes. Babies need many other things like special food, clothing, toys, diapers and safety products. If you're like baby stocks, here are a few to consider.
Carter's (NYSE: CRI)
Carter's is a market share leading baby clothing maker. The Carter's brand name is popular with parents in the U.S. and abroad. The company sells its clothing on e-commerce sites and retailers like Walmart and Target. In addition, Carter's has partnered with Amazon.com to sell the Simple Joys brand. The stock has a P/E ratio just under 11x.
The Walt Disney Company (NYSE: DIS)
Customers around the globe know Disney's movies and baby TV shows. In addition to their popular media business, Disney also sells baby products with branded TV and movie characters. As babies grow, they can keep consuming Disney products and visiting Disney's parks. This year, the stock has fallen as it works to build out its TV and movie streaming service, Disney+.
Kimberly-Clark (NYSE: KMB)
Kimberly-Clark sells paper products like tissues and paper towels used to clean up a baby's runny noses and spilled milk. In addition, it sells diapers. Kimberly-Clark's brands include Kleenex, Pull-Ups and Huggies. The stock pays a dividend yield of 3.33%.
Risks in Baby Stocks
Although baby stocks may be a great source of return for your account, they come with risk, just like any other stock. For instance, the shortage in baby formula may offer a short-term gain for companies. What happens when the shortage goes away? Will the stock fall? Will the shortage be shorter than you think? These questions are risks that you should have answers to before investing.
In addition, many baby stocks have other businesses. That means they may sell products or services that are not involved in baby formula or baby products at all. For instance, Neste and Danone sell water and dairy products. Investors should be okay with the non-baby segments that their stocks are in before investing.
---