Despite the yield curve recently inverting, consumer cyclicals have maintained their market interest. Today we'll be looking at banking stocks, a subsection of the broader consumer cyclicals sector. We'll look at the five stocks, mid-cap and bigger, which have the highest potential upside for investors.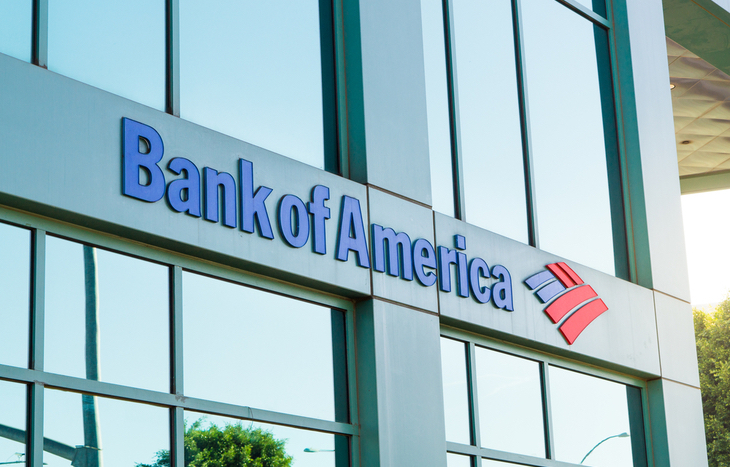 Banking Stocks to Buy Now
No. 5 Bank of America (NYSE: BAC)
Bank of America will announce earnings next Monday, on April 18, 2022, before the market opens. The company has beat on earnings on each of the prior four earnings reports, providing optimism for a repeat performance. Bank of America also announced that they would be redeeming their floating senior notes a week later. Earlier this year, before and after BAC's last earnings report, four financial institutions had released price targets. The targets ranged from $53.50 to $58, well above the current price of [around] $39.20. However, in March and early April, three financial institutions released new price targets. The price targets represented decreases from previous levels, ranging from $42 to $51. Using the earlier price targets, BAC has a potential upside of between 36.8 and 48 percent. However, if we use the more recent price targets, the potential upside is between 7.1 and 30.1 percent.
On a technical level, BAC stock seems to be approaching a double bottom around $38.1. Given recent regressions, it may reach those levels late this week, in time for the earnings report on Monday. Given the company's strong standing, it may see a bounce back into the low 40s next week. However, the stock has underperformed this year, down in every main timeframe. For that reason, some caution may be warranted when considering a potential investment in this banking stock.
No. 4 Bank of Montreal (NYSE: BMO)
Unlike the broader markets, and Bank of America, the Bank of Montreal has been up year to date. 2021 saw BMO announce its highest ever profit margin, not to mention a strong recovery from major COVID-19 impacted years. The company has beat on each of its last four earnings reports, with its most recent beat coming in early March. After the report, eight financial institutions released updated price targets for the stock. The price targets ranged from about $128 to $139, a potential upside of between 13.1 and 22.8 percent. The reason that I say roughly $128 to $139 is because the price targets are quoted in Canadian dollars. Given currency exchange rates, that price may vary slightly at different times.
At the moment, BMO is also trending downwards, though in what appears to be a multiple bottom pattern. The bottom appears to be somewhere around 109.8, four dollars off the current price of [around] $113.2. As with BAC, if the trend continues, it may reach its bottom by the end of week.
Keep reading for more information on the top banking stocks to invest in.
No. 3 Citigroup (NYSE: C)
Citigroup has been a big loser thus far in 2022, and even moreso in the last three months. The stock is down over 16.6% YTD, and over 25.1% over the last three months. Midway through the list of the best banking stocks to invest in, you might wonder why an underperformer would appear. Simply put, even with recent performance(s), the stock is still projected to do quite well. Now, there is quite a bit of risk, as the company reports earnings Friday before market. While Citigroup has beat on earnings on each of the last 4 reports, the margin has become increasingly narrow. For this reason, approaching the stock with caution until after the report is released may be the best strategy.
Since early March, nine financial institutions have released updated price targets for the company. The price targets range between $60, which was the mode of the range, and $78. From current levels below $50.2, that represents an upside range between 19.5 and 55.4 percent. However, an earnings miss has the potential to completely reset price targets for the company. If Citigroup can beat on earnings, again, current levels will have represented great value for this banking stock.
No. 2 Nu Holdings (NYSE: NU)
A company you may not have heard of, Nu Holdings, had its IPO in December of last year. A digital finance company based in Latin America, the IPO was one of the largest of the year. However, since the IPO, NU stock has fallen considerably, roughly 40%. Year-to-date the stock is down over 25%, though it is up over 7% in the past month. The stock is the definition of a boom or bust option. Financial institutions have released 13 price targets this year, with 12 coming between January and February. The range was between $5 and $16, with three of the targets coming in below $10. As of this writing, the stock currently trades below $7. That represents a potential downside/upside range of between negative 28 and positive 128.6 percent.
Given its volatility, and overall newness, there is quite a bit of risk involved in any potential investment. Whether or not the risk/reward trade off is worth it is a question that only you can answer.
Banking Stocks No. 1 ING Group N.V. (NYSE: ING)
Rounding out our list of banking stocks is Dutch bank ING Group. Unlike previous entries, ING missed on its last earnings report, though it had beat on the previous three. The stock is also down over 28 percent year to date, and over 35 percent in the last three months. Similar to Citigroup, these levels may represent great value. Five financial institutions have released adjusted price targets this year, and most represented downward adjustments. However, even with that being done, there still appears to be reasonable upside in an investment into ING. The range was between [about] $13.8 and $18.45. Similar to BMO, I say roughly due to currency exchange rates, as the price targets are quoted in Euros. From current levels of $10, that represents a potential upside of between 38 and 84.5 percent.
Not counting NU, which also has quite a bit of downside, ING represents the highest potential upside. The stock is trending downwards, and may continue to do so until hitting $9, which would represent even greater value.
Conclusions On Banking Stocks
With concerns about a bear market still swirling, finding a place to invest is a challenge. Hopefully, the above list of five of the top banking stocks to invest in makes that challenge seem a bit less daunting. Timing your investment, either based on technical trends or earnings reports, can help increase potential investment value. More established names may represent more stability, but also less potential upside. For that reason, make sure you understand your risk/reward tolerance before investing.
---
Gabriel Shabat is a writer who focuses on financial literacy and investing topics. He has been studying and talking about the markets for over seven years. Last year he became a part of the instructional staff at Boston University, teaching graduate finance courses as part of their Masters degree programs. When he isn't working, he enjoys playing the guitar, working out and spending time with his loved ones.