If you've been following BBBY stock news, you know the stock is currently trading at prices we haven't seen since the 1990's. After a fantastic August, reaching higher than $23 per share, the stock fell 70%, all the way down to the $7 range. What is causing the drop off and will we see a turn around for Bed Bath & Beyond?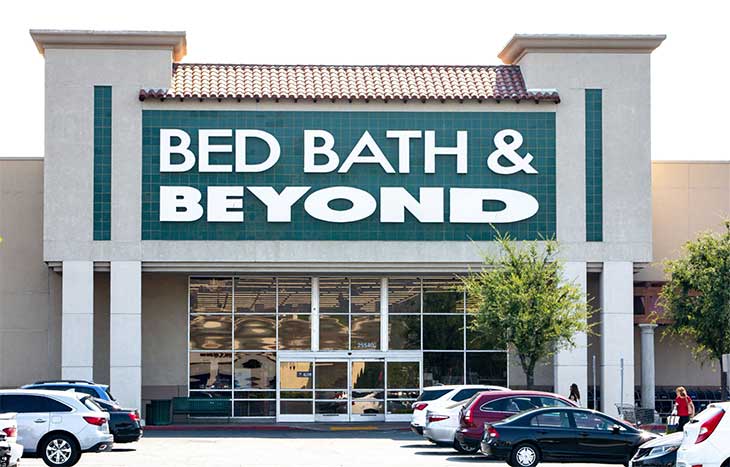 BBBY Stock News – Recent Updates
Earlier this month Bed Bath & Beyond stock began to fall, following the death of Chief Financial Officer Gustavo Arnal, which was ruled a suicide by New York City's Medical Examiner.
Shares of BBBY have been up and down all year. In August, activist investor Ryan Cohen purchased a nearly 9% stake in the company. However, Cohen sold the shares soon after which plummeted BBBY stock even more. At the end of August, the home goods retailer unveiled their turnaround program, which contributed to the overall drop.
It's no surprise to see BBBY with dramatic ups and downs. Meme stocks like BBBY are known to be extremely risky and have massive peaks and valleys.
Continue reading for more BBBY stock news…
Financial Update (Interim)
Source: Aug. 31, 2022 Strategy Update
In the latest financial update, the company stated:
We are making sweeping changes to serve our customers, drive growth and profitability, and deliver business returns.
These changes include enhancing liquidity, augmenting capital and cost structures. Additionally the company is making a number of strategic changes, including the acceleration of its buybuyBABY strategy, as well as realigning executive leadership and the company's overall organizational structure.
Preliminary Expectations
Net Sales – Approx. $1.45B
Comp Sales vs. LY – Approx. 26% Decline
Free Cash Flow – Age of Approx. $325M (vs. usage of approx. $500M last quarter)
Preliminary Expectations
Comp Sales vs. LY – Decline in 20% Range; Improvement in 2H vs. 1H
Adjusted SG&A – Approx. $250M below LY reflecting Cost Optimization in 2H22
Capital Expenditures – Approx. $250M vs. originally planned $400M
What's Happening with Bed, Bath & Beyond Today?
Today's BBBY Stock News has shares trading around $7.65 at the moment. This is down nearly 5% from the previous day. Trading volume has been pretty low on BBBY stock lately. The stock has a volume of just over 5 Million so far today, compared to an average volume of 45,686,395.
Bed Bath & Beyond has continued its massive downsizing. This week, the company released a list of the first 56 stores that would be closing. Leadership had previously stated that the closing of 150 of their "lower-producing" banner stores would be part of the ongoing changes.
The Company continues to evaluate its portfolio and leases, in addition to staffing, to ensure alignment with customer demand and go-forward strategy.
In addition to the store closings, Bed Bath & Beyond has released more than 20% of their staff.
About the Company
Bed Bath & Beyond Inc. and subsidiaries (the "Company") is an omnichannel retailer that makes it easy for our customers to feel at home. The company sells a wide assortment of merchandise in the home, baby, beauty and wellness markets. Additionally, the company is a partner in a joint venture which operates retail stores in Mexico under the name Bed Bath & Beyond.
BBBY Stock News – Final Thoughts
Recent grades on Bed Bath & Beyond stock has the company ranked #58 among 62 stocks in the Home Improvement & Goods industry. That, combined with poor overall analyst grades across the board, huge revenue decreases and a troubling company restructure, does not bode well for near term gains.
Lastly, for all of the latest BBBY stock news and other investment opportunities, sign up for one of our free newsletters. Just visit our best investment newsletters page and choose a mailing that is right for you. Join today to become a smarter, more profitable investor.
---