It's no secret that oil stocks have risen. Especially with the recent turmoil between Ukraine and Russia. Oil prices soared very high. They hit $100 a barrel for the first time since 2014. And, naturally, when oil prices go up, so do oil stock prices. So, if you want to make money from oil, it would have helped if you owned oil stocks a few months ago. But, it's still not too late to make some money from some of the best oil stocks.
Below, I have picked out some of the best oil stocks you can buy right now. But this is not meant as advice. I'm only giving you some options to investigate. Also, be aware that this is a volatile time for oil stocks. The unrest and upheaval have "scared" these prices up. And, there is no guarantee that prices will go higher. But it is possible.
Inflation is high right now, and this conflict is irritating it even more. Many various sources are predicting gas and oil prices will rise higher. And if that happens, oil stocks will go up even higher, too.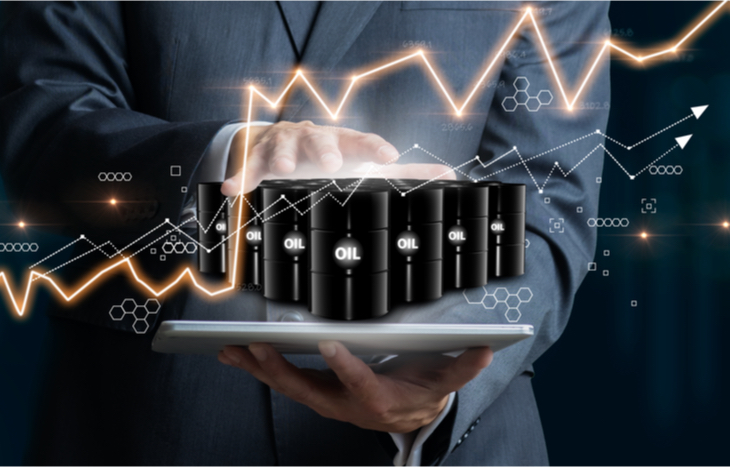 Best Oil Stocks to Buy
Exxon Mobil Corp (NYSE: XOM)
EOG Resources Inc. (NYSE: EOG)
Chevron Corporation (NYSE: CVX)
ConocoPhillips (NYSE: COP)
Total Energies SE (NYSE: TTE)
Kinder Morgan Inc. (NYSE: KMI)
Devon Energy Corp. (NYSE: DVN)
EnLink Mainstream LLC (NYSE: ENLC)
CVR Energy Inc. (NYSE: CVI)
BP Plc (NYSE: BP)
Best Oil Stocks for 2022
No. 10 Exxon Mobil Corp.
Market Cap: $332 billion
Dividend? Yes, 4.5%
Apparently, this oil stock is a direct descendant of J.D. Rockefeller's oil company. It's a strong company, with stock staying up for most of its life. Of course, it's had its dips with market downturns. But, it seems to recover fast, not wasting any time for investors.
Also, the dividend for this stock right now is high. I'm sure they're seeing a big influx of revenue. So, the company is likely sharing that with investors through the high dividends.
No. 9 EOG Resources Inc.
Market Cap: $67 billion
Dividend? Yes, 2.6%
Recently, EOG has been sharing the love. In its 2021 Q4, it was paying out $0.75 per share. And, the stock also gave a "special $1 per share" dividend. Plus, before that, it had a $2 per share dividend. This oil stock has been attending conferences and events. So, that and the dividend increase are both great signs of effort. EOG is doing a lot to get its name out there and attract investors.
No. 8 Chevron Corporation
Market Cap: $280 billion
Dividend? Yes, 4%
This oil stock is another successor of Standard Oil, J.D. Rockefeller's company. It's at an all-time high right now. And its momentum doesn't show signs of stopping. Of course, it helps to be cautious in this sort of situation. But, if you have a piece of information that most people don't, you could come out ahead.
Recently, Chevron announced it'll be buying up shares of Renewable Energy, Inc. And, it released plans to get higher returns and lower emissions.
No. 7 ConocoPhillips
Market Cap: $123 billion
Dividend? Yes, 2%
Many of these oil stocks headquarter in Texas, and ConocoPhillips is not an exception. ConocoPhillips calls Houston home. Its stock price is at an all-time high. And with oil rigs all around the globe, it isn't hard to see why. The company's projects span from the U.S. to Asia. From Europe to North Africa. They search for and produce crude oil and natural gas. And they do so on-shore and off.
The company recently announced a debt exchange with Burlington Resources LLC. And it seems Burlington is already owned by ConocoPhillips.
No. 6 Total Energies SE
Market Cap: $141 billion
Dividend? No
This oil stock is considered a "supermajor" oil company. There are seven of these. And Total Energies deserves its spot as one, as it was founded in 1924. While prices aren't at an all-time high right now, that could be a good thing. This is one of the seemingly less popular of the seven. So, it might have a bit of a delayed response to current events. And that gives investors a chance to jump in if they feel they've missed the boat.
No. 5 Kinder Morgan Inc.
Market Cap: $40 billion
Dividend? Yes, 6%
This oil stock has a very high dividend. But, it's one you should watch out for. Stock has been low for a long time. And, it's on a long-term bear. So, this high dividend is likely to attract investors rather than share high profits.
But, that could be turning around soon. For instance, given the recent happenings and insane oil prices. You know, the oil and gas prices that just keep rising.
No. 4 Devon Energy Corp.
Market Cap: $39 billion
Dividend? Yes, 6.7%
Devon recently announced it will be paying a record high dividend to shareholders. So, it plans to pay out $1 per share, and it's doing this because it's had such great performance. And that's the type of high dividend you want in a company. Something that is high, not because they need the money, but because Devon is doing so well and doesn't need the money.
No. 3 EnLink Mainstream LLC
Market Cap: $4 billion
Dividend? Yes, 5%
This oil stock would be another great investment for those who are looking for some large growth. Because price is low, and picking up steam slowly. And EnLink has been very busy in 2021. The company appointed a new director to the Board. And went to a couple investor conferences. EnLink even donated some resources to people harmed by Hurricane Ida.
No. 2 CVR Energy Inc.
Market Cap: $1.75 billion
Dividend? No
This oil stock has a twist. While it's not an industry giant, it is a key player. CVR offers refining and marketing services for petroleum. And, they run a nitrogen fertilizer business on the side. The company's 2020 saw about $4 billion in net sales. So, its website isn't the most visually appealing. And it doesn't scream, "we do a lot of business." But, they obviously do. And 2020 was a down year for share price. So, who knows what's in store for CVR this year?
Best Oil Stocks No. 1 BP Plc.
Market Cap: $94 billion
Dividend? Yes, 4.4%
It seems BP hasn't yet shaken the bad rap for the large spill that happened in 2008. The company is doing all it can, though. And share price is slowly coming back. That is, coming back from an all-time high before the spill. And recent rises in oil price could be a nice boost to kick-start a bull in this oil stock. Right now, BP's share prices are a steal. BP headquarters is in London. And, it's one of the "supermajor" oil and gas companies of the world.
---