We've reached a point where 1980s-90s sci-fi buzzwords are turning into reality. A few examples are nanotechnology, the metaverse and quantum computing. In the past few years, all three of these concepts have turned into full-fledged industries. In particular, quantum computing could be incredibly valuable over the coming decade. Quantum computing essentially makes computing-intensive processes easier. In today's world, there are dozens of industries that require lots of computing power. For example, AI, self-driving cars and Bitcoin mining. Pending a slight breakthrough, quantum computing could quickly emerge as a key technology for the next decade. Due to this, getting into the best quantum computing stocks today could easily set your portfolio up for a successful future.
With that said, let's take a look at the best quantum computing stocks to buy.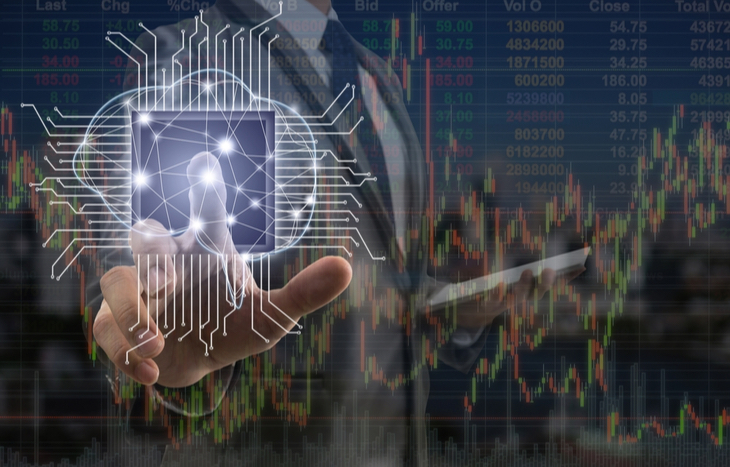 3 Quantum Computing Stocks: Major Tech Companies
Most of the world's major tech companies have a hand in quantum computing. Accordingly, some of the world's largest companies are also the best quantum computing stocks.
Companies like Google and Microsoft spend billions on R&D each year. Oftentimes, these companies are not even sure where their research will lead. Their plan is simply to push the boundaries of tech/science. For example, Google launched the Moonshot Factory to tackle the world's biggest problems. The Moonshot Factory essentially just throws money at researchers in an attempt to develop cutting-edge technology. And, if there was ever a cutting-edge technology, it's quantum computing.
Let's take a look at familiar tech names that are exploring quantum computing.
IBM (NYSE: IBM)
International Business Machines is one of the world leaders in quantum computing. It offers a full-stack approach to quantum computing. This means that it solutions for both quantum computing systems as well as quantum software tools. In total, IBM's network has 20+ quantum systems. This makes it the most powerful fleet of quantum computers in the world.
In general, investors view IBM as a value/dividend stock. This means that it's stock price probably won't 10X over the next 5 years. However, it has an established business model and has an attractive dividend yield of 5.25%. Even as IBM pushes the boundaries of quantum computing, it's stock probably won't increase very much. However, investors can trust that their money is relatively safe and that they will earn a return through dividend payments.
IBM reported 2021 annual revenue of $57.35 billion and a net income of $5.74 billion.
Alphabet (Nasdaq: GOOG)
Alphabet, Google's parent company, is another one of the best quantum computing stocks to consider. Google processes about 8.5 billion searches every single day. It works on everything from artificial intelligence to self-driving cars to smart assistants. If any company can push the boundaries of quantum computing, it's Google.
Google currently offers a quantum computing service that researchers can use freely. The only requirement is that these researchers must publicly share their results in algorithms, applications, tools, and processor characterizations. This is part of Google's philosophy to organize and share the world's knowledge.
Investing in Google is very rarely a bad idea. In 2021, the search giant reported annual revenue of $257.64 billion and a net income of $76.03 billion. Google makes most of its money from search and controls 90% of the search market. Despite this dominance, Google's annual revenue has still grown by double digits for the past five years. This gives the company plenty of cash to toss at ambitious projects, like quantum computing.
Microsoft (Nasdaq: MSFT)
Over the past five years, Microsoft has turned into a serial compounder. Its business (and stock price) seems to just keep growing and growing. As I write this, it's stock has returned over 300% since 2017. This is tied with Apple for the best return of the FAANG stocks. It's true that there are definitely smaller companies that have higher stock returns. However, when you invest in Microsoft you are investing in a proven, diversified business model. You can trust that your money is relatively safe while still appreciating 60% per year (historically). If you are looking for one of the best quantum computing stocks, Microsoft is an excellent choice.
Microsoft offers a full-stack quantum computing ecosystem. This ecosystem includes software, applications, devices, and controls. It is also built on top of Microsoft's Azure cloud computing software. Azure is the second-largest cloud computing software, right behind Amazon Web Services.
In 2021, Microsoft reported $168 billion in annual revenue. It also reported a total net income of $61 billion.
Best Quantum Computing Stocks: Pure Plays
Quantum computing is still in its infancy. Due to this, it's safer to invest in a company that has a diversified business such as IBM, Alphabet, and Microsoft. These companies give you exposure to quantum computing but are still relatively safe investments. The downside is that they don't really have the potential for massive growth. Their high-growth days are behind them.
Luckily, there is a trio of newer companies whose entire business is quantum computing. These companies' income relies solely on quantum computing. Due to this, investing in them comes with more risk. The upside is that the potential payoffs are much higher.
However, keep in mind that these companies are very newly public. This means there is less financial data available. With less data, it's harder for investors to value the stock properly. This could lead to volatility in the short term. It could take a few quarters, or even years, for these three companies to gain positive momentum.
Here are a few pure play quantum computing companies to consider.
IONQ (NYSE: IONQ)
IONQ is a quantum computing company focused on software to optimize quantum circuits. It is one of three quantum computing stocks to go public via SPAC in 2021.
One major advantage that IONQ has is that its systems are the only hardware available on all major cloud platforms. This makes it easier for researchers to collaborate and transition between systems. This could be a big selling point for attracting new researchers and customers.
D-Wave (NYSE: XPOA)
D-Wave is another company that went public via SPAC in 2021. Despite being newly public, the company is far from young. It was founded in 1999. D-Wave is best known for its quantum annealing technology. However, it recently expanded into gate-based, universal quantum computing. The company believes that this style of computing has more potential for specific applications. Among these specific applications are fault detection, traffic congestion, and supply chain management.
In this sense, D-Wave is going after a more niche segment of quantum computing. Having a more specialized use could allow this company to gain momentum more quickly.
Rigetti Computing (Nasdaq: RGTI)
Rigetti Computing develops quantum integrated circuits as well as a quantum cloud platform. It went public in 2021 via SPAC. According to the company's website, it is "on a mission to build the world's most powerful computers to solve humanity's most pressing problems." Statements like this scream "high risk, high reward" to investors.
In 2021, Rigetti reported total revenue of $8.2 million and a gross profit of $6.2 million. This is YOY growth of 48% and 62% respectively for the young company.
I hope that you've found this article valuable for learning about the best quantum computing stocks to invest in! Please note that I'm not a financial advisor and am just offering my own research and commentary. Please base all investment decisions on your own due diligence.
---
A University of Miami grad, Teddy studied marketing and finance while also playing four years on the football team. He's always had a passion for business and used his experience from a few personal projects to become one of the top-rated business writers on Fiverr.com. When he's not hammering words onto paper, you can find him hammering notes on the piano or traveling to some place random.