The bad news keeps rolling in for companies and the economy. That's why I've put together this list of the best recession proof stocks. These investments should see less downside as the market continues to drop. And on top of that, these stocks keep paying their investors a steady stream of dividends.
To start, let's take a look at some recession indicators and news. This can help give a better picture of what to expect. Then with that in mind, we'll dive into the stocks that do well in a recession.
Recession Indicators and News
One of the most alarming indicators is the yield curve inversion. Each time it's dropped into the negative territory in recent history, a recession has followed not long after. You can see this in the chart below, which comes from the Federal Reserve Bank of St. Louis…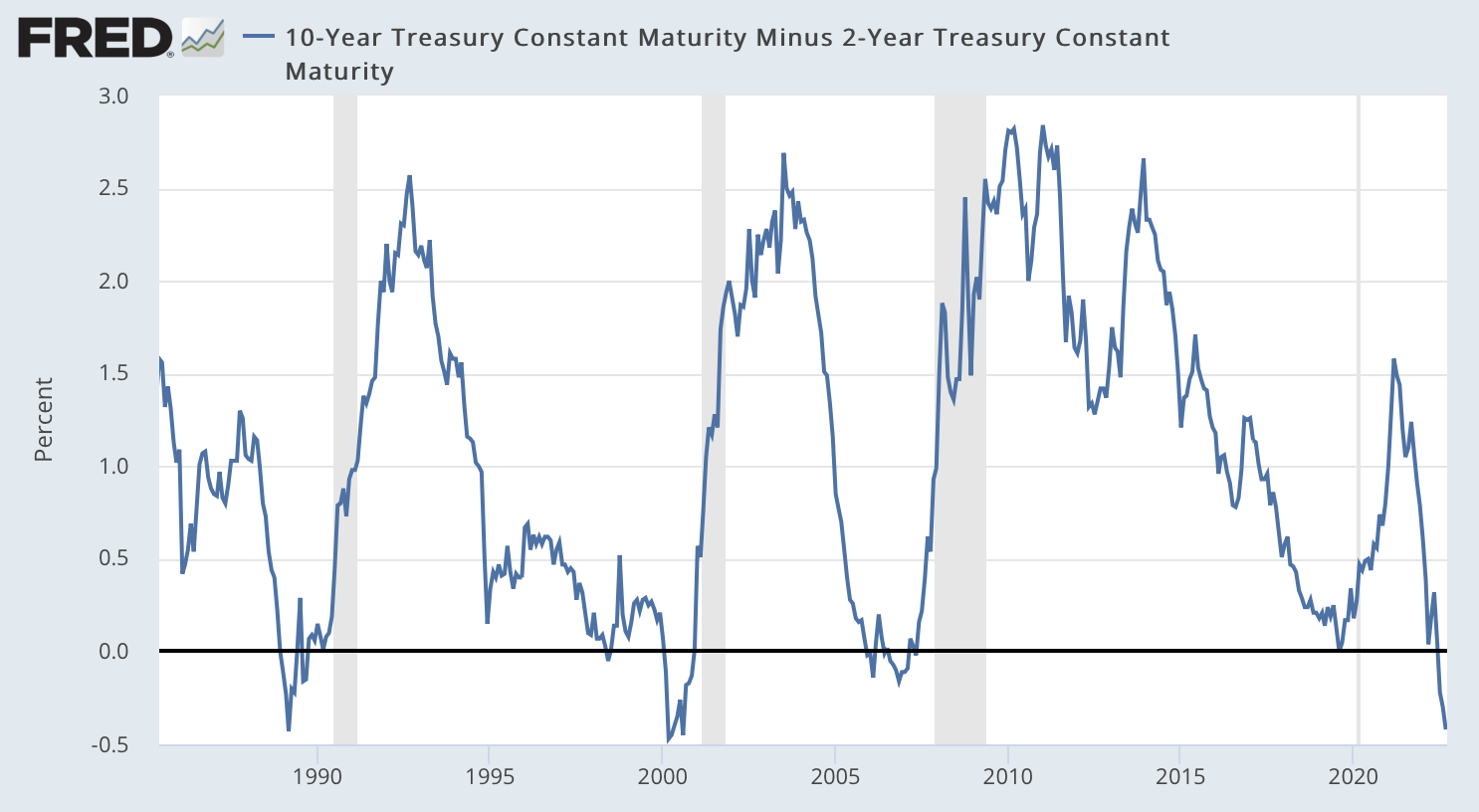 The shaded bars show past recessions and if this pattern continues, another recession is on the horizon. This metric currently sits at one of the lower numbers we've seen, at -0.42%. And to get that number, it's the 10-year treasury rate minus the 2-year treasury rate.
This means investors are willing to lock up money for 10 years at a lower rate than for 2 years at a higher rate. This is counterintuitive when thinking about the time value of money. Although, there are many factors at play.
To rein in inflation, the Fed has started pushing up interest rates and this is starting to send shockwaves throughout the economy. It's a key reason why I'm considering investing in the best recession proof stocks. They can help lessen the blow of a big downturn.
Stocks That Do Well During a Downturn
With an upcoming Fed meeting, most investors are expecting a 0.75% increase in rates. The Fed is in a tough spot and has to put the breaks on to cool inflation. It's making it harder for people and businesses to borrow money. And always remember, one person's spending is another person's income.
The economy is starting to contract and more companies are cutting back. Throughout many areas of the economy, layoffs have picked up. For example, Twilio recently announced that it's going to lay off roughly 800 employees. Also recently, the CEO of FedEx said he expects the economy to enter a worldwide recession.
As a leader of one of the top package delivery companies, he has direct insight into the health of the economy. On top of that, many other executives have also given worse guidance going forward.
It's not looking good, but there are many companies that do better than others during a recession. The top recession proof stocks tend to be in industries that continue to produce steady cashflows even in downturns. These are companies that produce consumer staples or necessities.
For example, people still need to eat no matter what the economy is doing. That's why you'll find a few food stocks on the list below. And without further ado, let's dive in…
Recession Proof Stocks
McDonald's (NYSE: MCD) – 2.2%
Target (NYSE: TGT) – 2.8%
Walmart (NYSE: WMT) – 1.7%
Procter & Gamble (NYSE: PG) – 2.9%
Johnson & Johnson (NYSE: JNJ) – 2.8%
Coca-Cola (NYSE: KO) – 3.2%
Verizon (NYSE: VZ) – 7.3%
Flower Foods (NYSE: FLO) – 3.3%
CVS Health (NYSE: CVS) – 2.5%
Altria (NYSE: MO) – 8.5%
All of these recession proof stocks above pay dividends. That's why I've also included their dividend yields. And if you can reinvest the dividends, you can boost your future income through the power of compounding. To see how that works, check out this free dividend reinvestment calculator.
Final Thoughts
A recession is always tough, but those who prepare can both survive and thrive during a downturn. History shows that it's an inevitable pattern. The timing is always tough but there are some telling indicators today to make better guesses on what's to come and when it's coming.
I hope these recession proof stocks help with building a diversified portfolio. The dividend income from them can help lessen the blow of a recession. And if you have some cash on the sidelines, we might see even better buying opportunities soon.
If you're looking for more opportunities, check out these investment newsletters. They're free and packed with insight from investing experts. Here at Investment U, we strive to deliver the best investment research and ideas…
---