Stocks rose again today as the S&P 500 had its fourth positive week in a row, gaining 0.6%. The DJIA (Dow Jones Industrial Average) rose about 0.5% and Nasdaq 0.7%. That being said, the best stocks to buy in August 2022 will see much greater returns. Is the bear market run finally over? Is this a sign that inflation is slowing down?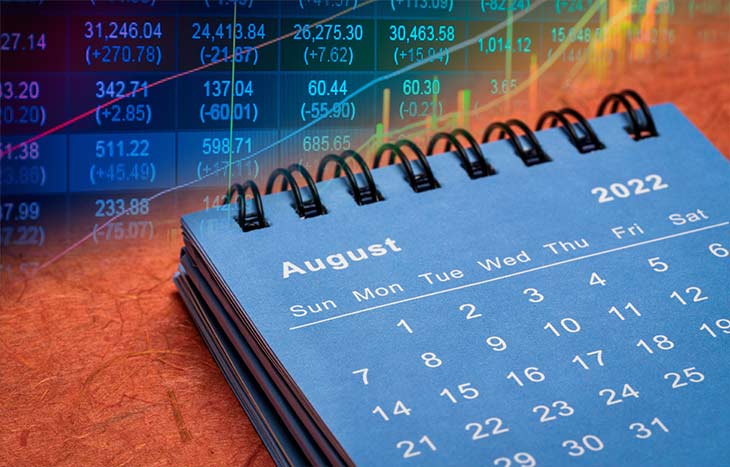 At the beginning of 2022, the S&P 500 was trading at just under $4,800. And since a June low of $3,600, the S&P 500 has recovered quite nicely, now reaching over $4,200 and climbing. The Nasdaq has seen similar results, increasing 14.5% in the past month alone.
But with all of this increased market activity, where should investors be looking? For the answer, we looked to our very own IU Einstein's latest picks for the best stocks to buy in August 2022.
The Best Stocks to Buy in August 2022
Technical Options Expert Bryan Bottarelli on the best stocks to buy in August 2022…
Last week, Starbucks released quarterly results, which beat estimates on the top and bottom lines. Specifically…
Revenues of $8.15 billion beat the expectation of $8.14 billion.
Adjusted earnings per share (EPS) of $0.84 beat the expectation of $0.76.
U.S. same-store sales growth of 9% beat the expectation of 8.85%.
So you have a company that's outperforming in the midst of a multitude of pressures – including 40-year inflation highs, a recession risk, rising labor costs and unionization efforts.
Despite the risk of consumers pulling back on discretionary spending, "Starbies" (as my daughter calls it) continues to grow.
Chief Investment Expert Alexander Green on the best stocks to buy in August 2022…
One of the best strategies you can follow is to ride the coattails of knowledgeable insiders.
Why? Because they have access to all sorts of material, non-public information, like…
The direction of sales since the last quarterly report
New products and services in development
Any expansion plans
Potential mergers and acquisitions
Whether the company has gained or lost any key customers
The status of outstanding litigation
Whether the company will put itself up for sale
Plans to take the company private
… And plenty of other good stuff unavailable to those of us on the outside looking in.
Income Expert Marc Lichtenfeld on the best stocks to buy in August 2022…
Marc Lichtenfeld – Beaten-up stocks (with dividends)
Technical analysis – the use of stock charts to analyze the markets and individual stocks to inform buy and sell decisions – is great for creating a trading plan.
As I always say, technical analysis is not a crystal ball. But it does help you increase the chances of being right and, just as importantly, minimize your losses when you're wrong.
Everyone's trading style is different, and there are lots of technical analysis tools that fit any individual's preferred method.
As a long-term investor, I'm a value investor. I like to buy beaten-up stocks (with dividends) and watch them bounce back over time.
So it's no surprise that, as a trader, I do the same thing – just with a much shorter time horizon.
With the goal of entering a trade at a discount, I may buy a stock that's predominantly moving up a trend line and yet has momentarily returned to support – the price level at which a stock's downtrend reverses.
Fundamental Options Expert Karim Rahemtulla on the best stocks to buy in August 2022…
The company just released earnings, which came in better than expected.
Then it let investors in on a couple pieces of news that bolstered the case for investing in the company.
Here is the important information…
Ford is increasing its dividend to $0.15 per share, which will bring the company back to pre-pandemic levels.
The company sees the Ford+ plan as the biggest opportunity since the scaling of the Model T.
Demand for EVs is overwhelming, and the company has strong multiyear order banks.
More than 3,000 electric E-Transit Vans were sold in the second quarter, giving the company a 95% share of the electric van market.
The Best Stocks to Buy in August 2022 – Summarized
As you can see, our Einstein's follow insider activity, beaten-up stocks with dividends and even solid retail or EV buys. The market may not be out of the woods yet, but with the positive sentiment growing, we could see even more increases. After all, if you're in it for the long haul, why not get in at a discount? The best stocks to buy in August may not be this cheap for long. For all the latest investment information, sign up for one of the best investment newsletters on the planet today.
---