Thanks to a number of unique factors amid the COVID-19 pandemic, the prices of car rental stocks have been soaring. As people continue to resume travel, car rentals are in high demand.
Meanwhile, some car rental agencies reduced their inventories during the pandemic. Thanks in part to the microchip shortage, they haven't been able to increase their inventories enough to keep up with demand, driving prices higher.
With such high prices for car rentals, you might be wondering if there are investment opportunities to be had. Here are some of the best car rental stocks to buy right now:
Avis Budget Group, Inc. (Nasdaq: CAR)
Hertz Global Holdings, Inc. (OTC: HTZZ)
Sixt SE (Xetra: SIX2.DE)
Europcar Mobility Group S.A. (EuroNext Paris: EUCAR.PA)
Keep in mind that not all car rental agencies are publicly traded. Notably, Enterprise, the largest agency in the United States, is a private company. In addition, some are European companies that operate in the U.S. With that in mind, these are some of the best car rental stocks right now.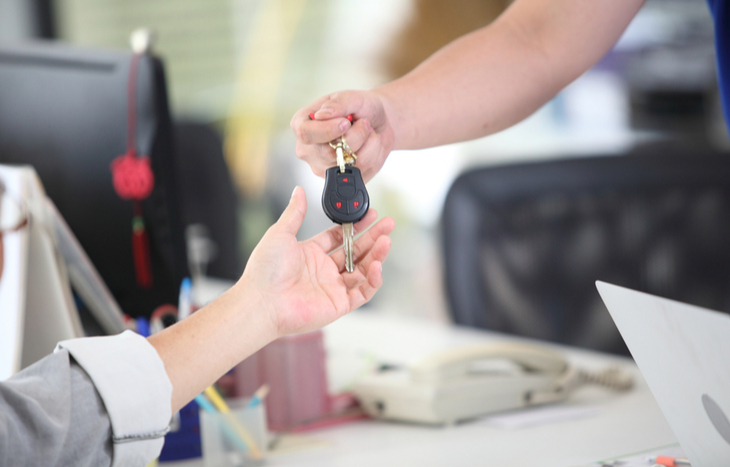 Car Rental Stocks to Buy
Currently, car rental stocks are ripe for opportunity as these companies recover from the pandemic. Let's take a closer look at each of these stocks.
Avis
Avis Budget Group is one of the largest car rental agencies in the U.S. with more than 600,000 vehicles globally. It has more than 5,500 locations in 165 countries, operating almost everywhere in the world. Its subsidiaries include Avis, Budget, Zipcar and Payless Car rental.
Avis has a market cap of around $15 billion with a healthy earnings per share (EPS) of $11.81. The stock's P/E ratio comes in around 22. On the fundamental side, its earnings declined significantly due to the pandemic; those declines continued into Q1 2021 but have since been recovering. Its revenue for Q1 2021 was $1.37 billion, but for Q3 2021, it brought in $3 billion, a year-over-year (YoY) increase of 96%. Its net income and diluted EPS posted huge YoY gains of 1,400% and 1,559%, respectively. While some analyses predict a decline in its share price in the short run, the company has strong growth stability.
Although the company's share price has decreased from a high of over $500 in November, it remains much higher than the around $100 price in September. This makes it one of the best car rental stocks at the moment.
Hertz
Hertz Global Holdings had almost 424,000 vehicles in its fleet in 2020. In addition, the company announced a plan to purchase 229,000 vehicles in 2021 to refresh its fleet. Hertz filed for bankruptcy in May 2020; however, that bankruptcy allowed the company to rid itself of more than $5 billion of debt and regain focus coming out to the pandemic.
Hertz is worth well above $10 billion. Its earnings have recovered since the hit it took due to the pandemic. In Q3 2021, it posted revenue of $2.23 billion, a year-over-year increase of 76%. Its net income and net profit margin were $605 million and 27%, which were both YoY increases greater than 250%.
Its share price has more than doubled since September 2021; look for it to continue to increase as travel ramps up. Hertz may be one of the best car rental stocks going forward.
Sixt
Sixt SE is a mobility service provider based in Germany. The company has over 200 locations worldwide in approximately 110 countries. Its U.S.-based operations include a fleet of 20,000 vehicles. While that may sound small, it is the fourth-largest operator of rental cars in the U.S. after Enterprise, Hertz and Avis.
The company has a market cap of over $6 billion with a P/E ratio of 68. On the earnings side, it has posted large gains across the board; its revenue was €501 million for Q2 2021, a 119% YoY increase. Its net income increased 169% to €62.69 million, and its net profit margin increased 131% to 12.51%.
Currently, the car rental company's share price is about 50% higher than its price at the beginning of September 2021, making this one of the best car rental stocks to buy.
Europcar
Europcar Mobility Group is a global company based in France. It has nearly 250,000 vehicles in its fleet as of 2020. While its presence is not quite as large in the U.S., it operates American rental agencies such as Fox Rent A Car, which has 20,000 vehicles. Europcar did pare down its fleet amid the pandemic; in 2019, it had over 325,000 vehicles worldwide. However, recent developments include the announcement of a vehicle subscription service in October 2021.
Europcar is currently around $0.50, yet its market cap is over $2.5 billion. Similar to the other car rental companies, its financials have recovered since the start of the pandemic. The company's Q3 revenue was €783 million, a YoY increase of 46%. Its net income and profit margins posted huge YoY gains of 1,558% and 1,098%, respectively. Its profit margin for the quarter was 18%.
Although its share price is low, it was just $0.27 in April 2021. Look for continued increases as more travel resumes, plus the launch of its subscription service.
Are Car Rental Stocks a Good Investment?
Currently, the forecast for car rental stocks is mixed. The sentiment around them is not overly strong, and some analysts have a bearish outlook for its stock prices. Hertz even declared bankruptcy in May 2020, highlighting the calamitous year rental car agencies had.
However, car rental companies are posting big gains across the board as they continue to recover from the pandemic. As people begin to travel more, they will inevitably rent cars, whether it's after they fly or as their sole mode of transportation.
For the latest investment news on emerging trends, subscribe to Matt Carr's FREE Profit Trends e-letter below! Get up-to-date insight from today's leading experts.
In addition, with the exception of Avis, most car rental stocks have steadily increased in price recently. Thus, as part of a broader portfolio, it could be worth buying some car rental stock, especially if you want to invest in consumer discretionary stocks.
---
Bob Haegele is a personal finance writer who specializes in investing and planning for retirement. His hefty student loan burden inspired him to pay off his loans, and now he's helping others get their finances in order. When he's not writing, he enjoys travel and live music.