With ammonia prices tripling from last year, CF Industries Holdings (NYSE: CF) is reaping the benefits. CF is the largest global ammonia network, with over 9.3 million tons of Gross Ammonia Production in 2021. Meanwhile, CF Industries Holdings stock is down 12% as the market continues selling off, presenting an interesting buying case.
Although the ammonia market was in a surplus before the pandemic, several key factors are squeezing prices higher. For one thing, rising food and energy prices lead to a natural rise in value.
But prices skyrocketed when Russia invaded Ukraine. For example, ammonia prices were around $480 per ton in 2020, and on February 24, prices reached $1,503, an increase of 213%. Yet, CF Industries does not see the market slowing anytime soon.
In fact, the company says fertilizer prices are likely to remain high for at least another two years while the world replenishes. With this in mind, is it time to buy CF Industries Holdings stock?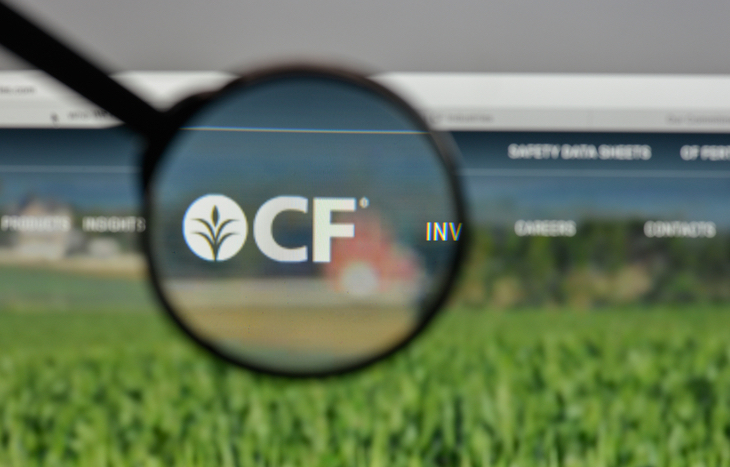 World's Largest Ammonia Production Network
After selling its phosphate business a few years ago, CF solely focuses on the ammonia market. That said, ammonia is a critical compound farmers rely on to grow crops.
The three main plant nutrients include…
Nitrogen
Potash
Phosphates
As farmers use the land to grow food, it depletes the natural minerals in the soil. As a result, fertilizer is needed to replenish the vital minerals and compounds required for healthy food to grow. With this in mind, CF Holdings produces nitrogen fertilizer products, with its core product being ammonia (82% nitrogen).
Then, CF upgrades its nitrogen products to include granular urea, urea ammonium nitrate solution (UAN) and ammonium nitrate (AN).
Fertilizer Prices Soaring
Before the pandemic, fertilizer stocks flew under the radar as the market function properly. However, supply chain disruptions started pressuring the market as transportation and shipping became scarce.
Then, Russia's invasion of Ukraine ignited it further, with both nations playing a vital role in the global fertilizer and food industries. For instance, Russia accounts for 23% of the global ammonia supply.
Supply is tight between sanctions and companies refusing to do business with the nation. With nearly a quarter of the world's ammonia coming from Russia, nations will need to look elsewhere to fill the supply gap.
However, there's another key thing to consider. The war is causing skyrocketing natural gas prices, a key energy source to make fertilizer. With this in mind, the cost of natural gas doubled YOY, costing $6.48 (per MMBtu) in Q1 compared to $3.22 a year ago. Will the rise in costs have an impact on CF stock?
Why It Matters for CF Industries Holdings Stock
Around 90% of ammonia is used in fertilizer as the world relies on it to maintain food production. Currently, plants rely on nitrogen to grow. So, without fertilizer, the cost of food will continue running up to make up for the lack of supply.
We already see some of the effects as protests erupt over rising food prices. With this in mind, demand for food is at its highest in decades.
What this has to do with CF Industries Holdings Stock:
CF Industries sees an opportunity with global food demand expected to remain high. For one thing, global grain stocks are down as consumption exceeds production. According to the most recent Grains Report from the U.S. Department of Agriculture (USDA), stock is down in all major grains, including…
Nevertheless, the stock will need to be replenished, creating an even higher demand for fertilizer in the future. As a result, the market supports higher planting and fertilizer use as we advance. For this reason, CF management expects U.S. corn plantings to be between 91-93 million acres this year, near historic highs.
Although natural gas prices continue climbing, CF Industries is overcoming it with a favorable energy spread. Not only that, but the company is in a better position than peers outside the U.S. In particular, Europe's natural gas costs around $34 per Btu compared to about $5.2 in the U.S.
A Clean Energy Opportunity?
The other 18% of fertilizer comes from hydrogen. With hydrogen showing promise as a renewable energy source, CF Holdings is on a mission "to provide clean energy to feed and fuel the world sustainably."
With the fertilizer industry relying heavily on fossil fuels to operate, this can be a massive opportunity for CF Industries.
The company is working to decarbonize its ammonia network so it can produce green and blue ammonia products. CF targets to reduce its emissions by 25% per ton of product by 2030. And then it wants to achieve net-zero by 2050.
It would be impressive if CF Holdings could accomplish this, given its current reliance on fossil fuels. So far, the company is making progress with several new projects advancing blue ammonia production.
In fact, the fertilizer maker believes it will have the ability to produce 1.7 million tons of it annually. Or in other words, about 1 million tons of net-zero carbon ammonia.
CF Industries Holdings Stock Forecast
CF Industries is achieving record free cash flow with demand expected to remain high and supply lacking. As a result, investors are seeing significant returns this year, with CF Industries Holding Stock up 42% YTD.
The need for fertilizer is climbing, and as food consumption exceeds production, demand will continue to grow. Most importantly, CF is well-positioned despite rising energy costs to continue its run.
Furthermore, CF stock is down from its high of over $113 per share last month. Even though fertilizer demand expects to remain high, the market selloff is leaving few safe spots to hide your money.
CF Industries Holdings stock looks ready to continue its uptrend after taking a step back. The trend still looks intact despite the ongoing market selloff. Though there may be a few bumps in the road, CF stock looks like a good deal with solid cash flow, growing demand and a plan to support clean energy.
Finally, fertilizer stocks are cyclical, and when supply meets demand, we can see lower prices. Keep an eye out for signs that the market is easing if you plan to buy.
---