ChargePoint (NYSE: CHPT) shares are surging again today, up over 50% in the past two weeks. Yet CHPT stock is still down 65% from its 52-week high. With this in mind, the latest ChargePoint stock news may change that.
After being the first EV charging company to go public, ChargePoint is making massive strides to expand its network. Despite losing over half its value, the company is positioning itself for growth.
With U.S. gas prices averaging $4.59 compared to $3.04 a year ago (+50%), EVs look more attractive by the day. In fact, global EV sales doubled last year, reaching 6.6 million. Moreover, the U.S. ended its two-year slump, also seeing EV sales double.
Increased government spending and better access are two leading factors. Meanwhile, ChargePoint continues silently expanding its network while adding new partners.
With Q1 earnings on May 31, will we see the growth continue? Let's dive into the latest ChargePoint stock news to see what you can expect.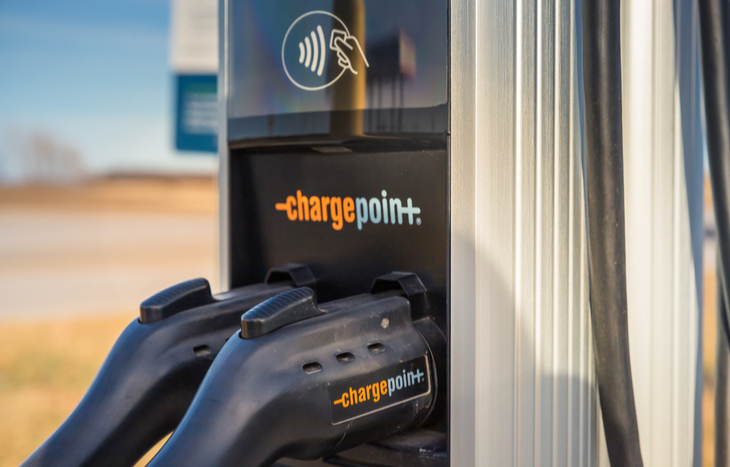 Named World's Most Innovative Companies for 2022
For the second time, ChargePoint is named as of the World's Most Innovative Companies by Fast Company. The company ranks No. 3 in North America for "gassing up EV charging infrastructure."
In other words, ChargePoint is doing what was previously thought impossible by building an open EV charging network. With over 174,000 locations across the U.S., Europe and India, CHPT is building a network to support green energy.
Furthermore, the company's "roaming" ports allows EV drivers to access over 300,000 more through ChargePoint's app. The article also mentions the EV firm is "best poised" to take advantage of the new bill. That said, the Infrastructure Investment and Jobs Act is designed to boost the economy.
For one thing, the bill designates $15 billion to build a national EV charger network. And this is only the start. According to a new report, total spending on building an EV charging network in the U.S. and Europe will be around $121 billion by 2030. Yet, that number is expected to reach $307 billion by 2040.
New Partnerships Fuel Growth
ChargePoint expanded through new partnerships with top automakers and businesses in the past year. For example, the company is partnering to bring its services to top manufacturers, including:
Volvo
Mazda
Toyota
Polestar
Mercedes-Benz
Moreover, a new partnership with Goldman Sachs Renewable Power (GSRP) will help bring new financing solutions to ChargePoint. As a result, the partnership will lower upfront costs and expand access to EV charging. Moreover, the duo will offer end-to-end construction, installation, and maintenance at a low cost to drive growth.
Keep reading for more on ChargePoint stock news.
Superior Business Model Paying Off
ChargePoint's hardware and software make it easy for businesses and EV drivers to connect and charge. Rather than pulling up to a "fueling center," users can charge when the car is parked to minimize waiting.
The company offers solutions for every charging scenario, including:
Home
Work
Retail
Fueling
Parking
Hospitality
However, ChargePoint's biggest advantage is its SaaS business model. To explain, ChargePoint sells charging stations, charging a subscription to use the network.
The network comes loaded with software to make it easy to manage. For example, hosts can attract and connect with drivers directly from the app. While at the same time they can promote their own products through loyalty rewards programs.
The capital-light model allows ChargePoint to drive growth while creating an easier, more accessible EV charging option. Lastly, CHPT's charging network works with most EV types, regardless of the make.
ChargePoint Stock News: Q4 Earnings Results
The accelerating adoption of EVs is helping "fuel" ChargePoint's earnings to record levels. In the fourth quarter, the company's revenue rose 90% YOY, while revenue for 2021 grew 65% YOY. Most importantly, both came in above higher-end guidance.
CEO Pasquale Romano says on the earnings call the company could have earned even higher revenue if it weren't for supply chain constraints. ChargePoint continues developing new features to make charging more accessible than ever. For instance, the company offers payment options, energy management, scheduling, etc.
Through acquisitions, the EV charging leader continues strengthening its market position. Most important, the company buying "has-to-be," a full EV charging service in Europe, is helping expand its overseas position.
As the E.U. looks to reduce its dependence on Russian oil, renewable energy looks to be a primary focus. In A statement from the Commission President claims, "the quicker we switch to renewables, combined with more energy efficiency, the quicker we will be truly independent."
With ChargePoint's two biggest markets (U.S. & E.U.) pouring funds to promote clean energy, EV charging looks to be a focal point. After all, transportation uses over a third of total energy used.
Does the Latest ChargePoint Stock News Make it a Buy?
All signs are pointing to continued momentum for CHPT. With several new partnerships, a growing market, and a superior business model, ChargePoint stock has significant growth potential over the next several years.
In fact, President Biden is targeting 50% electric vehicle sale share by 2030. Even with EV sales doubling last year, the overall EV market share is around 4.6%. Though this is a record number, it's far from 50%. If the U.S. is going to hit its goal, it will likely take more investments. Not to mention a network to support the influx of vehicles.
With many charging ports, such as Tesla, taking at least 15 minutes to charge, there needs to be another solution. This is where ChargePoint stands out. That said, recent ChargePoint stock news suggests the company is on the right path.
After a record year for EVs, look for CHPT to build on its momentum going forward. The company is expecting revenue between $72-$75 million in Q1, representing 84% growth YOY. Moreover, ChargePoint anticipates full-year revenues to reach between $450-500 million, or 96% growth YOY.
Lastly, with the company's capital-light business model, it expects to reach cash flow positive by 2024. Given these points, ChargePoint stock looks like a solid opportunity for long-term growth investors.
---