Growth stocks are in bear market territory for the year. For instance, the Vanguard Growth Index Fund ETF (Nasdaq: VUG) is down about 26% year-to-date. The fund tracks growth-oriented stocks like Tesla (Nasdaq: TSLA) and Meta Platforms (Nasdaq: FB) (formerly Facebook). Opportunistic growth investors may be combing the wreckage for cheap growth stocks.
There are a number of things that have hit growth stocks this year. First, the Federal Reserve has said that it will likely increase interest rates several times this year. Investors often use interest rates to value growth stocks. The higher interest rates are, the lower the valuation.
In addition, many growth stocks have benefitted from stay-at-home restrictions in 2020. For instance, employees working from home began to use Zoom (Nasdaq: ZM) for work meetings. Because folks wanted to stay home instead of doing their shopping in stores, they flocked to Amazon.com (Nasdaq: AMZN). Now that the same folks are back in the office or out of the house, revenue and profit growth for some stocks have slowed through 2021 and 2022.
On top of that, persistent inflation and tensions between Russia and Ukraine have caused a broader selloff in the stock market. The broad selloff has hit most stocks, including growth stocks.
Though buying sinking stocks doesn't sound like a lot of fun, it can be very rewarding in the long run. Consider these long-run cheap growth stock stories.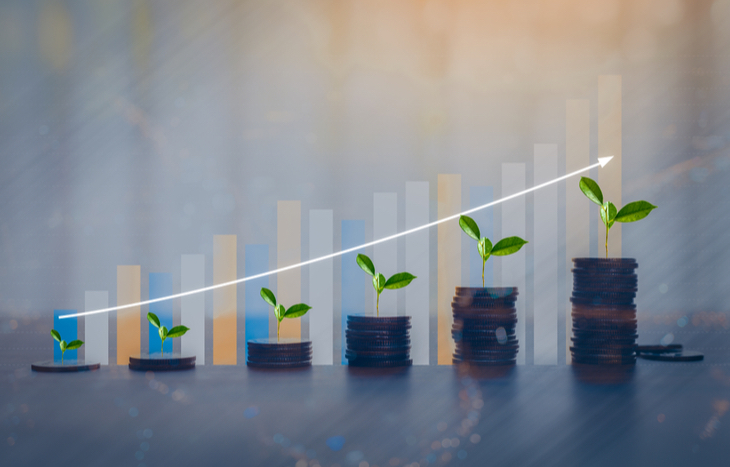 Best Cheap Growth Stocks
In most years, there are periods where the stock market falls. The market may not end up in negative territory, but stocks can be volatile. Sometimes things go from bad to worse. For instance, in 2000, the stock markets went through the 'tech bubble' where stock indexes lost most of their value.
Later in 2008 and 2009, the stock market went through the 'Great Recession.' Again, stocks lost the majority of their value. Are we in the middle of a stock market collapse or just a short-run bear market?
The answer is: that we won't know until it is over. Though the future of stocks is elusive, there could be some cheap growth stocks that will do very well from here. For instance, after each dramatic market collapse, stocks eventually recovered. Though stock markets took multiple years to recover from the Tech Bubble and Great Recession, shorter selloffs recovered more quickly.
For example, the fourth quarter of 2018 was a bad time for stocks. At that time, investors worried about Apple's (Nasdaq: AAPL) slowing iPhone growth, and the stock price went down. An opportunistic growth investor may have noticed that customers still loved their iPhones. Customers were also beginning to subscribe to Apple services like iTunes rapidly. Apple stock and the stock market recovered nicely for the next several years.
Cheap Growth Stocks to Buy
Do your homework if you're looking for cheap growth stocks to buy. Pick the stocks of companies that you're familiar with and can make it through this rough patch. Because we don't know if this will be a prolonged selloff or a short-run selloff, you should be ready for the worst-case scenario.
Good companies have competitive advantages that allow them to profit even during the worst of times. A competitive advantage can come in many different forms. For instance, Apple makes iPhones that customers love. Coca-Cola (NYSE: KO) makes soda that is a staple in customers' homes.
Here are a few stocks for you to think about to get you started.
Amazon.com: When folks in the U.S. think about buying online, they think of Amazon.com. The company can ship your items within a few days, sometimes even faster. Though the stock has taken a beating this year, it may have growth left in the tank. For instance, the company's cloud business, Amazon Web Service, is a leading cloud provider for businesses worldwide.
Alphabet (Nasdaq: GOOG): Alphabet is formerly known as Google. Most of you are probably familiar with the search engine Google.com. The search engine is easily the go-to for finding anything on the internet. When you need to find something, just 'Google it.' In addition, the company owns YouTube, the popular video-sharing platform. What you may not know is that much of Alphabet's sales come from advertising. With such a captive customer base, the company should be able to increase advertising for many years.
Keep reading for more on cheap growth stocks.
Focus on the Long Run
Investing in cheap growth stocks can make you great returns for many years. They also tend to have the biggest ups and downs. So, if the current selloff continues, make sure you can hold your growth stocks for the potential recovery.
'Long run' may mean different things to different people. When you're doing your homework, make sure you would be willing to hold the stock for several years or even longer. Famous investor Warren Buffett once said, "Our favorite holding period is forever."
---