When looking to buy shares on the stock market, you're considering which companies to invest in. There are many elements that can help investors determine the value of a stock. You might evaluate track record, earnings or dividend yield. Additionally, you might consider whether the company has shown potential in a newer market or growing industry. These are just some of the factors that can help you make a more informed decision.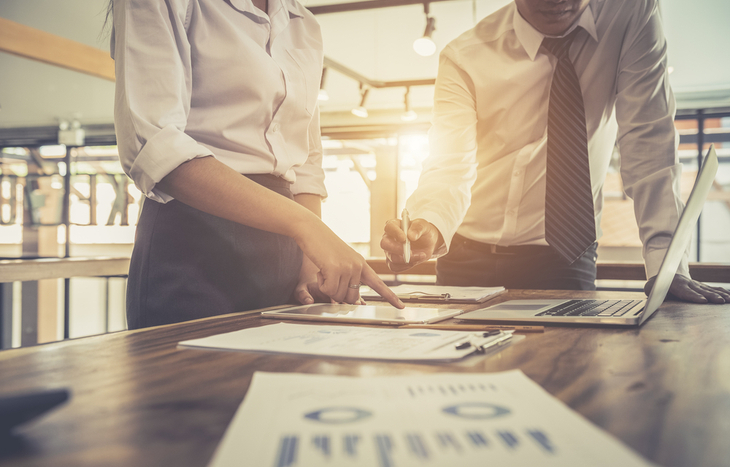 When looking for companies to invest in, it is important to think about all of these variables and more. Here are five types of companies to invest in for your consideration.
Companies with Strong Growth Potential
Example: PayPal (Nasdaq: PYPL)
With 87.5% of online buyers currently using Paypal, it's no surprise many investors believe this stock has strong growth potential. Additionally, Paypal's earnings are expected to grow by more than 20% over the next 12 months. As digital commerce continues to explode all over the globe, Paypal will look to outpace the $5.46 billion in net revenue the company earned in 2020.
Paypal is also adding cryptocurrency trading as well as BNPL (Buy Now Pay Later) to its platform. With this effort, the company hopes to gain a larger market share over its competitors.
To see more companies with strong growth potential, check out The 5 Best Growth Stocks for 2021.
Companies With a Proven Track Record
Example: Walmart (NYSE: WMT)
When looking for companies with a proven track record, blue chips stocks are a great place to start. This is because blue chips on average experience much less volatility compared to non blue chip stocks. Also, they typical are bought and sold in larger volumes, which can be an asset when executing trades and finding buyers or sellers.
Walmart routinely shows up on many lists of companies to invest in. WMT is one of the most consistent blue chips stocks around. Overall the company's stock history has been tremendously positive. Even when Walmart has seen a downturn, it was able to rebound quickly. One of the reasons for this is because of the company's affordable products. A lower price point allows Walmart to thrive whether the economy is up or down. And with over 10,500 stores, WMT should be a strong buy for years to come.
Stocks to Buy as the Economy Opens
Example: Live Nation Entertainment, Inc. (NYSE: LYV)
As I write this, many U.S. states and countries abroad are finally entering the next phase of their reopening plan. The impact this will have on the economy and the stock market should not be underestimated. Travel stocks were virtually non-existent in 2020. Restaurants, dating platforms, sports/concert venues, gyms and bookstores are just some of the industries that are seeing nice recoveries.
In a recent YouTube video, Trade of the Day's Bryan Bottarelli called Live Nation his "slingshot stock". He believes that as concert venues continue to reopen, "Live Nation is going to slingshot back up to where it was pre-pandemic, and then continue going even higher!"
Live Nation is the world's leading live entertainment company. And if they can recover back to bringing you their usual 40,000 shows, 100+ festivals, and selling 500 million tickets per year, this could certainly be one of the most promising companies to invest in for years to come.
Tech Companies to Invest in
Example: Apple (Nasdaq: AAPL)
Tech stocks have had a great run the last few years. And there are no signs of that changing any time soon. Earlier this year, founder of Manward Press, Andy Snyder said…
No doubt, technology is going to lead to some of the biggest gains of the next 12 months. We have our thumb on three specific spaces… with our fingers outstretched, always searching for more.
If you're looking for a consistent tech stock, just look at the logo on your iPhone, MacBook, iPad or any other number of apple devices you have lying around. At $2.2 trillion, Apple has a bigger market cap than Alphabet (Google), Microsoft and even Amazon. Apple stock has absolutely skyrocketed over the past year, with an increase of over 51%. And with more big moves on the way, Apple should remain a fantastic staple for your portfolio.
Companies to Invest in That Pay Dividends
Example: Johnson & Johnson (NYSE: JNJ)
If you are familiar with our income expert Marc Lichtenfeld, you know he literally wrote the book on dividend investing. If you haven't already, please consider adding more dividend stocks to your portfolio. And if you can find companies to invest in that continually increase their dividend payouts, all the better.
The consumer discretionary sector is a great place to start, because it offers many of the strongest and most stable brands around. One such brand is Johnson & Johnson. The healthcare giant currently has a dividend yield of 2.5%. Also, if you want to talk about stable, Johnson & Johnson has been paying out their dividend for more than 55 years straight!
Click here to see our list of 5 Long-Term Consumer Discretionary Dividend Stocks to Hold.
What You Should Know
There are many types of companies to invest in that can help you turn a profit. These five all offer fantastic ways to potentially grow your nest egg both in the short and long term. But whether you're looking at dividend stocks, tech stocks or any other number of possible opportunities, you'll want to keep a close eye on the market.
The set it and forget it method isn't foolproof. You'll want to evaluate growing industries, strong company management and many other factors to make sure you are positioned accordingly. To learn more about which companies to invest in, sign up for our free Investment U e-letter today.
---