With oil prices moving above $100 per barrel this year, ConocoPhillips (NYSE: COP) stock and other oil stocks have captured the attention of many investors. For instance, ConocoPhillips stock is up over 27% this year to almost $94 per share.
This year, oil prices have surged due mainly to the rising conflict between Russia and Ukraine. Countries around the world have placed sanctions on the import of Russian oil. Because Russia is one of the biggest oil suppliers globally, oil investors are concerned that supply could be limited in the future.
When the supply of a commodity like oil is reduced, its price increases. So, oil prices have risen dramatically over the last few months. Likewise, oil stocks like ConocoPhillips have also risen because they can charge a higher price for every barrel of oil that they produce.
The story is the same for natural gas. Like other oil companies, ConocoPhillips produces natural gas, which makes up a significant portion of its sales and profits.
Though ConocoPhillips pumps oil and natural gas from countries worldwide, most of it comes from the U.S. Not much has come from the Permian Basin around Texas in the past, however, in 2021 and 2020, the company bought Shell Enterprises and Concho Resources, which increased its oil production in the Permian Basin.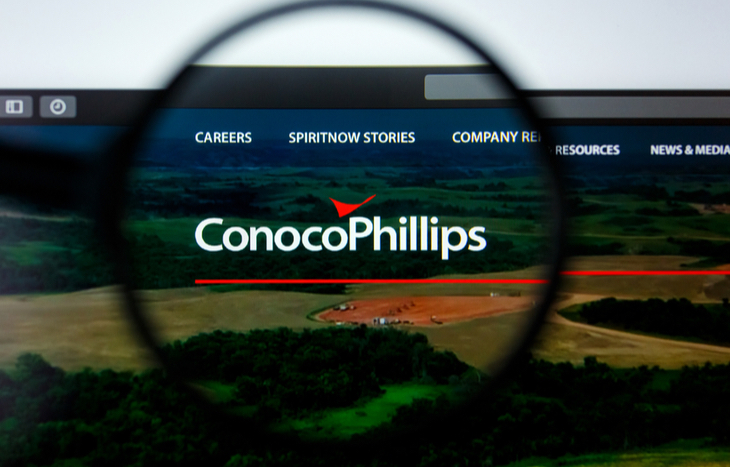 ConocoPhillips Stock Earnings
In February, ConocoPhillips held a webcast where managers talked about the fourth-quarter and full-year 2021 results. In addition, the managers answered questions for listeners. You can find a link to the replay of the webcast here.
The company said that profits for the year had risen significantly for the fourth quarter over the fourth quarter of 2020. During the fourth quarter of 2020, ConocoPhillips had negative profits of $201 million. For the fourth quarter of 2021, profits rose to a positive $3,010 million.
Though the company had higher costs due to higher volume during the quarter, higher oil prices and the addition of Concho Resources led to the steep rise in profits. As oil and gas prices increased, the company increased the amount of oil and gas it produced for the year. On average, ConocoPhillips produced 1.527 million barrels of oil equivalent every day in 2021.
Profits rose in every region where ConocoPhillips pumps oil and gas. The company also reported that earnings per share rose from $.19 in the fourth quarter of 2020 to $2.27 in the fourth quarter of 2021. Industry analysts had expected ConocoPhillips to report only $2.20 in earnings per share for the quarter. So, the company did better than the analysts thought.
Stock Forecast
On May 5 at noon Eastern time, ConocoPhillips managers will host another webcast to discuss results from the first quarter of 2022. After the managers talk about the quarter, they will take questions from listeners. Readers can find a link to the webcast here.
As oil and gas prices have continued to rise this year, ConocoPhillips stock plans to produce 1.8 million barrels of oil equivalent per day. During the full-year report in February, the company said that it plans to increase production in 2022. If oil prices stay high, the company could increase profits in 2022 also.
Oil companies like ConocoPhillips incur high production costs to keep their equipment running. So, keeping costs down is essential to profits. ConocoPhillips thinks that it can keep adjusted operating costs to about $7.3 billion based on its production goals for the year.
In addition, the company plans to spend $7.2 billion on capital expenditures and $1 billion on corporate overhead costs.
Industry analysts forecast that ConocoPhillips will report $14.43 in earnings per share for the year. The increase is likely due to a rise in oil and gas prices. Interestingly, six of the eight analysts have increased their forecasts over the last four weeks.
Is ConocoPhillips Stock a Good Buy?
Oil and gas prices have risen to high levels over the last few months. Often, the stock price of oil and gas companies goes up and down with oil prices. If you think prices will continue to grow, ConocoPhillips stock could be a good buy. If not, ConocoPhillips stock may retreat.
European countries have been the biggest buyers of Russian oil for years. Many countries have plans to decrease their buying of Russian oil due to the conflict with Ukraine. Though buying oil from other sources will likely be difficult, one source could be U.S. oil. If European countries decide to buy oil from U.S. companies like ConocoPhillips, the stock could rise.
A quick stock valuation shows that ConocoPhillips stock may not be expensive. The stock is currently just over $93 per share. If the analyst's forecast of $14.43 in earnings per share for 2022 proves correct, the stock is trading at a 6.5x forward P/E ratio.
In addition, the stock pays a dividend yield of about 1.5%. ConocoPhillips also has a history of repurchasing shares. For instance, in 2021, the company bought back $3.6 billion of its stock. Stock buybacks can reduce the number of shares and increase earnings per share.
---