CRISPR stocks, or gene-editing stocks are a great investment. Especially if you're looking for companies that are cutting edge. Along with being passionate about their mission, they address a huge need in the market.
Now, when people talk about making humans "better, stronger and faster," I get a little freaked out. Maybe I've been watching too many science fiction movies. But the fact that some people want to weed out specific genes and "cherry pick" seems problematic.
However, this isn't at all what these companies are doing, though. These CRISPR stocks are thinking about diseases. Disorders that come from mutations of the DNA.
Further, mutations that create such disgusting diseases like cancer and blood disorders. Right now, most of these companies seem to be focusing on those. But, the future could open a new world of possibilities.
These companies have such a drive and passion. And their drive is to cure and treat diseases that ravage the body.
If you didn't know, CRISPR technology finds mutations or specific pieces in genes. And, these pieces may be responsible for some sort of illness in the person. The genes are identified. Then, CRISPR takes them out and replaces them with healthy ones.
The point of doing this is to provide therapy or even cures to these people.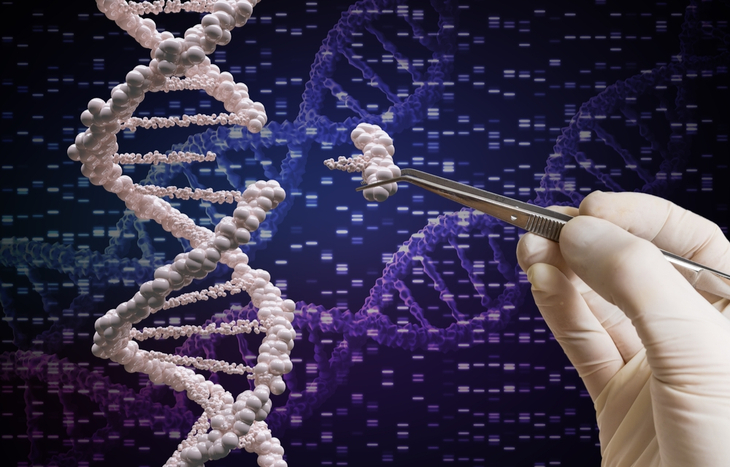 CRISPR Stocks to Buy
CRISPR Therapeutics (Nasdaq: CRSP)
Intellia Therapeutics (Nasdaq: NTLA)
Editas Medicine (Nasdaq: EDIT)
Beam Therapeutics (Nasdaq: BEAM)
Sangamo Therapeutics (Nasdaq: SGMO)
Cellectis (Nasdaq: CLLS)
Bluebird Bio (Nasdaq: BLUE)
Best CRISPR Stocks
CRISPR Therapeutics
One of the co-founders of CRISPR Therapeutics is also a co-inventor of CRISPR/Cas9 therapy. So, if you're interested in getting back to the basics of CRISPR therapy's history, this is a great stock to consider. It appears to be the company that started it all.
CRISPR's mission is to edit genes and treat cancer, blood diseases and others.
They've begun clinical trials for diabetes. And, they've involved themselves with investor conferences lately.
Intellia Therapeutics
Intellia has a strong mission. That mission is helping people with serious diseases through gene editing therapies. And the company hopes to cure its patients. In fact, one of the co-founders of this CRISPR stock received the 2020 Nobel Prize in Chemistry. She is leading the way with CRISPR technology.
There are two main functions Intellia has for CRISPR technology.
The first is using the tech as the cure or therapy itself. This involves destroying the faulty gene, then repairing and replacing it with a new one.
The second is using CRISPR to create the cure or therapy. This involves taking out the problem- causers. Then, inserting something that will target cancer. And finally, they'll keep on repeating this to help manage the safety and usefulness of the therapy.
Editas Medicine
Editas is a CRISPR stock and company who wants to help those with broken genes. Earlier in November, it came up with preclinical data to help treat cancer. The company is also doing Phase one and two trials for cell therapies.
Editas has its headquarters in Massachusetts, and went public in 2016. The leadership is extraordinary. The CEO has over 40 years building biopharma companies. And almost all the other members of the Board have decades of experience.
Beam Therapeutics
Beam Therapeutics is a CRISPR stock that has figured out how to edit genes without cutting them. This obviously takes risk out of the treatment. But it also allows scientists to study how the genes act and respond.
Beam strives to create cures for their patients. And that's much better than giving unending treatments.
And they're not just talking about this, either. Beam is acting. They've recently provided some preclinical data. This data shows how they can target T cell lymphomas. With several products, they're able to shut down and replace a variety of genes, all at the same time.
Beam intends to target several different types of disorders. These include cancer. Plus, diseases of the eyes, liver and blood.
Sangamo Therapeutics
This CRISPR stock is the first to come up with a therapy for Fabry's disease. This is a deficiency of a certain type of enzyme. It gives symptoms such as chronic pain, hearing loss and kidney damage. And now, Sangamo has provided a treatment for people with Fabry's.
Recently, the company has promoted Mark McClung to CEO. He has about a year of history with the company. Plus, he has previous experience with other oncology businesses.
Cellectis
Cellectis is still in clinical stage, but it's focused on destroying cancer cells. To do this, it's using gene therapy to harness the immune system.
The company has even come up with its own technology that achieves this goal. Once therapy takes hold, the immune system strengthens. Then, the body can take down the disease that's attacking it.
Cellectis has 21 years of experience in CRISPR technology and gene editing.
They're focused on being a strong business. And strive to be transparent, ethical and accountable. Rewarding shareholders is also something it holds in high regard.
Cellectis already has several partnerships with major institutions. Plus, it carries a license for the technology it created.
Bluebird Bio
Bluebird is a CRISPR stock that focuses on gene therapy for debilitating diseases. The company does a great job with marketing, putting handwritten notes around the website. And each of the leaders has an interesting or funny little phrase under their name and photo.
Several of Bluebird's solutions are in Phase three of clinical trials. And one is even nearing Phase four.
There is a genetic blood disorder where the blood doesn't produce enough of one part of hemoglobin.
Bluebird has created a product to combat this rare disease. It's so rare that each batch of this medicine is custom-made for the person receiving it.
Bluebird's website contains many resources for those combating other various diseases, too.
"The Final Word" and Other CRISPR Stocks
CRISPR stocks are nothing to be afraid of. In fact, they are quite noble companies to invest in. As most of them are still in preclinical or clinical trials, they are a bit speculative. But, there's already been some good that's come from them. And these businesses are only beginning to tap the amount of potential in this tech and market.
And, if you want to start generating wealth in your life, sign up for the Wealthy Retirement e-letter below. This e-letter is full of beneficial content from a few market-leading experts. Start your journey to financial freedom and sign up today!
---
Vanessa Adelman graduated with an Interdisciplinary degree. She majored in Entrepreneurship, Painting, Music and Film. Shortly after, she received a copywriting mentorship with Mark Morgan Ford. Then, she earned her AWAI Verification. Now, Vanessa freelances in the financial direct response industry. She's been investing since 2016. In her free time, she enjoys books about money and wealth. She loves being with her boyfriend, hunting, fishing and going on outdoor adventures.